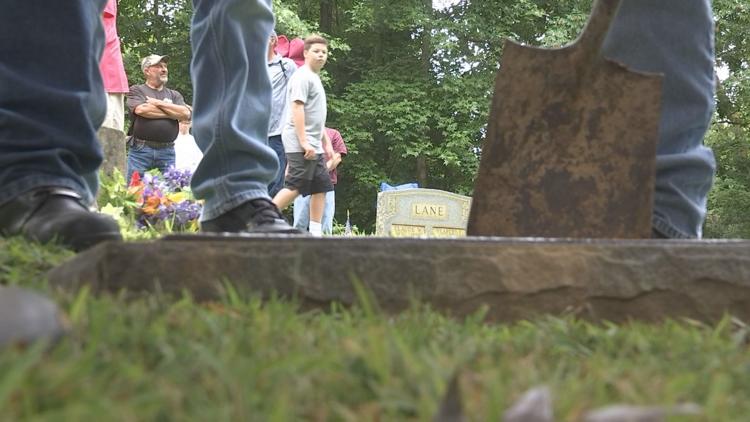 LAND BETWEEN THE LAKES - It's an update to a story we've been following for almost a year now. Imagine someone taking away the only connection you have to your family's past.
That was reality for this local family.
Back in October 2018, Local 6's Pauline Fitzgerald told us about a bronze plaque stolen from a veteran's grave site. The family never got closure, and the plaque was never replaced. Just when we thought the story was over, there was twist.
An unexpected gesture is helping the family reconnect with their past.
"Hopefully nothing like this will happen again," Leon Forsythe was searching for answers for months, for his great-great-grandpa.
Robert Forsythe's veteran's plaque was stolen, left empty. "I don't know a great deal about my great great grandfather, I'm the fifth generation," Leon said.
Until the American Legion Riders Post 55 from Tennessee grabbed their gear. Shovels, gloves, and boots. The Hematite Cemetery was no longer empty -- but filled with people who Leon now considers family.
"I didn't think near as many people would show up," Leon said. People who gathered to honor the lives lost, and watch the riders do what they do best, honor those who served our country, by replacing veterans' headstones and plaques.
"Every plaque is a new experience, it's a different person, it's a different reason," Randy Edwards said with the American Legion Riders Post 55. "We're doing it for the same reason, these are people who are veterans and they deserve that,"
Robert is a Civil War veteran. He died in 1880. "It's good that we have this many people concerned, at this late date," Leon said.
More than 30 people showed up to honor Robert.
"Freedom is the most expensive thing you own. You didn't have to pay for it. Didn't cost you a dime. It's people like Mr. Forsythe here paid that for us," Edwards said.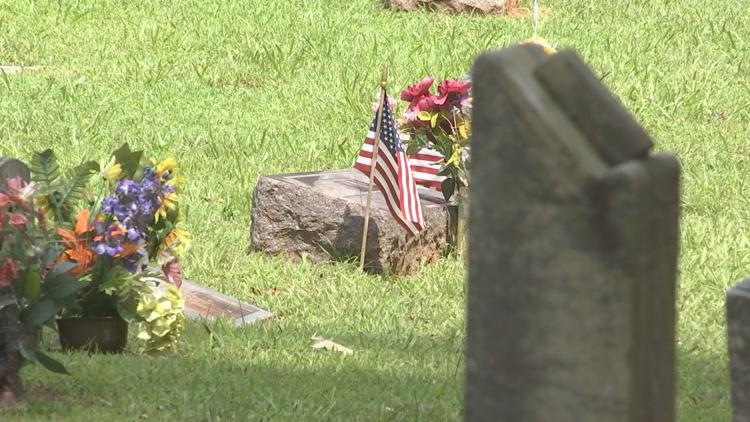 For many of the families here, the Hematite Cemetery is their only connection to their past. Robert's plaque was the missing piece that brought back closure to all of the families. Donald Lane's family grew up in this area, he says it's an inseparable family.
"There's always lots of flowers on the graves doesn't matter what seasons spring summer even in the winter," Lane said. "When I bring my kids and my grand kids over here, I can tell stories. That's how it is here. We can always come back,"
They take their loved ones seriously, even if they never knew them.
"I know it'll mean a lot to him down the road for him to say this was his great great granddaddy," Lane said.
The U.S. Forest Service says whoever stole the veteran's plaque could face fines, felony charges, and years in federal prison. There are still no leads.