PADUCAH — In Paducah, noteworthy veterans are honored for their service with the Distinguished Veteran Award.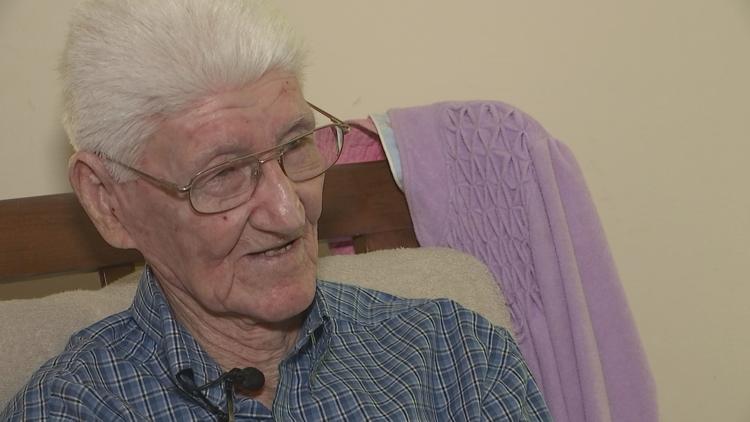 World War II Veteran Walter Eugene Lowrey received the award in 2017. From his service as a tail gunner in the Air Force to becoming a prisoner of war, Lowrey overcame many obstacles during his time in the war.
Recalling his days in the Army during World War II, Lowrey said at times he felt anxious, but fear did not cross his mind because he had a duty to serve. "I never felt any fear or anything at all," Lowrey said. "It was just something we had to do."
Lowrey was drafted in 1943 as an 18-year-old high school senior. He served as a tail gunner in the Air Force fighting in Germany.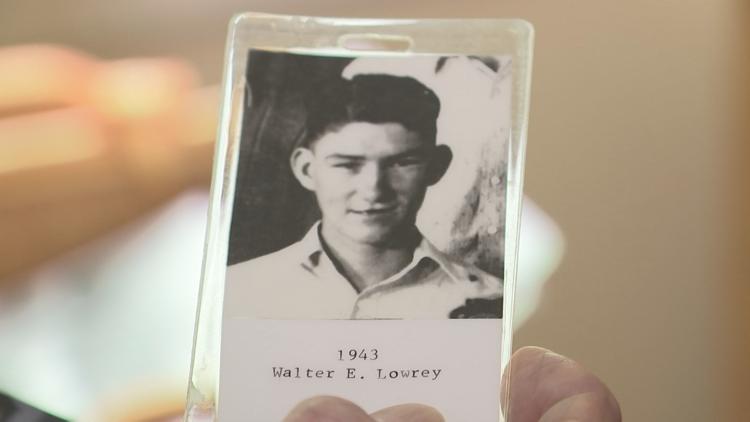 "B-17 group, that, that made me, I loved that plane," Lowrey said.
Lowrey still remembers clearly the day his plane was shot down.
"I started to tell — call the pilot on the intercom and tell him that our left wing man was gone," Lowrey said. "They had already got him."
"Whenever the waste gunner called and told the pilot that the right wing was on fire, and that's when I disconnected my intercom," Lowrey said. "And then I hung on for 4 or 5 seconds with my left hand, and then dropped loose."
After he parachuted out of the plane, he landed and started on a five-day journey through Germany with only a pile of potatoes for food. Then, he was captured by the Germans, and taken as a prisoner of war.
"They gave us a piece of cardboard and a blanket apiece," Lowrey said. "And there would be two of us to spread this cardboard out and lay one blanket out, and then we'd cover it with the other one."
During his 37 days as a POW, he said the way he was treated surprised him.
"In no time during my prisoner of war experience was I ever, or did I ever have a gun pointed at me," Lowrey said.
Shortly after he was released, the war ended and he went home. In 2017, Lowrey was presented with the Distinguished Veterans Award for his service.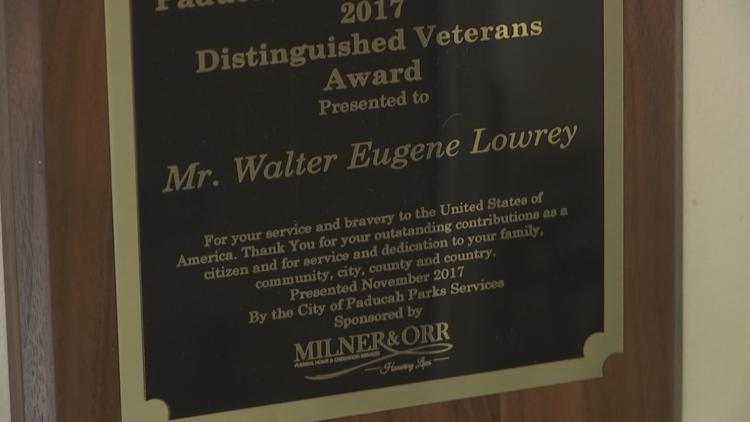 His daughter, Donna Vandenburg, said although her father was honored with the award, he wished he could share the accomplishment with other men who fought with him.
"And he served knowing that at any point and time he could be the next to go," Vandenburg said. "And by the grace of God, he was able to come home to his family."
Lowrey began to document his experiences, writing three articles in 1999. He said it helped him cope and process all that he went through.  
He said the biggest lesson he learned from the war was that people are people, no matter their background. "Regardless of where we're at or anything, we have dignity to treat other people like we'd want to be treated," Lowrey said.
Lowrey said receiving the award was rewarding and humbling. "To think after all these years I would be honored," Lowrey said.
To this day, he doesn't know why he was treated so well by the Germans as a POW, but just maybe there's a purpose to it all. "I still have that feeling that I was left, saved to do something," Lowrey said. "And I don't know what. I guess to raise my family the best I could and provide for them the best I could."
You can read the articles Lowrey wrote detailing his time in World War II in the documents below.