PADUCAH -- An man was arrested and charged for allegedly creating and passing counterfeit bill in Paducah.
On November 11, Paducah police posted a photo and information about a man passing fake $20 bills at Walmart to their Facebook page.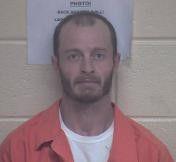 The next day, a person called the tip line saying they believed the man was 36-year-old David Salin who was currently staying in Paducah.
A detective searched a local address and found evidence of counterfeit bill production. He also learned that Salin was possibly leaving the area.
Salin's family was contacted and they provided information about the car he was driving.
It was then learned that Salin could possibly be in Harrisburg, Illinois. Paducah police called Illinois authorities to ask for their help.
Illinois authorities found Salin, who then lead them on a 30 minute pursuit. When he was arrested, they found additional evidence of counterfeiting in his car.
Salin was jailed in Saline County, Illinois. Warrants from McCracken County are charging Salin with eight counts of criminal possession of a forged instrument.
Additional charges are pending.