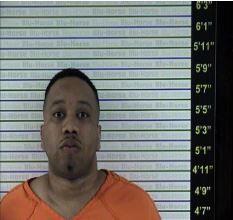 MAYFIELD, KY— The Mayfield Police Department is investigating a homicide after a man was brought to the hospital with gunshot wounds.
The Jackson Purchase Emergency Room staff called Kentucky State Police dispatch around 3 a.m. on Dec. 8. reporting a man brought in with two gunshot wounds, according to the Mayfield Police Department. 
Police identified the man as 35-year-old Reggie Dowell of Mayfield, KY, who was brought in by his wife. Police say, Dowell was pronounced dead shortly after arriving at the hospital. 
Detectives say the shooting happened at a gas station on Hwy 45 North in Mayfield. While investigating at the scene, police were told a possible suspect was at the police station ready to turn himself in.
Charles Holloway, 33-years-old of Mayfield, admitted to shooting Dowell, who he says was a friend of his, after an argument.  
Holloway was arrested and charged with murder. He is currently lodged in the Graves County Jail.
Police say they questioned and released two witnesses.
An autopsy of Dowell is scheduled for Monday, Dec. 9 in Madisonville, KY.