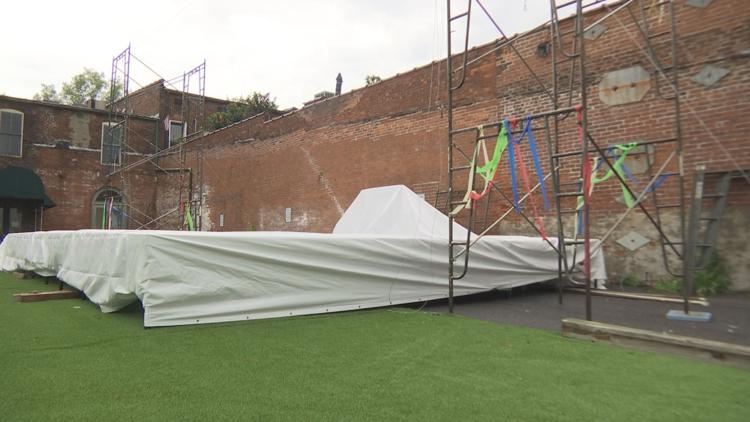 PADUCAH — You will soon be able to enjoy live performances in person at two well-known venues in downtown Paducah.
The Market House Theatre recently set up an outdoor 32 feet by 32 feet stage in the Maiden Alley area, behind the MHT Studio Theatre. The space also features a turf for seating and shade.
The original plan was to hold live performances on Friday and Saturday. But, due to rain in the forecast, the performances have been rescheduled for 9 a.m. on Wednesday, Aug. 5, and Thursday, Aug. 6.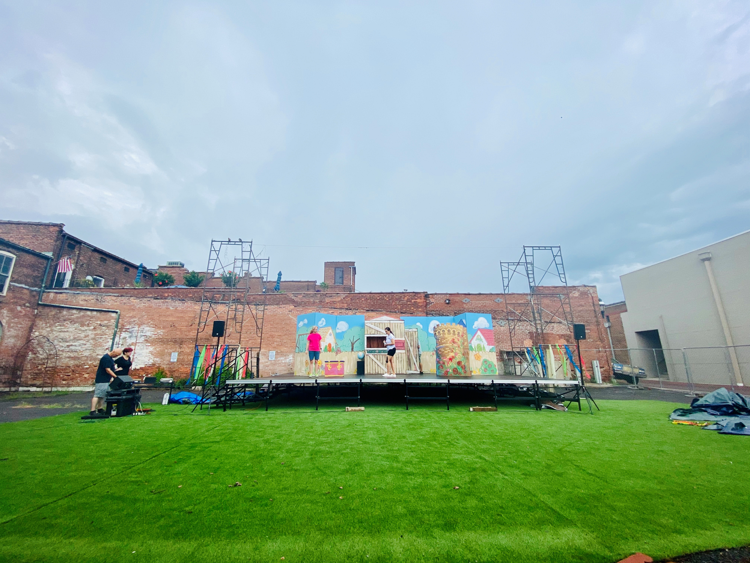 The show itself is called "PlayTime presents Rapunzel," and allows children to sing and interact along with the three actors. Market House Theatre Executive Director Michael Cochran said this will be the first time the outdoor stage is used. It's a major milestone, because Market House Theatre has not had any live shows since mid-March due to the pandemic.
"We wanted to do some outdoor educational programming this summer, and do some adult programming later on, and the outdoor space was the most conducive for us to do something," said Cochran. "We can get as many as 75 in here socially distanced. But we're going to pull that number down to about half, so it will be about 35 to 40 socially-distanced audience in separate seating pods."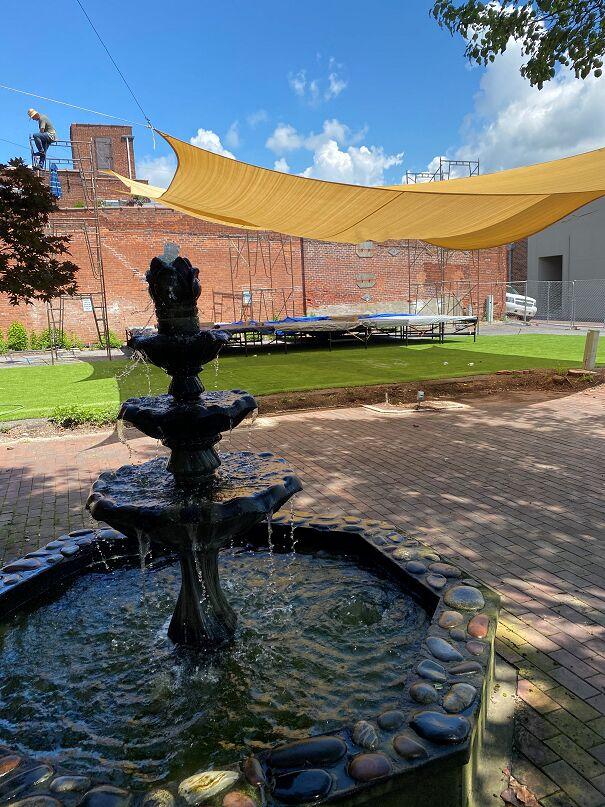 Cochran said the plan even before the pandemic was to have an outdoor performance area. But COVID-19 accelerated the process. The new outdoor stage is actually a temporary setup. Cochran said once November comes, they will work on building a permanent outdoor performance space.
Although the state does allow indoor performances, Cochran said only 50 audience members can attend a show inside Market House Theatre at a time (as opposed to 200 under normal circumstances). The new outside performance space can accommodate more people, while maintaining social distancing.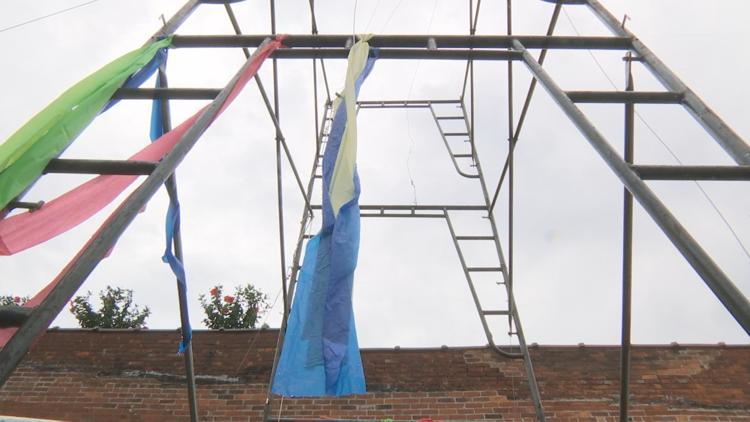 "It was a more conducive space for us to use for rehearsals and performances, and we felt this was a much more important space for us to focus on right now than interior spaces," said Cochran. "It's much easier with social distancing for actors, with audience, with having multiple entrances and exits, with all of the things with natural air outside. It makes everybody a lot more comfortable being outside right now."
Cochran said, although the outdoor performance area simplifies social distancing, putting it together was a challenge.
"So we are trying to be overly safe in what we do for all of our events," said Cochran.
With that in mind, anyone interested in attending the Rapunzel performances next week should call the box office at 270-444-6828 to make reservations. That allows Market House Theatre to limit the audience size to make social distancing possible.
The show is free, but audience members should bring their own lawn chairs. Masks are also required for people 5 and older when they enter and exit. They can remove their masks when the are seated, but must put on their masks any time they leave their seats.
Families with more than four members will be split into different pods, although families will be kept as close together as possible. Each family will also receive a free Rapunzel storybook.
The show is sponsored by the McCracken County Early Childhood Council. Follow Market House Theatre's Facebook page for more details on upcoming performances.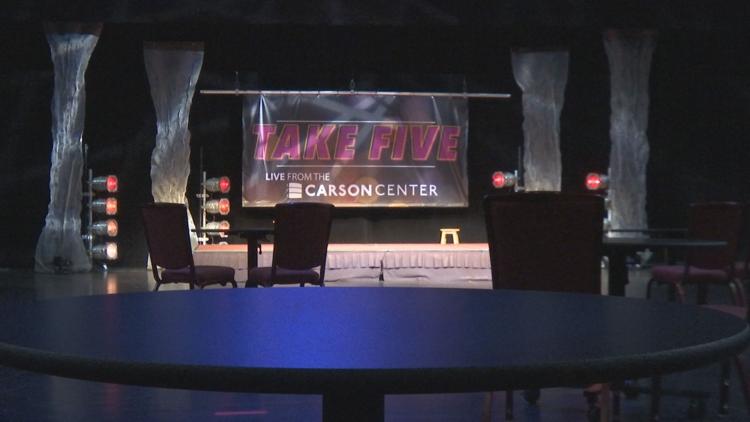 Meanwhile, the nearby Carson Center is also making it possible for more people to enjoy live performances by hosting its first ever public Take Five concert this Friday.
Since mid-May, the Carson Center has been hosting Take Five concerts every Friday at 5 p.m., with live performances by local artists that were streamed on the Carson Center Facebook page. Those concerts usually had about 10 seats in person for a small, socially-distanced audience.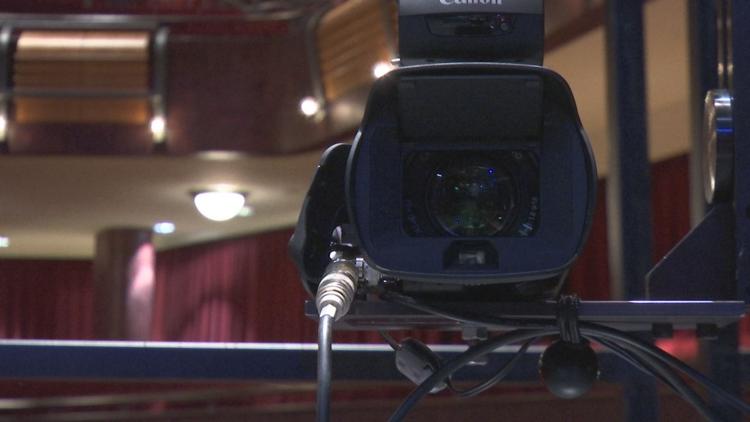 But this Friday, for the first time, the Take Five concert will feature about 70 socially-distanced seats on stage in a cabaret style.
"This would be our first concert concert, if you want to call it that," said Carson Center Executive Director Mary Katz. "Everybody will be temperature checked. They'll come in with a mask on. They will be called in by table. They will be dismissed by table. Their masks will stay on until they're seated. At that time, they probably can take them off if they want to."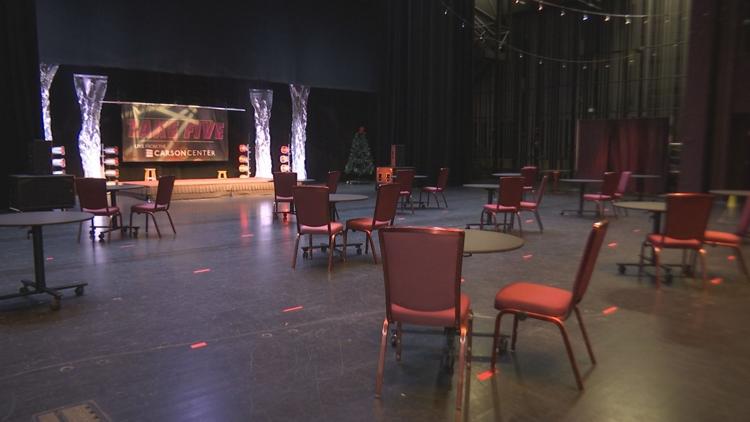 Katz said they originally planned to have the concert outdoors, but changed it due to the weather forecast.
The singer who will perform at Friday's concert, which this time will begin at 6 p.m., is Alee, who is a past nominee for Canadian Country Music Association's Female Artist of the Year. Visit TheCarsonCenter.org to purchase tickets.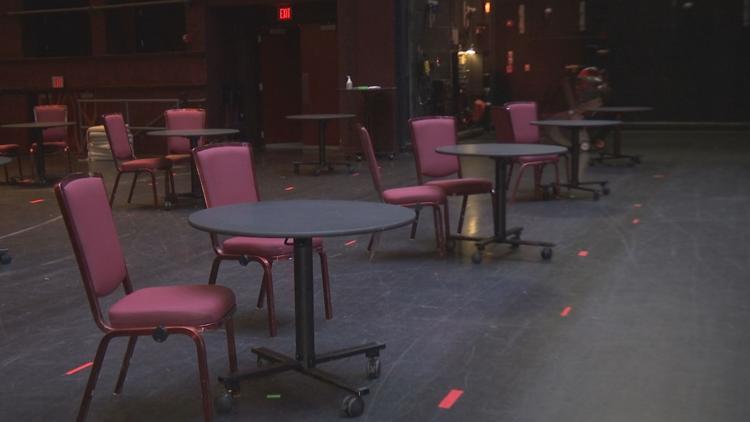 "We are social beings, and we do want to be in the same room eventually with each other to have a shared experience," said Katz. "We love virtual programming and live streaming, and it's amazing how people have been able to stay connected. But there is some kind of magic about being in the same room with the artist, and having the applause and the feedback. That really feeds the soul."
In addition to Friday's first public Take Five concert, the Carson Center will host another Movies by Moonlight event Friday night. The movie "Mama Mia! Here We Go Again," will be shown at an outdoor, 20-foot screen on the Williams Family Terrace. There will be specialty cocktails, a full bar, and snack boxes available. Audience members are advised to arrive by 8:15 p.m. Click here for more details.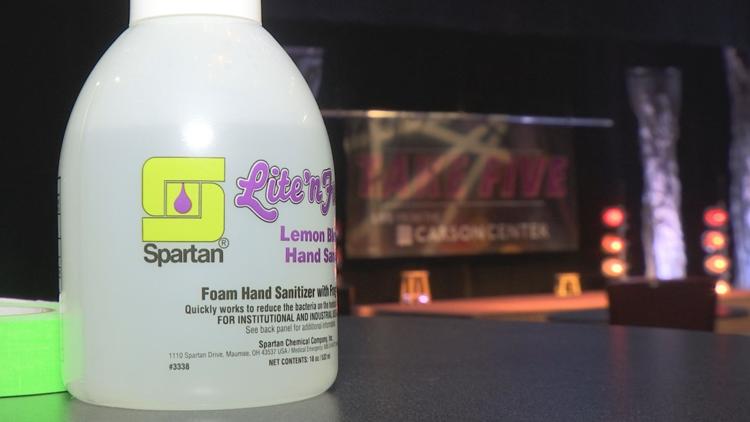 On Friday, Aug. 7, slam poet Samuel "Snacks" Hawkins will perform at the Carson Center for its Take Five concert series. Also that night, Carson Center's Movies by Moonlight event will feature the film "Ray," about legendary soul musician Ray Charles.
Follow the Carson Center on Facebook to see its upcoming events.