MARSHALL COUNTY, KY — Tuesday was the last day cities and counties in Kentucky were able to discuss their 2020-21 fiscal year budgets before handing them in to the state. The Marshall County Fiscal Court passed its budget unanimously Tuesday morning. The budget was passed within the first seven minutes of the meeting, but it's taken county leaders months to get to this point.
The COVID-19 pandemic and millions of dollars in cuts made passing the Marshall County budget difficult to say the least.
"It's give and take and finding common ground. I think we accomplished that," said County Commissioner Justin Lamb. 
The biggest issue revolved around how to fund school resource officers in county schools. Marshall County Judge Executive Kevin Neal proposed restructuring funding for SROs. That funding currently falls under Marshall County Sheriff Eddie McGuire's budget. Neal proposed instead funding SROs directly by the county or via the school board.
"The folks in Marshall really stepped up and helped me out," McGuire said. "I can't do this by myself."
Earlier this month, hundreds of taxpayers showed up at the courthouse demanding the SRO program stay the same. Ultimately, school resource officers stayed with the sheriff's department.
Gone from the budget was a proposed $10,000 in legal fees for Neal. Local 6 tried asking him about it after the meeting.
"Well, I have a meeting I have to go to," Neal said after the 10-minute fiscal court meeting.
We told him the interview would take about three to five minutes. He repeated that we should "call him later." When we followed him to ask what time, he ignored all questions and went into a employees only area and closed the door.
Neal has previously used taxpayer money to pay legal fees. A February open records request found Neal spent about $3,500 from the county's general fund to pay for a lawyer to help pass a controversial ordinance to make Marshall County a Second Amendment sanctuary county. Legal fees included travel expenses, meeting with the Kentucky Attorney General and fees for an appearance at a fiscal court meeting. Instead of the original ordinance, the county ultimately passed a resolution on the issue after weeks of the county attorney telling Neal the ordinance would likely be challenged in court and possibly illegal.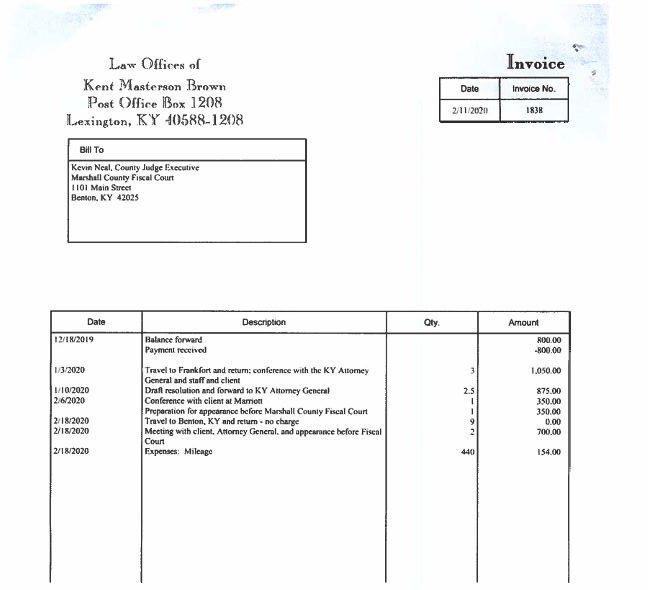 The biggest budget cuts for Marshall County ultimately come from the general fund and road fund, totaling more than $2 million. Marshall County next sends its balanced budget to Frankfort for state approval. Neal has not returned our calls. 
Marshall County Fiscal Court Budget 2020-2021
| FUND NAME | BUDGET | DIFFERENCE IN FY 20 VS. 21 |
| --- | --- | --- |
| General Fund | $14.7 million | -$1.1 million |
| Road Fund | $3.3 million | -$1.9 million |
| Jail Fund | $2.3 miillion | -$202,400 |
| E-911 Fund | $878,730 | +$45,530 |
| Sheriff Fund | $3.1 million | +$51,383 |
| ABC Fund | $428,500 | +$26,800 |
| Building Inspection Fund | $143,300 | -$59,900 |
| Grand Total All Fund | $25,399,765 | -$2,233,425 |