Severe weather in the United States was very quiet relative to what is average for the month of May. Everything that the Storm Prediction Center in Norman, Oklahoma issues -- tornado watches, official severe risk outlooks, reports of high winds/hail/tornadoes were all collectively near or at all-time record lows!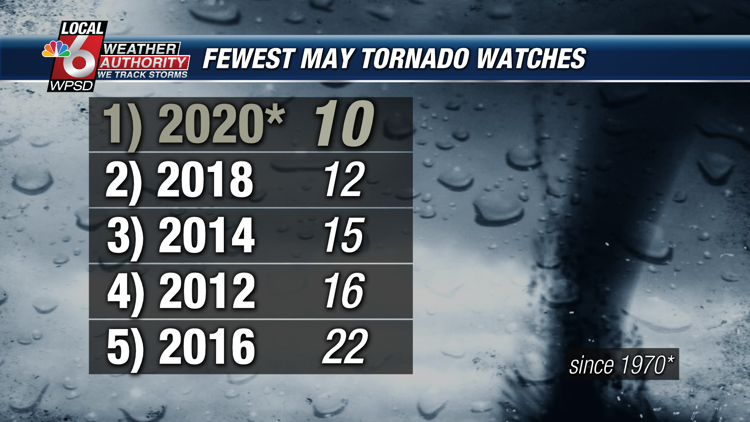 Seen above are the counts for number of tornado watches that the SPC issued in May 2020 - the 10 this year will go in the record books as the fewest ever. While March was somewhat active in our region of the country, with most notably a deadly EF-4 tornado touching down in middle Tennessee doing significant damage from Nashville to Cookville, TN, May was historically quiet with the number of strong (EF-2+) tornadoes.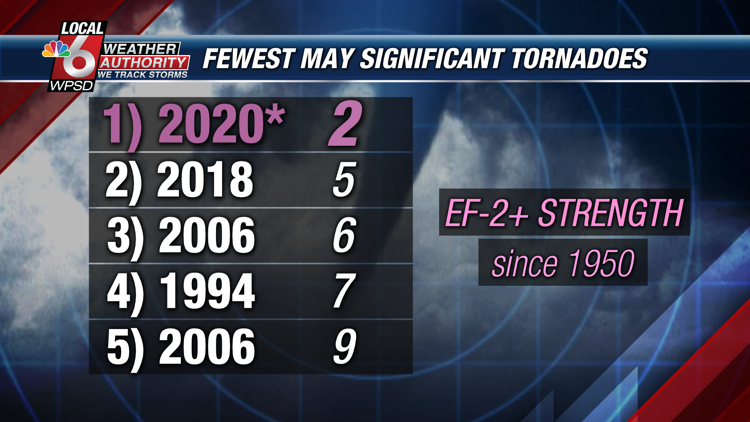 Remember that tornado outbreaks and severe weather are fueled primarily in the spring months by large contrasts in very warm/cold and dry/humid weather between the Gulf States and Midwest. Clashing air-masses help accentuate the strength of the jet stream which increases the wind fields for tornadoes to tap into in the atmosphere. This year the jet stream was very tame and did not have a lot of high-amplitude periods which caused this record minimum in severe weather.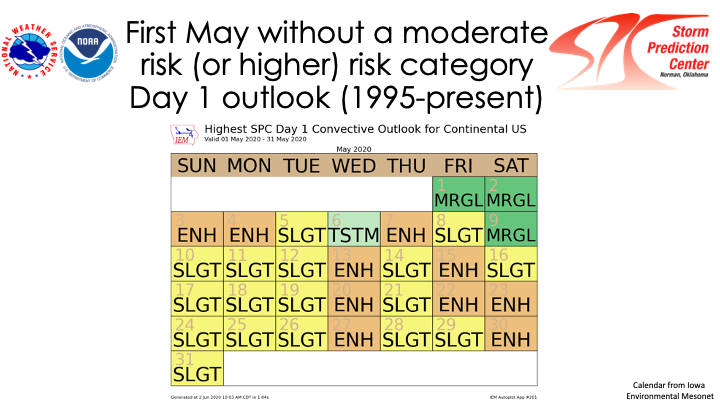 The graphic above shows the highest "day 1" outlook for severe weather from the SPC on every day of the month. Notice there are no "Level 4/5" (moderate risks) shaded in... that is the first time since the SPC began issuing these categories that May had no Level 4/5 or Level 5/5 threat for severe storms at any point!
Upon further review, a quiet May doesn't provide any concrete conclusion as to how the rest of the summer will be for severe storms. You've probably noticed how quiet things have been in the Local 6 area the last few weeks... let's hope it stays that way as we know turn our attention to the tropics and "MCS" summer storm clusters that become more common in later June, July, and August around here.