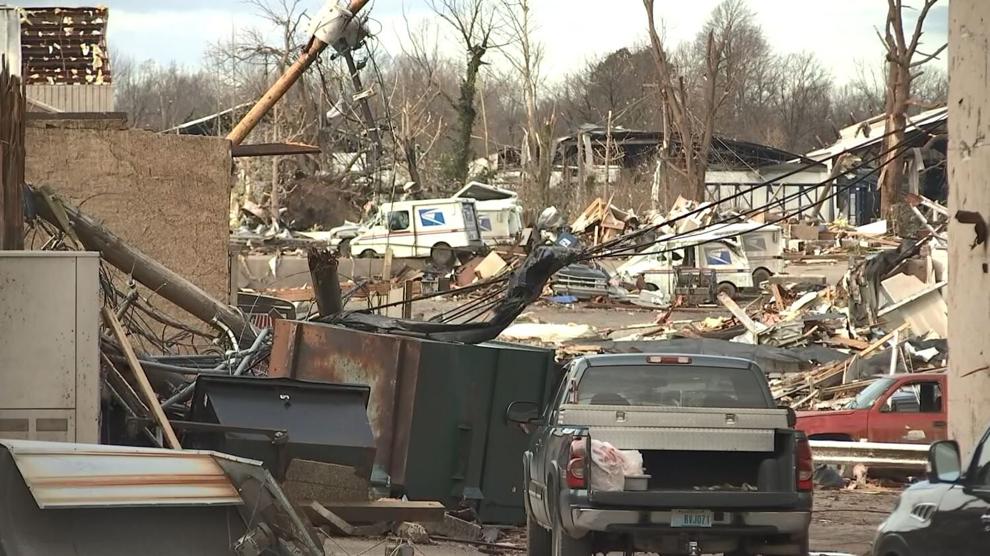 MAYFIELD, KY — Mayfield will soon have a post office again, after the city's post office was severely damaged by the Dec. 10 tornado. The US Postal Service says a new temporary location will open on Monday. 
The Postal Service says there's still no timeline for when repairs to the 225 West Broadway St. location will be complete.
Since the tornado, Mayfield residents have had to travel to post office locations in Hickory, Sedalia, Farmington or Wingo to utilize USPS retail services, and Mayfield Post Office employees have had to travel to the Paducah Processing and Distribution Facility to report to work. 
That will change on Monday, April 11, when the temporary Mayfield Post Office opens at 1102 Paris Road. Its hours of operation will be 8:30 a.m. to 4:30 p.m. Monday through Friday and 9 a.m. to 11 a.m. Saturday. 
To celebrate, the post office will host a breakfast for employees at 8 a.m. on Monday. USPS says Mayfield Mayor Kathy Stewart O'Nan will be there to help welcome employees on their first day at the temporary office. 
"We are very proud of the service we have provided our customers since our community was devastated by the tornado," Mayfield Postmaster Joshua Jenkins said in a statement Friday. "I'm especially proud of our employees, who have continued to do their jobs in difficult and unusual circumstances since December. They are truly 'Delivering for America.'"