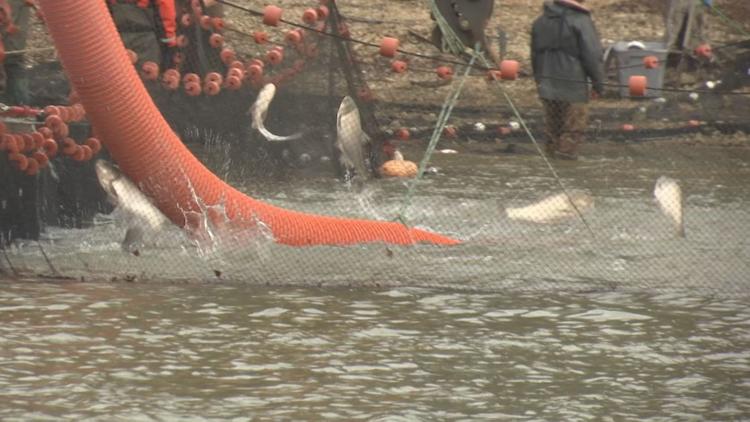 LYON COUNTY, KY — Senate Majority Leader Mitch McConnell and Rep. James Comer joined various leaders to see first-hand a new method to combat Asian carp in Kentucky Lake.
They took part in a boat tour Monday morning at Pisgah Bay.
During the tour, they saw first hand the harvesting technique called the modified unified method. The method involves using sound and electricity to drive Asian carp through a series of large nets, until they end up in a small area for crews to harvest.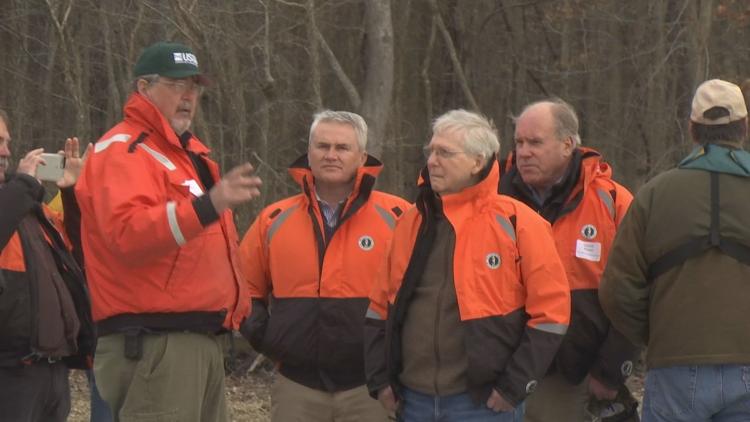 Ron Brooks, the aquatic nuisance species program director at Kentucky Department of Fish and Wildlife Resources, explained the method in more detail. He said crews first installed a 2,500-foot block net to cordon off Pisgah Bay. Crews then installed nets perpendicular to the block net to create smaller cells of space. Next, crews used sound from underwater speakers and electricity to push the carp out of each cell. The cells are then closed and the process is repeated until all the fish are crowded into a designated area for harvesting.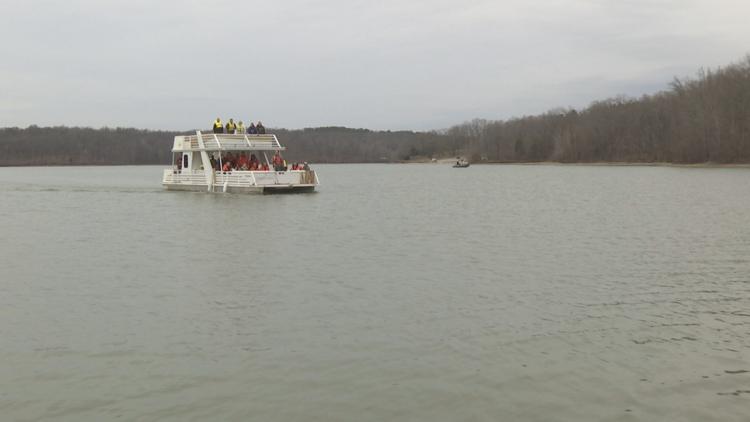 Brooks said after crews were done pushing the Asian carp to the harvest area, there were hundreds of thousands of fish there. Brooks said crews had been using a large seine net to collect the carp. But on Monday, they were testing a different method: using a large pump to move the fish to containers, which will then be brought to shore.
Brooks said this method is specifically effective on Asian carp, while having a smaller impact on other species.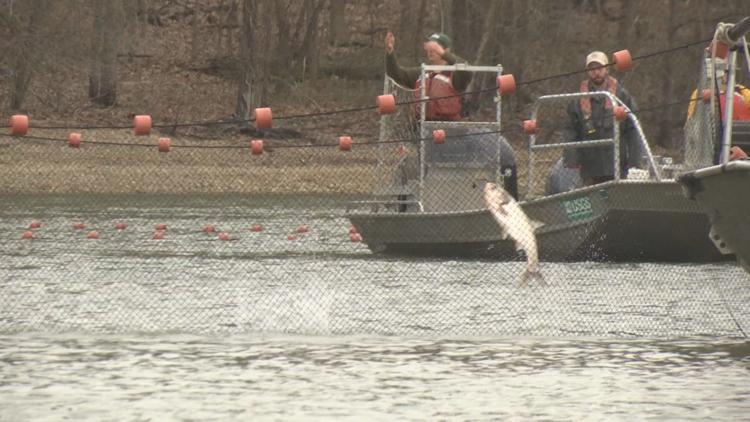 "Asian carp are very attuned to sound, whereas sports fish aren't. And so when we're pushing the Asian carp, the bass and the crappie and fish like that, they stay right where they are. They are hunkered down. So we don't do a lot of sport fish by-catches in this method, which is very important," Brooks said.
Monday was the first time McConnell saw this carp-harvesting method in person.
"There were a lot of very large carp jumping up and being caught," said McConnell. "This is the beginning of a long march here. It's probably going to take years to rid the lakes of these carp. But we're going to stick with it and get the job done."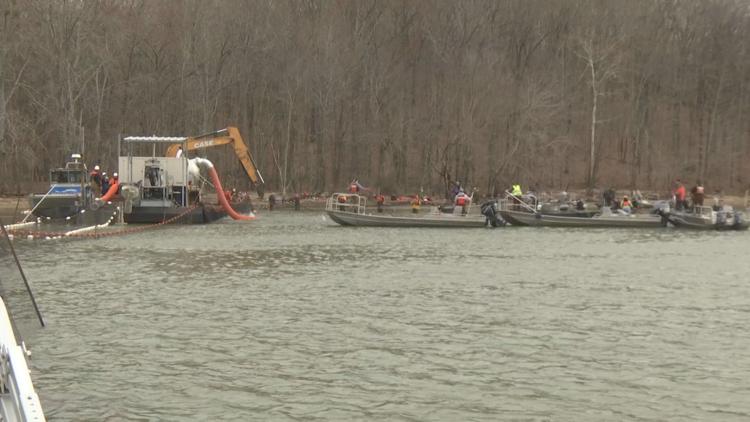 After the boat tour, McConnell emphasized the importance of getting rid of the invasive species.
"This Asian carp problem is absolutely jeopardizing our $1.2 billion fishing industry," said McConnell. "Last year, I invited Trump administration officials to meet with western Kentucky leaders. We discussed the benefits of the unified method. We asked the U.S. Fish and Wildlife Service to deploy here at Kentucky Lake. They done that. And while this unified method has shown results abroad, only two other states are using this so far in our country."
"I'm told within the last couple of weeks, you all were able to harvest about 17,000 pounds of carp here within just the last couple of weeks," McConnell added. "So it's pretty clear that it's going to work."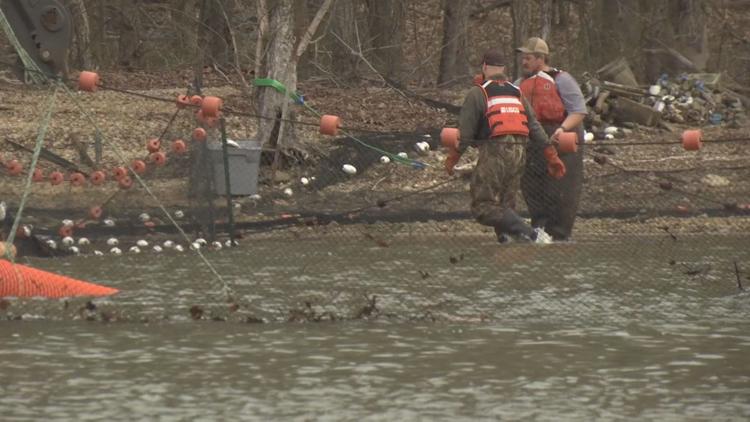 McConnell credited Lyon County Judge Executive Wade White for bringing the Asian carp problem to his attention. Monday was also the first time White saw the modified unified method in person.
"It's a big operation. There's a lot of stuff involved in this. So hopefully, it will drag out hundreds of thousands of pounds," said White, who was on the boat tour as well.
The method was first deployed at Kentucky Lake on Feb. 3. To evaluate its effectiveness, the Kentucky Department of Fish and Wildlife Resources is working with the U.S. Geological Survey and the U.S. Fish and Wildlife Service. Other agencies involved in the project include the U.S. Forest Service, Tennessee Valley Authority, and various other state agencies and local partners.
"A whole region of our country is threatened by these things, so it's good to have everybody working together and on the same page," said White.
Kentucky Gov. Andy Beshear also stopped by Kentucky Lake on Monday to talk about the method. He said the effort is unprecedented.
"The modified unified method used here at Kentucky Lake represents the first test of the method on a U.S. reservoir larger than 500 acres," said Beshear.
Beshear noted that Kentucky's Asian carp harvest program, which was started in 2013 and allows commercial anglers to participate, has resulted in the harvest of more than 10 million pounds of Asian carp.
"Day in and day out, if we work with our federal, local and state partners to find the most innovative, but more importantly, effective methods, we can be first to address this challenge and show the rest of the country how to not only do it right, but how we do it here in Kentucky," said Beshear.
McConnell had secured $25 million to combat Asian carp in the U.S. Part of the funding goes to the modified unified method on Kentucky Lake, as well as to the bio-acoustic fence at a lock at Barkley Dam.
Brooks said crews will use the modified unified method for a few more days at Pisgah Bay, then review their notes and plan for larger-scale programs.