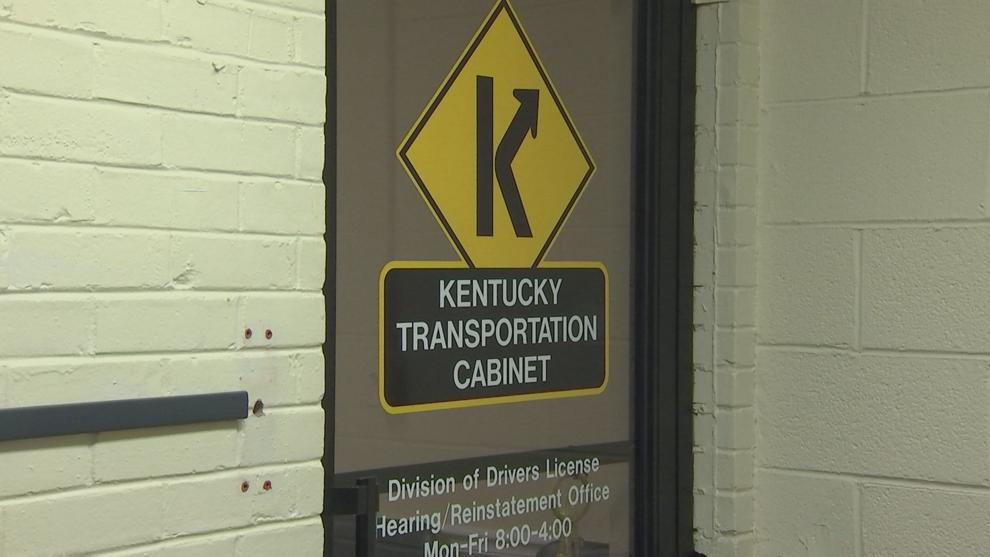 McCRACKEN COUNTY, KY — The way you get and renew your driver's license in McCracken County is changing.
The McCracken County Clerk's Office, as well as eight other counties, will stop nearly all in-person licensing services on April 26. Instead, you will have to go to your regional Kentucky Transportation Cabinet's office. 
Paducah's regional KYTC office is at office at 2855 Jackson Street, Suite C, which is in the Hipp building. Previously, drivers would go to the McCracken County Courthouse for regular driver's licenses and the the KYTC regional office for REAL IDs. 
This new system is set to be phased in statewide by June 30. 
The transportation cabinet says the transition will give customers more choices and modern services.
"Kentucky's system for driver license application, issuance and renewal is being taken to the next level with a network of driver licensing regional offices exclusively dedicated to licensing services," KYTC Secretary Jim Gray said in a news release Wednesday. 
Starting in April, you can renew or apply for a REAL ID or new standard card version of driver's licenses, permits, commercial driver's licenses (CDLs) and ID cards at any KYTC Driver Licensing Regional Office. 
Offices are currently located in Paducah, Madisonville, Bowling Green, Owensboro, Louisville/ Hurstbourne, Elizabethtown, Frankfort, Lexington, Burlington, Richmond, Columbia, Somerset, Jackson, Morehead, and Prestonsburg. There also are smaller, temporary field offices at Louisville/Bowman Field and Catlettsburg operating by appointment only.
In addition to McCracken County, the seven others making the transition include Adair, Breathitt, Floyd, Hopkins, Madison, Pulaski, Rowan and Russell.
You can make your appointments online, by clicking here. However, KYTC says walk-in visits are also welcome. 
KYTC says there is one temporary exception. Until June 30, circuit court clerk's offices, in every county except Fayette, will continue to process remotely submitted applications for renewal or replacement of standard-issue credentials.
That only applies if your card expires before June 30, you have not had a chance of name or address, and your application does not require a driving test performed by Kentucky State Police.
Kentucky State Police will continue to oversee all permit and license testing. 
You can schedule an appointment for written or road tests by visiting the KSP website, kentuckystatepolice.org/driver-testing. 
KYTC says testing will continue until further notice in current locations for counties being transitioned off license and permit issuance. 
Once testing successfully complete, customers will visit a KYTC Driver Licensing Regional Office to apply for the permit or license. 
The transition of services was officially launched when House Bill 453 was passed during the 2020 Kentucky General Assembly. 
KYTC says the gradual shift from Circuit Court Clerks offices to Driver License Regional Offices is more than a change in locations, but a modernization of services that will offer more choices. 
Gray said the change represents a new era for licensing. "With a single agency at the helm of processing credential requests, we'll be able to offer consistent, innovative advancements that take licensing to the next level in Kentucky," he said. 
You will be able to find the following when the transition takes effect:
Online appointment scheduling. 
Online license renewal for REAL ID or standard version cardholders who have not have a change in address or name.
A choice between a REAL ID or new standard card version. Both feature security upgrades and are available in either a four-year or eight-year card lifespan. CDLs are only available as eight-year credentials.
Visit any regional office, regardless of where you live in Kentucky.
Periodic "Popup Driver Licensing" visits to counties without a regional office for on-site application and renewal services.
Applicants will receive a temporary ID document at the end of the transaction until the permanent card arrives at their home address. KYTC says this reduces the wait time for a card to be printed and boosts security in the card issuance process by eliminating in-office card production machinery. 
While Kentucky will continue offering standard driver's licenses, a REAL ID or other form of federally approved identification, such as a passport or military ID, will be needed starting Oct. 1, 2021. You will need a REAL ID to pass through airport security checkpoints, visit a military base or access a federal building or facility that requires identification. Visit drive.ky.gov for more information. 
To get your first REAL ID, you have to apply in person at a Driver Licensing Regional Office and present specific, required documentation. A list of acceptable documentation and a link to take an interactive quiz that gives you a personalized list of the documents you can provide is available here.
To maintain the safety amid the pandemic, employees and customers of the Driver Licensing Regional Offices will follow Kentucky's Healthy at Work standards, which include wearing masks and observing social distancing. KYTC says surfaces are cleaned and touch pad equipment is sanitized after each use.