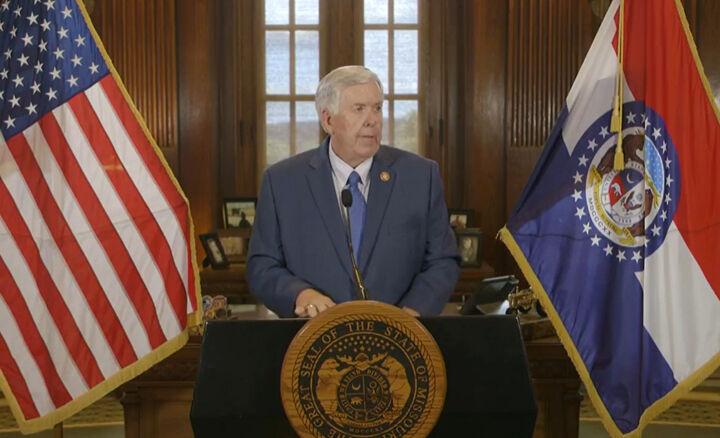 Missouri Gov. Mike Parson is calling for a special session of the state legislature regarding his proposal to make state income tax cuts and extend agricultural tax credit programs for at least six years. 
Parson's proposed legislation would lower the state's top individual income tax rate from 5.3% to 4.8% and increase the standard deduction for individuals and married couples filing jointly. The standard deduction for individuals would increase by $2,000, and the standard deduction for joint filers would increase by $4,000, the governor's office says. Additionally, the proposed tax plan would eliminate the bottom income tax bracket. 
The governor says the Missouri General Assembly will meet at 12 p.m. on Sept. 6 at the state Capitol to consider his tax plan. 
"Our tax cut proposal means that every taxpaying Missourian, no matter their background, income, or job description, will see a reduction in their tax liability," Parson says in a statement released Monday afternoon. "Every Missourian will earn their first $16,000 tax free and married joint filers will earn their first $32,000 tax free, resulting in significant savings for millions of Missourians. Our plan puts more of Missourians' hard-earned dollars back in their pockets and aims to make it a little easier for families to put food on the table and gas in the car."
Because of inflation, higher wages and federal funding, Missouri ended the 2022 fiscal year with a record general revenue surplus, with a balance of $4.9 billion, the Associated Press reports. However, critics of the plan believe it's not sustainable and could hurt the state financially in the long run.
"While Missouri is fortunate to have the budget reserves it currently does, this situation is temporary, and is a result of short-term federal funds. Quite simply, relying on the current surplus to fund permanent tax changes isn't fiscally sustainable, or responsible, and will ultimately require cuts to state services like we saw in Kansas a few years ago," Missouri Budget Project President and CEO Amy Blouin says in a statement released after the governor's special session announcement. 
Blouin says Parson's plan is "heavily weighted to benefit the wealthiest Missourians," adding that it wouldn't help people who don't earn enough to owe income taxes "even though they pay more in overall state and local taxes than their wealthy counterparts."
"In Missouri, the lower your earnings, the more you pay in state and local taxes as a share of what you make: according to the most recent analysis, Missouri families in the bottom quintile of income pay 9.9% of their income in state and local taxes, compared to just 6.2% for the wealthiest 1% of families," Blouin says. 
Blouin compares Parson's plan to tax cuts that were put in place in Kansas by former Gov. Sam Brownback. Those cuts, known as "the Kansas experiment" decreased revenues and caused the state's economy to grow more slowly than neighboring states (An NPR report explains how the Kansas experiment negatively impacted the state, with the aftermath continuing after the state legislature rolled back those tax cuts). 
"Missouri can't afford to enact the failed Brownback tax failure that devastated Kansas' budget," Blouin says. "With Brownback's policies, a budget surplus became a deficit, lawmakers had to make repeated and drastic cuts to state services, and the state's economy suffered. After years of budget crises, that state's Republican legislature reversed course and repealed most of the tax cuts. Because of the Hancock amendment, Missouri policymakers won't have that option."
As for agricultural tax credit programs, the governor's proposal includes the extension of existing programs and the creation of new tax credit programs, with each program set to last for at least six years. 
Parson is calling on lawmakers to extend the expiration of the meat processing facility investment tax credit, the Rolling Stock Tax Credit program, the Agricultural Product Utilization Contributor Tax Credit and the New Generation Cooperative Incentive Tax Credit. 
He's also calling for the creation of a tax credit program for retail dealers of higher ethanol blend fuels, a tax credit program for retail dealers of biodiesel, a tax credit program for Missouri biodiesel producers and a tax credit program for establishing or improving urban farming operations. 
Additionally, Parson is asking lawmakers to exempt agriculture utility vehicles from from state and local sales and use taxes.
The governor is also asking lawmakers to create legislation called the Specialty Agricultural Crops Act. In his official proclamation calling for the special session, Parson says the act would allow family farms to obtain loans for the acquisition of farming resources for qualified specialty crops. Interest would not be assessed for the first year of the qualified specialty agricultural crops loan, the proclamation says. Additionally, lenders providing loans under that program would be entitled to a tax credit equal to the amount of interested waived. The act would specify that the total amount of tax credits that could be authorized in any fiscal year could not exceed $300,000, and the program and associated tax credits would expire a minimum of six years after the program is authorized. 
For small farms, Parson is asking legislators to amend the Family Farms Act to adjust the definition of "small farmer" to mean farmers living in Missouri who have less than $500,000 in gross sales per year and to remove a provision from that law that limits those farmers to one family farm livestock loan per family and for only one type of livestock. Additionally, Parson asks that the maximum amount of a family farm livestock loan for each type of livestock be amended to $150,000 for beef cattle and dairy cattle, $70,000 for swine and $60,000 for sheep and goats. 
Download the document below to read Parson's proclamation in full.