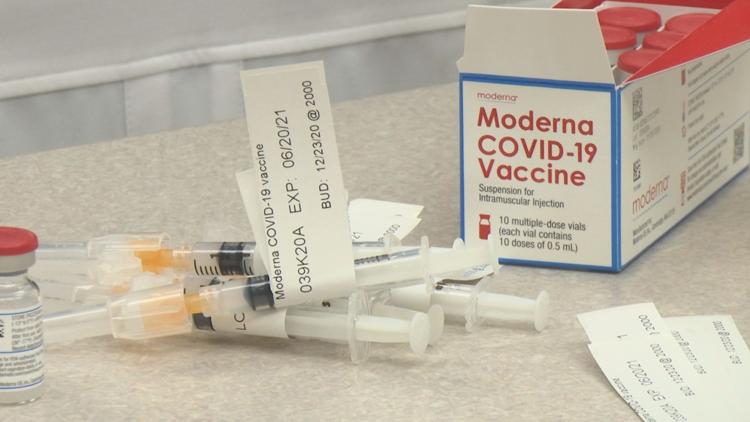 Baptist Health Paducah and the Marion VA Medical Center have begun administering their Moderna COVID-19 vaccines.
The former received 1,200 doses Wednesday morning, while the latter received 1,200 doses on Tuesday.
Baptist Health Paducah began vaccinating frontline workers Wednesday afternoon. Chief Medical Officer Dr. Brad Housman said the shots are voluntary. Baptist Health will continue to run vaccination clinics over the coming days and weekends, Housman said.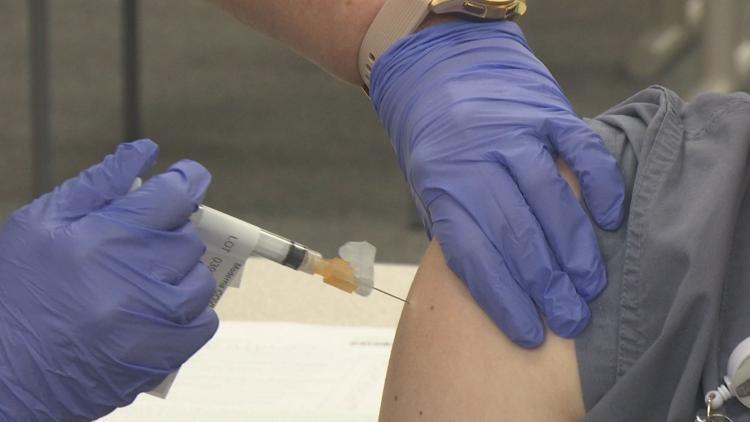 Among the volunteers who received the initial dose of the Moderna vaccine was Dr. Joseph Ashburn, a neurohospitalist at Baptist Health. He said he felt good after getting the injection.
"This is a super exciting moment. We've been fighting this virus for the better part of eight or nine months, and it just feels like that no matter what we do, it's a very difficult virus. We have minimal tools," said Ashburn. "This just feels like just one of the biggest and best breakthroughs to come our way in the fight against COVID."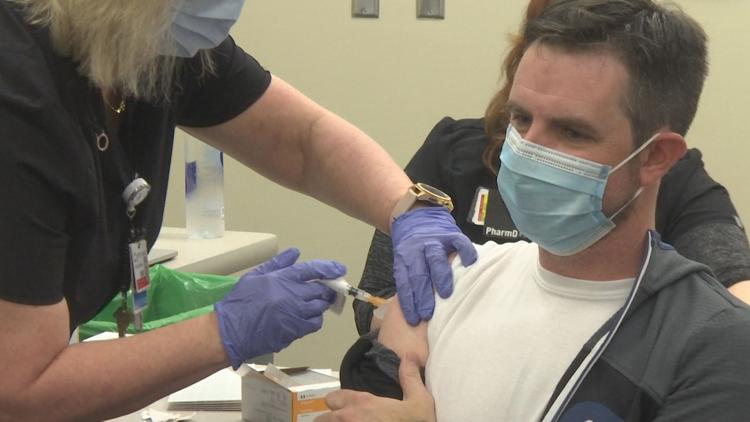 Although the vaccine was developed quickly compared to vaccines in the past, Ashburn said he has confidence.
"We don't know a lot of risk in this vaccine, and that the trials have showed it to be very safe," said Ashburn. "But we know that risk of not vaccinating people and the risk of not social distancing and not wearing masks. And so I think in that scenario, the benefits of this vaccine way outweigh any risks."
Another Baptist Health doctor who gave the vaccine a shot Wednesday was Dr. Carl Johnson, a cardiothoracic surgeon who has treated patients suffering from severe COVID-19 complications, including those who begin to worsen while on the ventilator.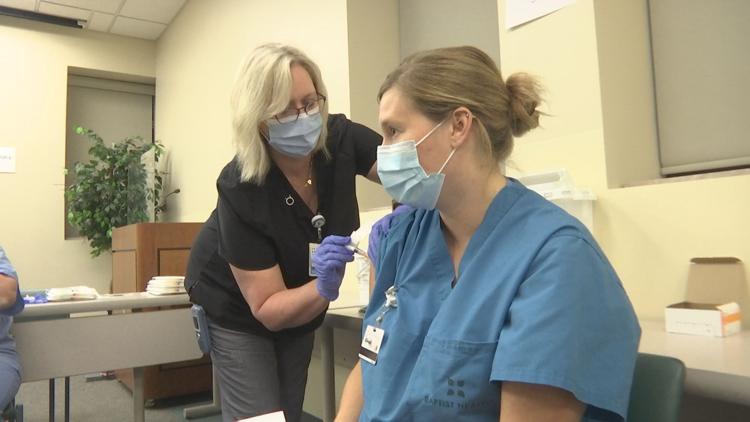 "I was amazed and pleased," said Johnson of the arrival of the vaccine. "When COVID first broke out, I predicted that we were in trouble until a vaccine arrived. I never suspected that they would be able to get a vaccine this quickly. That's a testament to a lot of science and a lot of dedicated people."
With that in mind, Johnson said he was happy to be vaccinated Wednesday.
"I told everyone I could tell that I would try to be the first in line when I could get that (vaccine), because I thought that was the thing that would help our country," said Johnson. "I think that the medicine and the science, and the making the vaccine is such a great accomplishment that I hope that by some example or whatever, I can help other people realize that this is something that needs to be done."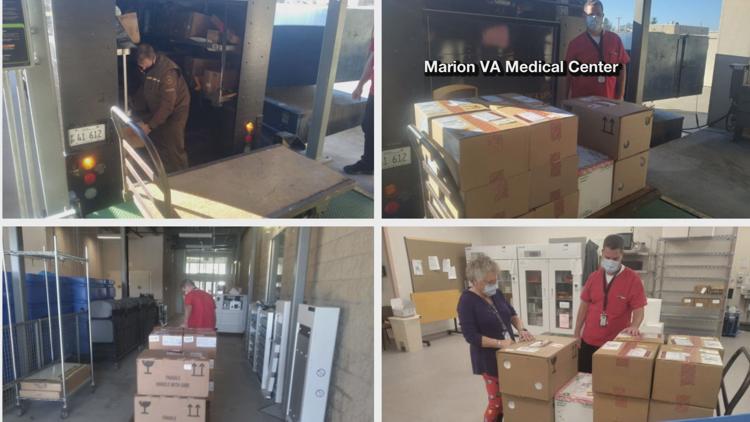 The VA Medical Center in Marion, Illinois, also began administering its Moderna vaccines Wednesday. A clinic was set up at the Center for Behavioral Health on the campus.
Public Affairs Officer Todd Wright said several veterans that stay at the VA's community living center volunteered to be vaccinated.
"A lot of veterans see this as a continuation of their service to the country. The new enemy is not Taliban or ISIS. The new enemy's COVID," said Wright.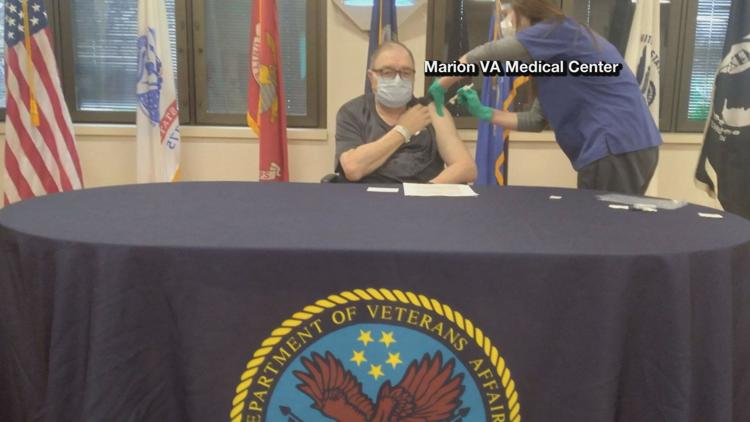 In addition, the Marion VA Medical Center began vaccinating the workers at its community living center and other VA health care personnel. Among those vaccinated Wednesday was Dr. Tom Kadela, the systems redesign coordinator for the VA Medical Center.
"I think it's important that all of us, especially health care workers, to get vaccinated so we can ensure that our loved ones, the community and our population are as healthy as we can be," said Kadela.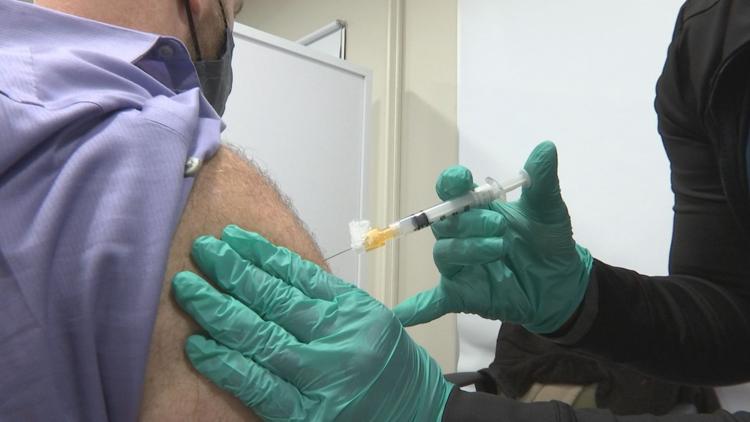 Kadela said after taking the vaccine, he didn't feel any side effects.
"It was nearly painless," he said. "And actually, I feel kind of good, like we're moving forward, and hopefully, we're going to end this."
Wright said the Marion VA Medical Center had planned to vaccinate about 80 people on Wednesday. The goal was to eventually administer 100 to 200 doses a day until the 1,200 doses are exhausted.
After the initial dose of the Moderna vaccine, recipients will need another dose in 28 days.
Last week, Mercy Health - Lourdes Hospital received 975 doses of the Pfizer vaccine, and has since vaccinated hundreds of frontline workers.