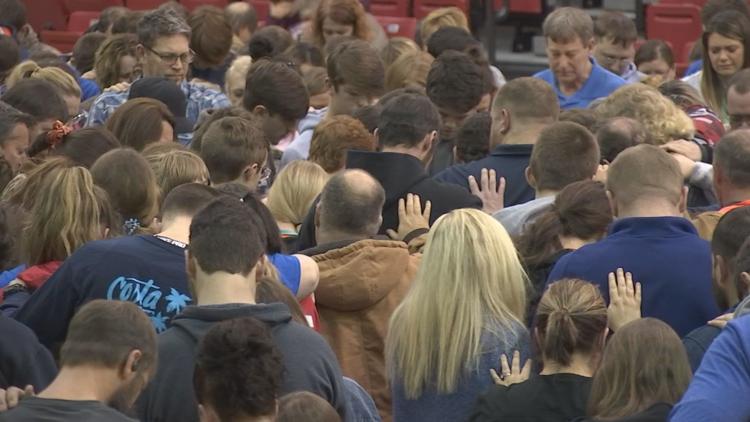 OBION COUNY, TN — About 250 people gathered to grieve together in Obion County on Monday after a boat was found belonging to the three missing people crews have been searching for in the Tennessee River and Pickwick Lake in Hardin County, Tennessee.
Two Obion County Central High School students and a parent chaperone have been missing since Saturday night. They were in Hardin County for a fishing tournament.
People of all ages gathered in groups large and small to pray together at the high school Monday night. 
Principal Barry Kendall was emotional when talking about how the news has affected students at the school.
"They've understood the gravity of the situation, and they acted accordingly. And there were some students that needed to be seen, and we got them taken care of. As the week goes on, probably not going to get any easier," Kendall said.
The boat was found severely damaged about 14 miles past the Pickwick Dam on the Tennessee River. Crews are concerned the missing people were on board when the boat went through the dam.
The Tennessee Wildlife Resources Agency is leading the search efforts.
The agency said it suspended the search at dusk Monday because of hazardous water conditions, but efforts to find the two teens and the 43-year-old man will resume Tuesday.
TWRA says the Hardin County Fire Department, Sumner County EMA, Decatur County Rescue, Hardin County Sheriff's Department, TVA Police, and Pickwick State Park staff have assisted with the search efforts.
The agency says the response it has received to a call for volunteers to join the search efforts has been "overwhelming" — so much so that emergency managers are limiting volunteers to those from Obion County who are experienced boat operators.