GILBERTSVILLE, KY — We could soon see improvements to the way river traffic moves through our area at Kentucky Dam. Construction of the dam's new lock started in 1998.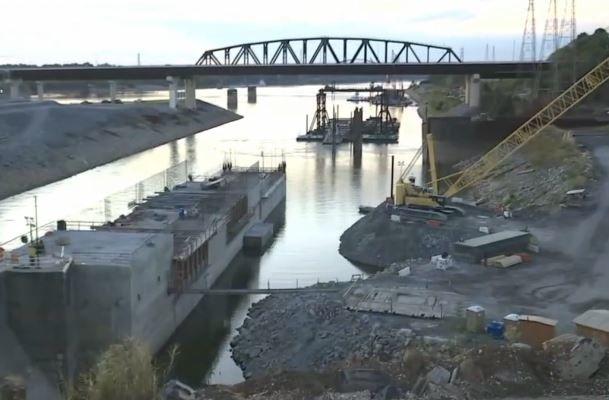 Project manager Don Getty says about 76 barges — or 5,000 tractor trailer loads of goods — go through daily. The goal of the new lock is to get more commercial traffic through the dam, and make it safer for recreational boaters to travel through the lock. Getty says the new lock will do more than just make river traffic move smoother.
"The recreational aspects of this project — so, when we're finished, we're going to have a bike pedestrian lane going all the way from Kentucky Dam State Park all the way over to East Bank in Livingston County," says Getty.
Kentucky Dam lockmaster, Caleb Skinner, says it's about a 14-hour process to move barges and commercial traffic through the 600 by 110-foot lock. The new one will be twice that size at 1200 by 110 feet, meaning they can get large boats through faster.
"We'll be able to lock vessels simultaneously," says Skinner. "At the same time, we'll be able to lock a tow boat in the large chamber while we're locking recreational vessels in the small chamber."
Getty says construction has been going on for so long because of how slowly funding has been made available. But recently, they've been getting all of the money they need.
"We're fortunate. The last three years, this project's received all the money it's asked for," says Getty. "We're optimistic that we're going to continue getting that efficient funding and finish this project in about five years. The earliest we can finish is about 2024."
Getty says once they finish the new lock, we could see a significant benefit to the economy in the area.
Some of the contractors working on the dam are local companies. Getty says there have been almost 500,000 labor hours have been worked so far.