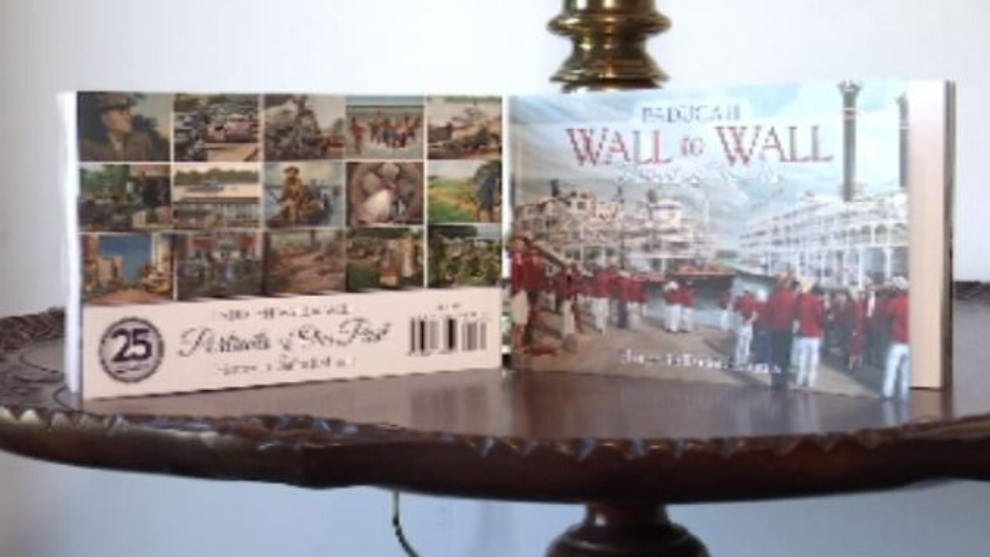 PADUCAH, KY — The Wall to Wall murals painted on Paducah's floodwall downtown portray the history of the city. Now, people can own their own piece of Paducah history with the "Paducah Wall to Wall" book.
The book was presented Monday at the River Discovery Center. The book is dedicated to former Paducah Mayor Gerry Montgomery. The murals were funded while Montgomery was mayor. 
If you'd like to own your own copy, you can find the book at the following locations:
— The River Discovery Center at 117 South Water St.
— The National Quilt Museum at 215 Jefferson St. 
— Hank Brothers True Value Hardware at 3101 Lone Oak Road and 3525 Wayne Sullivan Drive.
— Roof Brothers Wine and Spirits at 3145 Park Ave.
— Midtown Market at 3000 Broadway St. 
— The PAPA Gallery at 124 Broadway St. 
— The Art Guild of Paducah at 115 Market House Square.
— BBQ & More at 321 Broadway St. 
— Maiden Alley Cinema at 112 Maiden Alley.
For more information about the floodwall murals and the book, visit paducahwalltowall.com.