CALVERT CITY, KY — Diabetes is often called the silent killer. There is no cure for the disease, impacting the way millions of people work, play, and enjoy life.
Robyn Cothran is living with Type 1 diabetes.
"It messes with you," says Robyn. "It tries to take away parts of your life."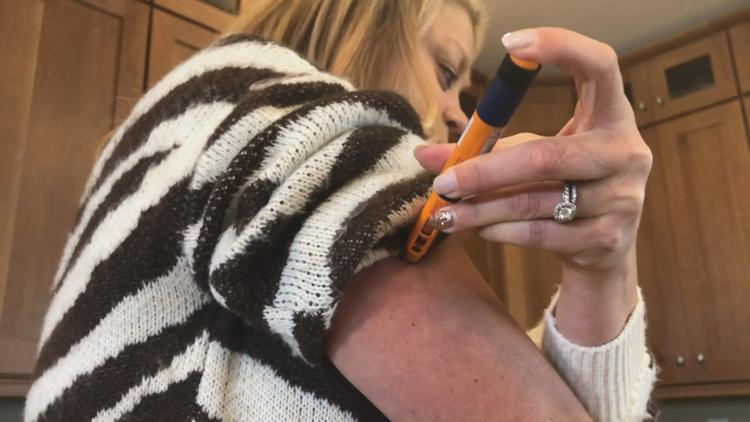 Robyn's body can't produce its own insulin, which is a hormone we all need to survive and turns the food we eat into fuel.
Doctors diagnosed Robyn with Type 1 when she was 9-years-old. Back then, it was called juvenile diabetes because most people were born with it or got it as a child. But now, doctors say they're diagnosing adults with Type 1 diabetes.
American Diabetes Association says the disease is serious, lifelong, and on the rise worldwide. Reports show Type 1 can lead to things such as kidney disease, stroke- and long-lasting nerve, eye, and foot problems. Robyn says she's experienced some of these problems first-hand.
Doctors told Robyn she should never have kids; then, an unplanned pregnancy put her body to the test.
"It's not just being able to take care of them daily; it's thinking about wanting to see them graduate from high school and being around for those things."
All things Robyn didn't think about when she was a kid diagnosed with Type 1 diabetes.
"All I was told when I was young was scare tactics: you're going to be blind, your kidneys are going to fail," says Robyn. "But as a 10-year-old, an 11-years-old, a 16-year-old, that seems unreal. I wish someone had set down with me and talked about having a family, and talked about having a career, and talked about all those integral things that can take your quality of life away."
Today, at 36 years old, Robyn manages her disease by checking her blood sugar levels up to eight times a day. It's something she says she didn't always do, and that put her at risk once she got pregnant.
"It was dangerous for me because I had kidney disease, and I already had so much damage to my body that a normal mid-30s would not have," says Robyn.
Robyn says she was told her body wasn't strong enough to handle a pregnancy and that a baby wouldn't survive. "It was a huge risk," she says. But she proved her doctors wrong, defying the odds with two healthy pregnancies and two miracle babies.
Robyn may have won those battles, but her war will last a lifetime.
"You know, when you go to bed at night, your life is kind of up in the air," says Robyn.
That's something her husband, Brandon Cothran, says he thinks about every morning before walking out the door. "I always check on her before I leave," he says. "Even if she is asleep, I'll wake her up because I need to make sure she's not asleep because- if you have high blood sugar, it makes you extra tired."
If it's low, he says, she might not be asleep but unconscious.
"You just don't realize that every second, every day, every minute taking care of yourself counts," says Robyn.
Robyn says she learned that the hard way. "I wasn't very old when things went south," she says. "You don't normally see things like this happen so early."
It was in college when Robyn says she woke up one morning and couldn't see. "I was blind," she says. "I couldn't see anything. I couldn't see my hand in front of my face."
Robyn had 14 surgeries to fix the problem, but some of them just made it worse. Twenty-seven years after her diagnosis, Robyn is still experiencing issues with her vision, but her outlook on life has changed.
"Your quality of life is all in your hands as a diabetic," says Robyn. "It is a disease. There is no cure. You can live with it, and you can have what everybody else has. You can have the marriage, the family, the degree, the job, whatever you want. But it doesn't happen easily if you don't take care of yourself."
Robyn says her eyes are getting better because she's taking care of herself. She's heading to Lexington this month to meet with a new doctor about surgery.