PADUCAH — You can always hear the constant hum of a cellphone ringing at the Purchase District Health Department's COVID-19 testing site. The COVID-19 testing team is juggling long lines of people trying to get tested for the virus and answer incoming calls about test results from the community.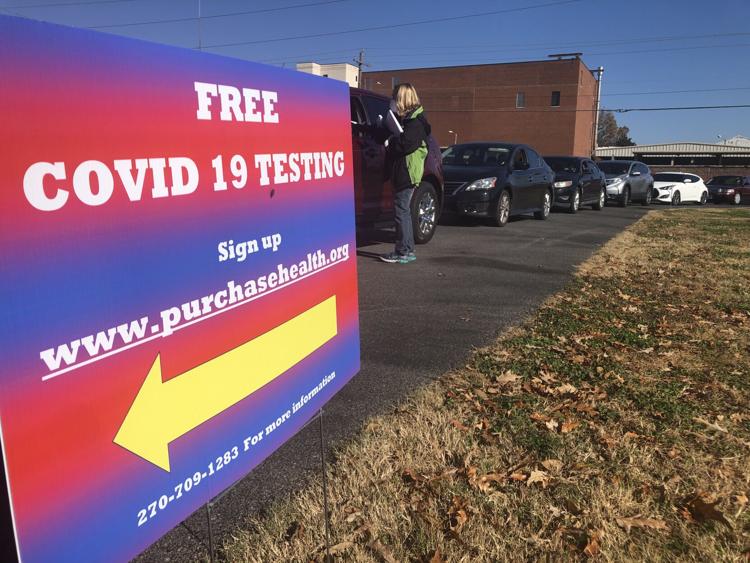 "We're just trying to catch up with calling everybody and letting them know their results," said site coordinator Erin Stallins. "So we have a lot of people calling us asking us what their results are." 
Despite health officials asking Americans to stay home for Thanksgiving many people are traveling or welcoming guests on Thursday. 
Since last week Stallins said they've tripled the amount of people they test daily. They averaged about 45 to 50 people a day about two weeks ago. Now they are averaging about 125 people a day. 
"What we're finding is that they either have children who brought it home, coworkers who have it, a family member who they went and visited with who then has turned up positive," Stallins said. 
As people rush to get a COVID-19 test before they travel, health officials warn a negative test could give them a false sense of confidence. The Centers for Disease Control and Prevention says the incubation period ranges from two to 14 days. You could potentially test positive for COVID-19 before you leave, but still spread the disease, because a test cannot detect the low levels of virus. You could also be exposed to COVID-19 while you travel and carry the virus to your destination. 
The health department's website to sign up for appointments is filled until Wednesday. There is no testing on Thanksgiving or the Friday after. It is suggested, but not required to set up an appointment for free testing. 
McCracken County Emergency Manager Jerome Mansfield stopped by for a test Monday. 
He said the county is in the most intense period of the pandemic.
"There's more cases, more people infected in McCracken county then there has been since the emergency started in March," Mansfield said. 
He's cancelled his big Thanksgiving plans this year. 
A 63-year-old man who tested positive for COVID-19 last week came to get his wife tested. He said before his positive test they cancelled holiday plans with family. 
If you do plan to keep your Thanksgiving plans the CDC recommends having them outside with plenty of physical distance. They also remind people that a large number of COVID-19 spreaders are asymptomatic.