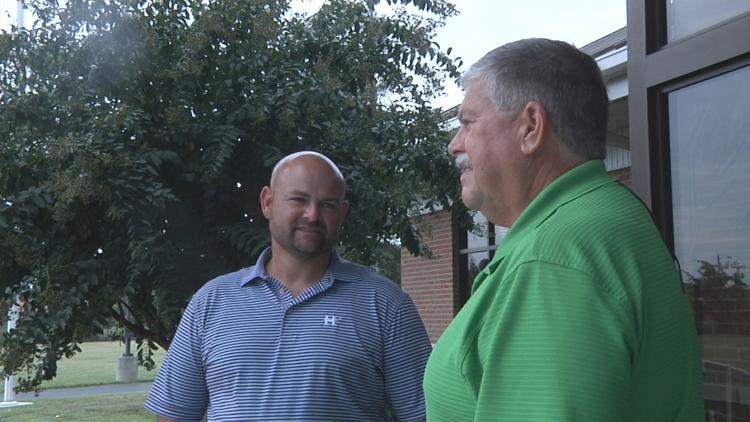 PADUCAH-- Everyone has a story from September 11, 2001. 
Steve Gates and his family's eyes were glued to the TV waiting to hear word that their son Andrew was safe.
Their son was an hour away from the scene at the U.S. Merchant Marine Academy.
"We've always been close, very close with my parents," said Andrew Gates. "Both of them, but he seems to be the most level headed."
In the midst of the deadliest attack on American soil in U.S. history, 18 years ago, Steve could not get a hold of his son. 
"I knew where they were in comparison to where Andrew was going to school at," said Steve Gates. "So I knew they were across the bay, but still there was a feeling of insecurity."
Steve and his wife visited Andrew at the U.S. Merchant Marine Academy in New York for parents weekend, the week before the attack.
Little did they know what would happen days later.
At approximately 8:46 a.m., a hijacked plane hit the the north tower of the World Trade Center.
About 20 minutes later, another plane hit the south tower. 
"You know most of us gathered by the waterfront, and actually watched the second plane hit," said Andrew. 
Shortly after, both towers collapsed.
Andrew was a plebe at the time, also known as a freshman, so he was not allowed to have a cell phone at the academy.
However, this was not the only reason he could not communicate with his family. 
"After it was explained that it was a terrorist attack on New York they did shut down the satellite signals, phone services," said Andrew.
It would be eight hours before Steve would hear his teenage son's voice.
"You're hundreds of miles away, there's no way to communicate, no way to get any kind of word," said Steve. "You know and just to hear your son's voice to say 'I'm okay,' that meant a lot."
Now every year on September 11, he gives thanks. 
"Felt deeply for the others that were hurt or killed," said Steve. "But it's always a good feeling to know that your especially your son is safe."
According to CNN, a total of 2,977 people were killed in New York City, Washington, D.C. and outside of Shanksville, Pennsylvania.
New York City lost about $123 billion during the first two to four weeks after the World Trade Center towers collapsed.
Insurance claims arising from the 9/11 attacks total $9.3 billion.