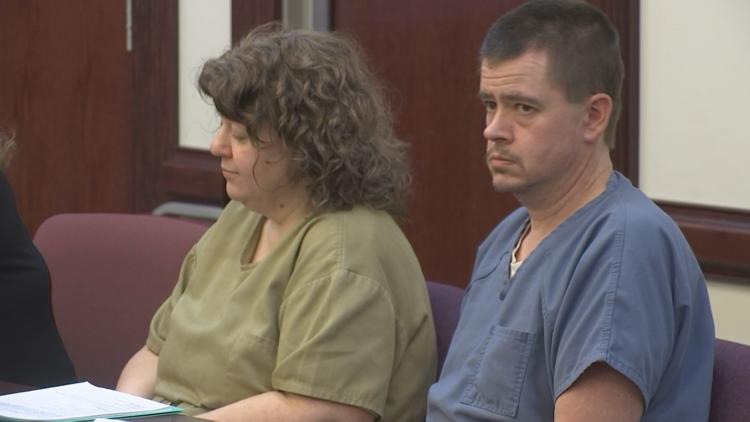 KUTTAWA, KY — It was a case that dealt with public money and a public official — resolved in private. Katie Harrison was originally charged with 46 felonies for stealing thousands of dollars from taxpayers as Kuttawa's city clerk. 
Commonwealth's Attorney Carrie Ovey-Wiggins was the prosecutor in this case, and said justice was served.
"This was a good case for mediation, because there was co-defendants. Sometimes it's hard to get both co-defendants together with their attorney's on the same page to try and resolve the cases," she said.  
In an earlier story, Local 6's Leah Shields reported what led up to the arrest of the Harrisons.

In arrest warrants, Kentucky State Police said Kuttawa Deputy City Clerk Savannah McLeod turned a city account at Fifth Third Bank over to Katie Harrison, so Harrison could take care of it while McLeod was on maternity leave. While McLeod was gone, Kuttawa city leaders hired Clayton Harrison to help his wife with clerical work. When McLeod came back to work, she asked Katie to return the bank account information. The arrest warrant said Katie refused. Then, Katie and Clayton never returned to work. The Harrisons were on the run for four months. Police found them near Gatlinburg in East Tennessee in November 2018.
Friday, while Local 6 waited outside of the Lyon County Judicial Building's Circuit Courtroom, the defendants and their lawyers, the prosecutor and a retired judge talked about the deal in mediation.
Katie Harrison ultimately agreed to plead guilty to 24 counts of second-degree forgery, one count of tampering with physical evidence, one count of abuse of public trust, two counts of theft of more than $10,000, one count of theft by failure to make required disposition of property and 11 counts of tampering with public records. She faces sentences ranging from five to nine years for the various counts. Those sentences are to be served concurrently under the agreement, which means she faces up to nine years behind bars. 
Clayton Harrison agreed to plead guilty to 10 counts of second-degree possession of a forged instrument, one count of theft of more than $10,000, one count of theft by failure to make required disposition of property and one count of theft of more than $500. He faces three years for the first 12 counts and one year for the 13th count, also to be served concurrently.
We asked Ovey-Wiggins if justice was served with the case being settled without a public trial. 
"Not all cases go to trial," Ovey-Wiggins said. 'If the cases can be resolved in a manner that is suitable for both parties, then we resolve cases. If we're unable to get resolutions in cases that people are comfortable with, we proceed to trial." 
Under the agreement, the prosecution dismissed Katie Harrison's second charge of abuse of public trust and five charges of tampering with public records.
Ovey-Wiggins said this chapter is now closed for the public.
"Any monies that were taken will be paid back by the defendants, so we get prison time and restitution," she said. "So, I'm happy with the outcome of the case." 
As part of the agreement, the Harrisons are also required to pay back $17,000 to the city of Kuttawa. In addition, they would not be eligible for probation or shock probation and would serve the full term sentenced. 
Ovey-Wiggins said this is not the first time this court has used criminal mediation for a felony case, and she wouldn't have settled the case if she didn't think it was fair. 
"Obviously, once the case is settled, as in any other court case, the case is brought to court, were it is resolved in public. So, there is nothing really different in this case. It was just a mediator used to facilitate settlements within parties," Ovey-Wiggins said. 
We will learn whether the judge will accept this plea agreement at a sentencing hearing set for Jan. 6. Lyon County Circuit Court Judge Woodall denied a request to lower the couple's bond.