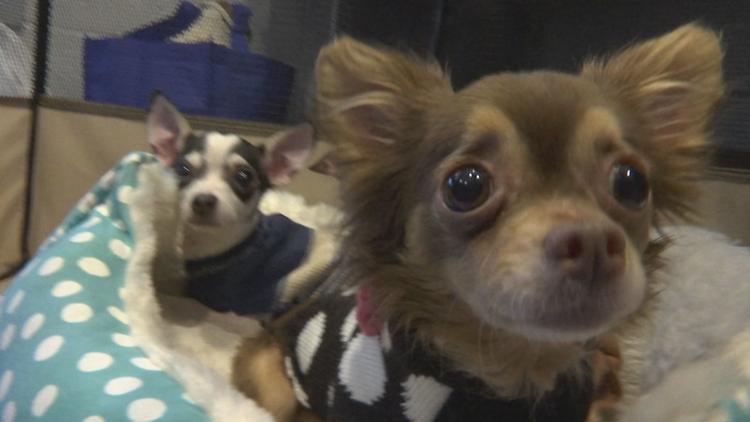 MCCRACKEN COUNTY, KY — From filthy conditions to forever homes, some of the nearly 50 chihuahuas rescued from a single house in McCracken County last month were adopted on Wednesday.
McCracken County Animal Control rescued the dogs from a home on Oaks Road on Oct. 22. Investigators said the Chihuahuas were living in deplorable conditions. Some of the animals died, and others were malnourished, dehydrated, injured, infected with parasites and covered with fleas.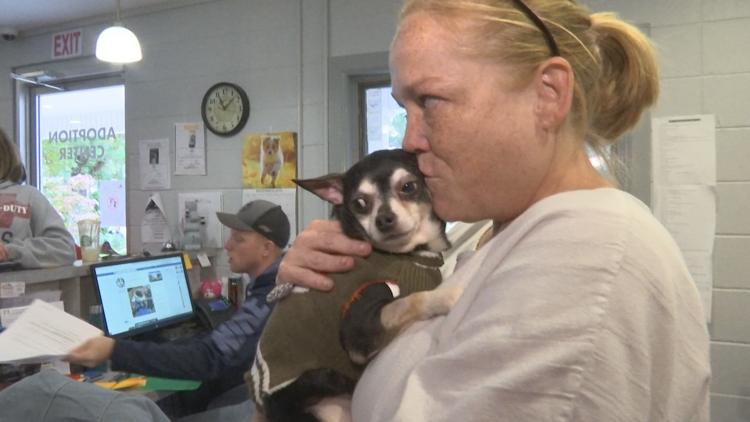 After treating the dogs, implanting microchips, spaying or neutering them, and teaching them socialization, the McCracken County Humane Society deemed four of the dogs were ready for adoption. Wednesday morning, the humane society lobby was full as families lined up to submit their adoption applications.
After reviewing the applications, the humane society staff were able to match all four dogs to forever homes.
"We've gotten attached to these animals," said Terry Vannerson, humane society executive director. "But just seeing them get homes and seeing the looks on the faces of these people that adopted and the ones that were here in our lobby, it's very rewarding."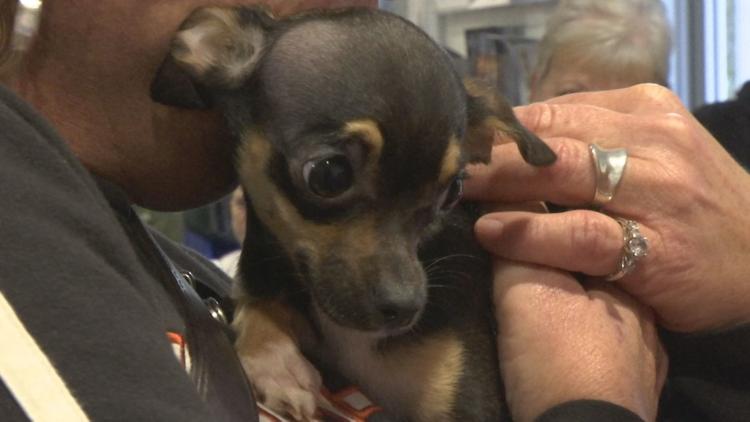 Kim Byassee is one of the people who adopted a Chihuahua. She said she's already picked out outfits for her new companion.
"A lot of pink and a lot of bling," Byassee said.
Another person who adopted one of the Chihuahuas is Carolyn Lyons, who said her family is ready to give their new dog the attention he deserves.
"Lots of love. He will always be with a family member," said Lyons. "He will be able to snuggle with someone every night to sleep. He'll never be left alone."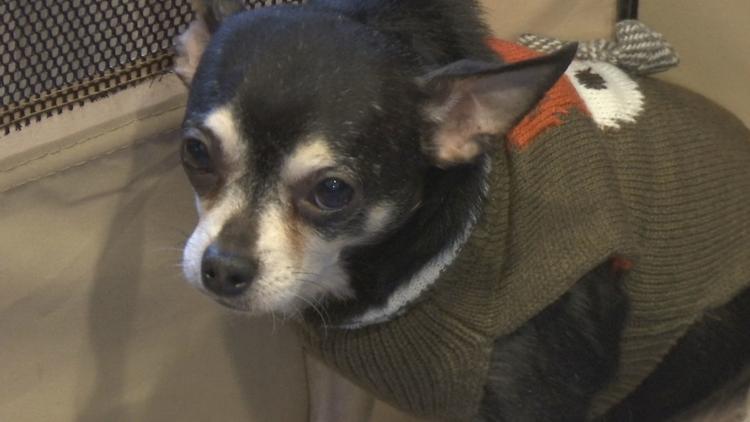 The humane society says more Chihuahuas could potentially be available for adoption on Friday. But, because of what the dogs went through in their previous home, they won't be a fit for everyone.
"The ideal home right now with this group of dogs would be no children, and preferably no other pets right now. And seniors, singles, something like that," said Vannerson. "We're not trying to pick out, but we want these dogs to stay in the home."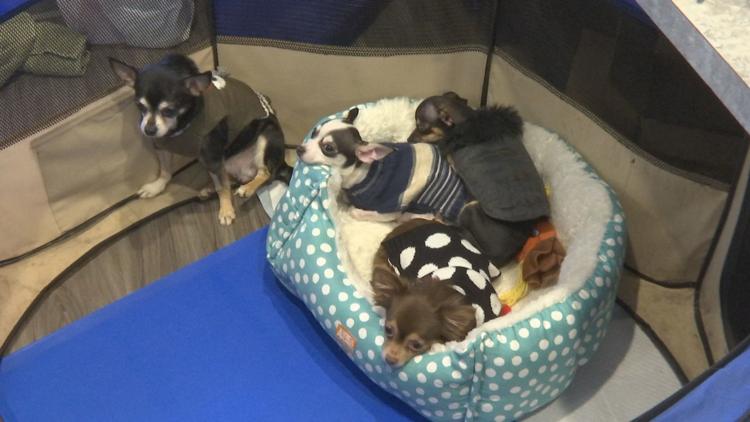 When Local 6 asked Byassee what she thought about the situation the dogs were originally in, she said "I can't believe that people can be cruel as they are. I just cannot. I do not understand that."
But Byassee is confident the Chihuahua she adopted will be able to adjust to a happy life.
"She's going to be fine. She'll just be with me 24/7, all the time," Byassee said. "Just takes a little patience, and you have to be understanding with them, you know? She won't have to go on any other people until she's ready."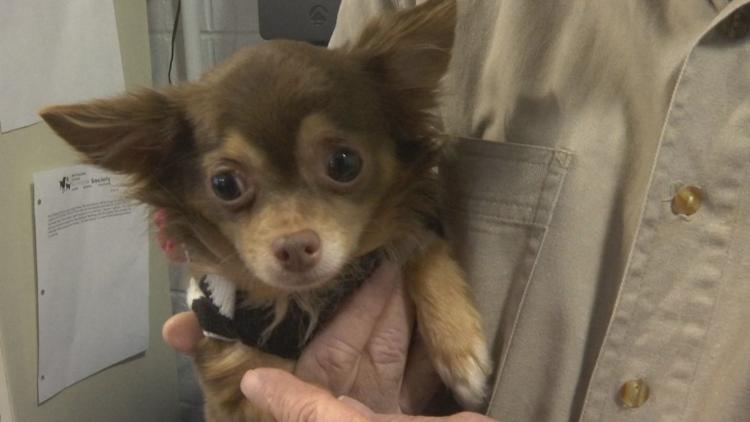 Vannerson is asking anyone interested in adopting a Chihuahua to fill out an application ahead of time. The forms can be picked up at the Humane Society office at 4000 Coleman Road in Paducah. The hours are 10:30 a.m. to 4:30 p.m., Mondays through Saturdays.
If your application is approved, there is a nonrefundable adoption fee. The fee ranges from $150 to $250 or $300, depending on the medical treatments the dogs needed, Vannerson said.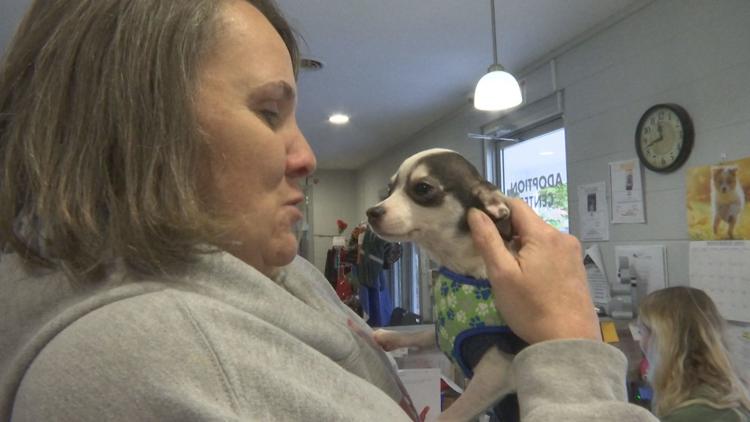 When the next group of Chihuahuas are available for adoption, the humane society will post a notice on its Facebook page.
Meanwhile, the two suspects charged in this case, Jennifer Campbell and her father, Harold Campbell, are scheduled to be arraigned Thursday morning. They are each charged with dozens of counts of second-degree animal cruelty.