BALLARD COUNTY, KY — Modern gun deer hunting season in Kentucky begins Saturday. The Kentucky Department of Fish and Wildlife Resources says around 300,000 Kentuckians hunt deer with guns.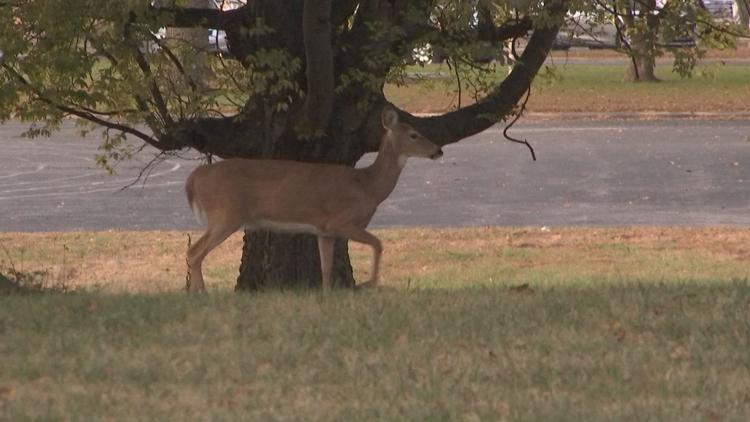 Ricky Waldon has hunted deer for more than 50 years. "I remember the first deer I killed. Of course, you know, I love to hunt," Waldon says.
He owns a hunting lodge and makes safety a priority, especially when working with kids.
"Teach them not to shoot, you know, if something is behind it, a building a structure or whatever, you know," Waldon says. "Don't put their safety off until they have the gun out of the blind. Always double check. Check your neighbor. Make sure everybody is safe."
Waldon says one of the biggest safety tips is keeping your orange hat and vest on the entire time you're hunting to make sure that other hunters notice you.
Range America training officer Nicole Cressler says it's vital to keep your finger off the trigger until you're ready to shoot, and identify the animal before you shoot. She says deer hunting is part of environmental conservation.
"You know, we do our part in conservation by maintaining the number of deer to cut down the number of wrecks on the road," Cressler says. "I always tell everybody I'm always trying to do my part to cut down on those deer on the road. It all maintains numbers. Scientifically managed, that is what conservation is."
"Keep your orange on, stay safe," Waldon says. "Make sure you know what your gun is doing. Make sure it's not loaded until you get in the stand, and get it in a position to where your not going to bring it back in."
He's hoping for a safe and successful deer hunting season.
To hunt in Kentucky, you must get a license and take a course to get your hunter safety education card. Deer hunting season will end Nov. 24.