Big swing in weather is expected Saturday -- or just another January day in the Local 6 area. A deepening area of low pressure tracking through the upper Plains will drag a potent cold front through the area Saturday morning. Winds will be out of the south ahead of the front, then quickly change to be from the northwest once the front moves through. Lots of snow and ice in the Great Lakes region and Northeast.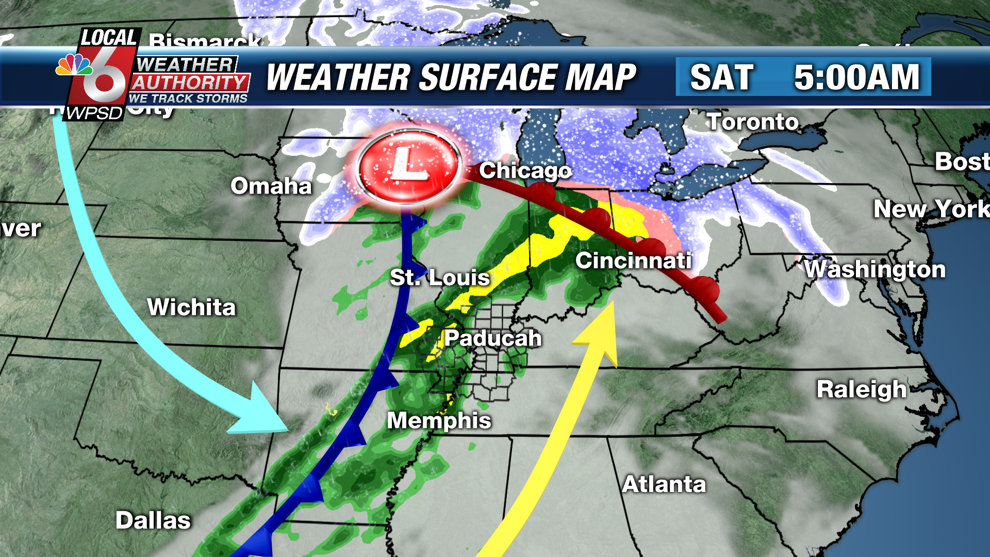 Temperatures will really rise ahead of this system, with "daytime highs" occurring sometime in the mid morning. Upper 50s and close to 60° readings seem like a good bet. Will feel like spring for a time out there in the morning.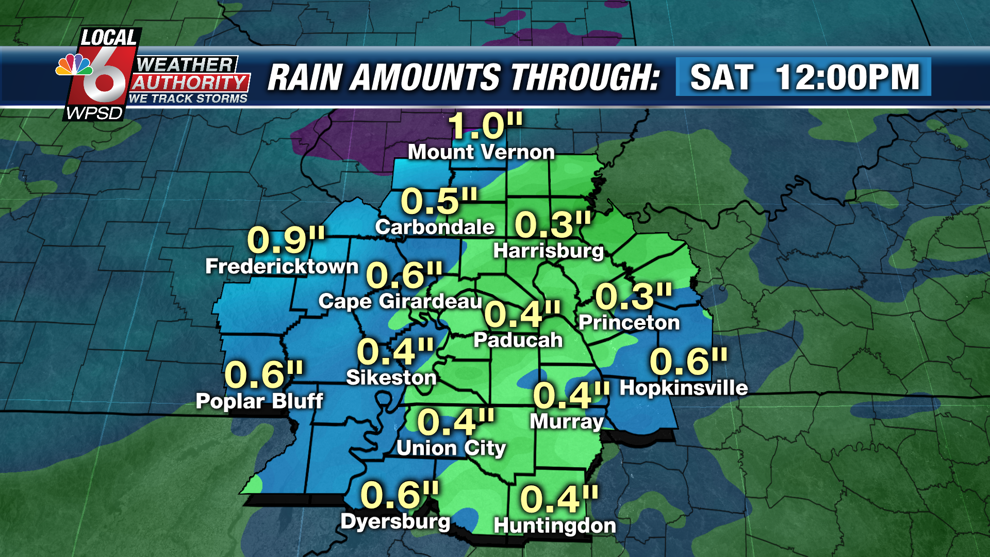 Between 2AM and 12PM Saturday, as the front moves through, periods of moderate to at times heavy rain are expected. Around 1/2" of rain for most, maybe closer to 1" north of Route 13 and I-64 in southern Illinois. Any flash flooding or street flooding seems very unlikely. Rain ends everywhere by noon with rapid sky clearing shortly thereafter.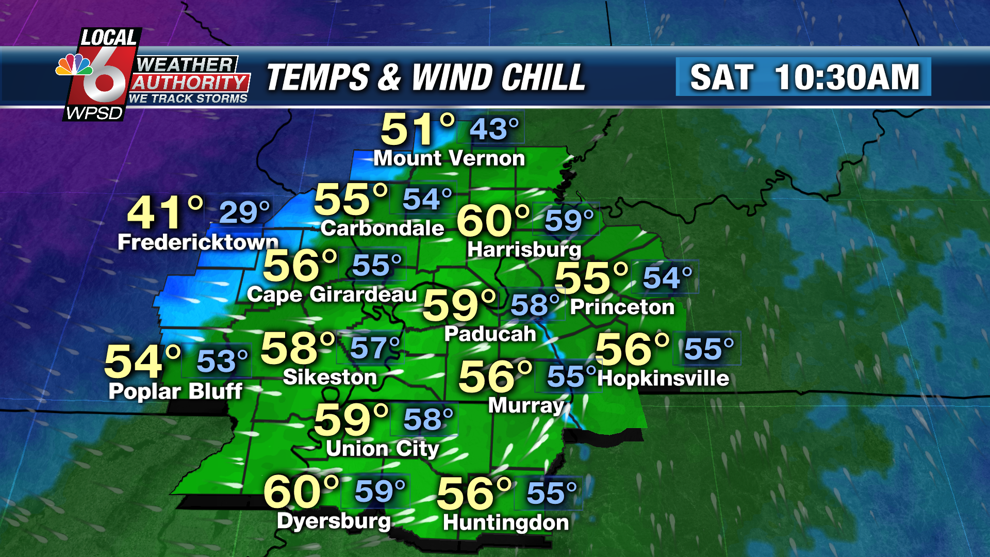 Winds will also be highest during the morning hours Saturday. If you have loose outdoor furniture or belongings - make sure to secure them before heading to bed Friday night. Wind gusts may exceed 40 mph during the morning hours. Because of a lack of instability in the atmosphere, I think the model pictured below might be a little too high with the forecast -- but regardless in general, southerly winds 35-40, possibly over 40 mph seems like a good bet at times.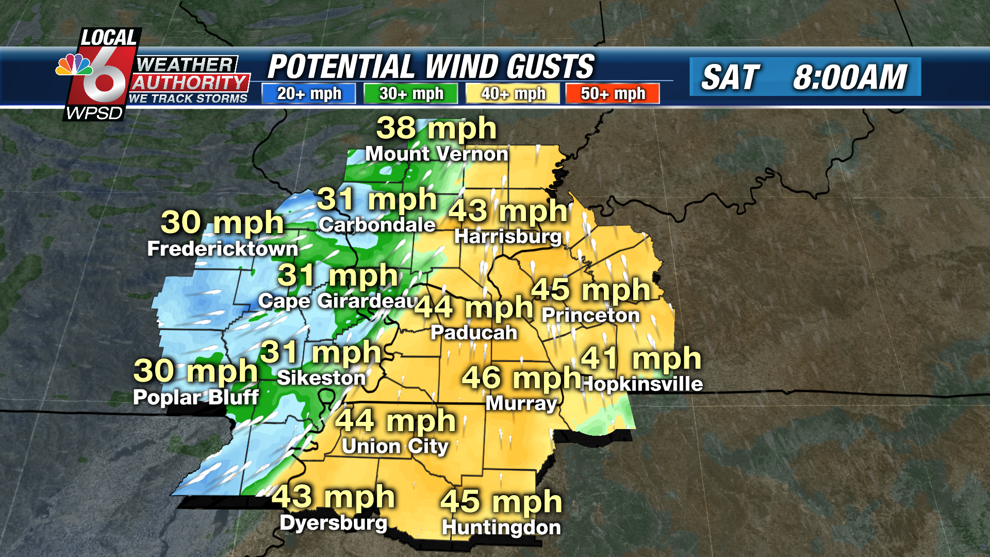 Winds will still be gusty from the northwest during the afternoon and into the evening hours Saturday, but not quite as strong as the morning. Gusts to 30 mph seem plausible through nightfall.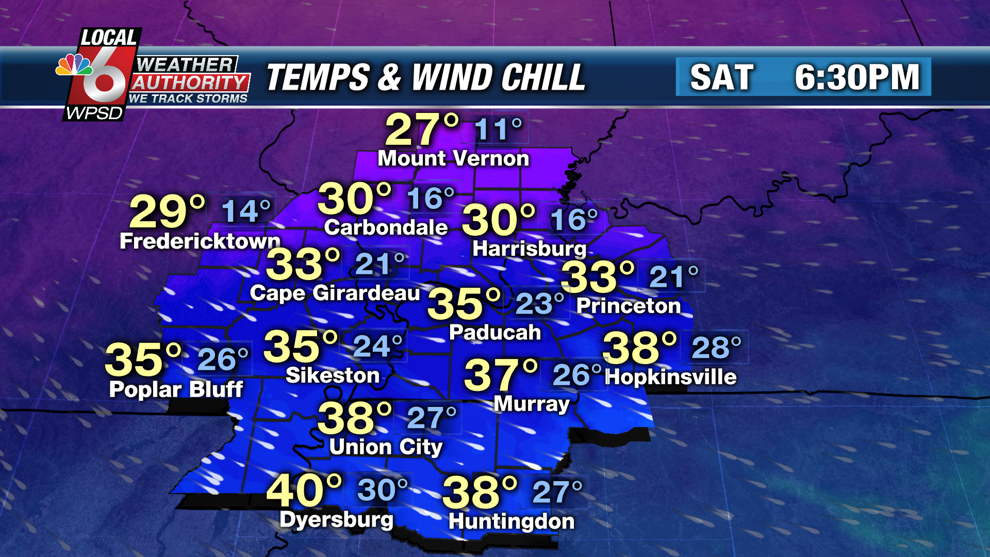 Check out the difference above by dinner-time Saturday evening! A heavy winter jacket will be a good idea with wind chills well below the air temperature at 6:30 PM. Wind chills ranging between 11° and 28° across our area, and falling. Any water leftover from the morning rain will be evaporated by time temperatures fall below freezing, so there is no risk or threat for any freezing.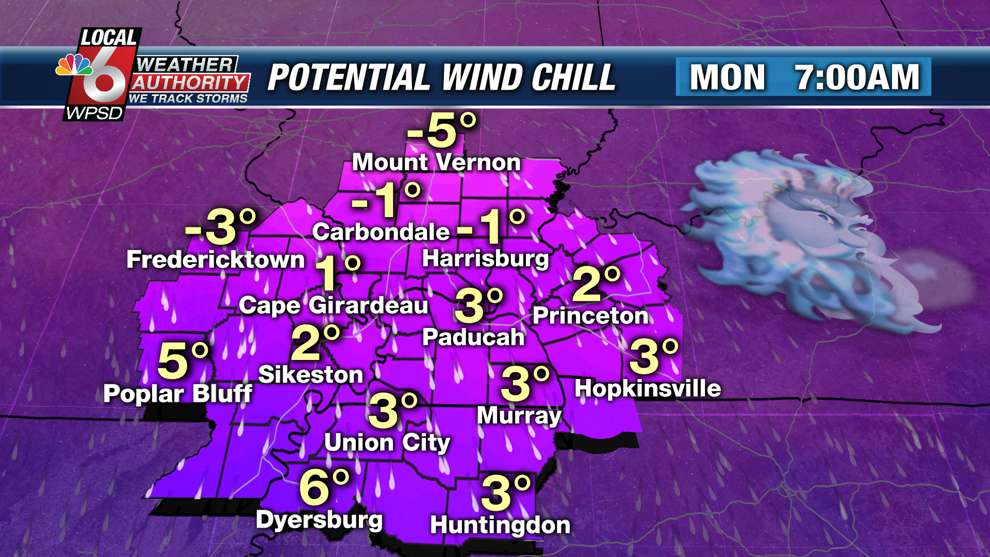 Early next week however, some of the coldest air of the entire winter season arrives for all. Arctic sourced high pressure will settle in for MLK Day, with morning low temperatures in the teens. Factor in a light breeze and wind chills (seen above) may fall below 0° for some - mainly in Illinois and Missouri. Don't forget to take care of your pets, check on the elderly, and prepare your home. Good news is the impact of this cold will be short lived for only Monday morning through Tuesday. By Wednesday afternoon, high temperatures are back to seasonal normal's in the mid 40s.
Latest forecast available anytime on the WPSD Radar App!