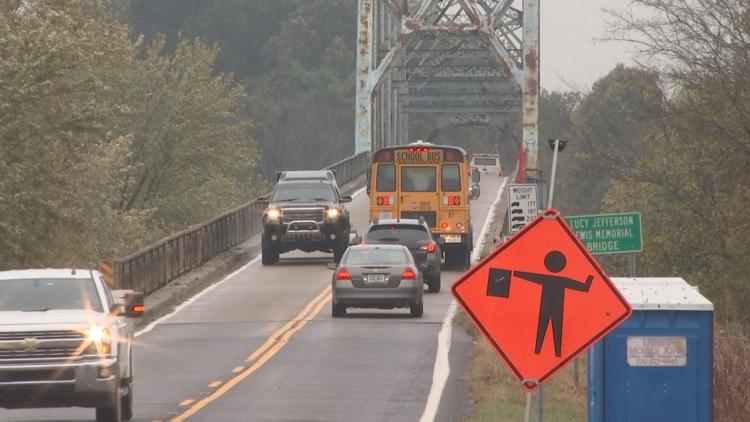 LIVINGSTON COUNTY, KY — The U.S. 60 Cumberland River Bridge is closed at night for repairs.
Some parents in the Livingston County School District are concerned for the safety of their kids as they cross the bridge.
Cathie Hessel says her 12-year-old daughter Rachel was scared when she crossed the Cumberland River Bridge to get to school.
"I don't think a 12, 13, or 14 year old should have to worry about 'Is the bridge going to collapse and I'm going to die when I go to school?'" Hessel says.
The middle school is on the north end of the county, and the high school is on the south end. You have to cross the bridge to get to both schools. Hessel lives on the south side, so she opted to have her daughter attend classes at the high school, so she doesn't have to cross the bridge.
"She was so much happier yesterday when I picked her up," Hessel says. "She was, like, skipping up the driveway. She's like 'Oh Mom, you you should see it. I didn't have to get on the bus, I didn't have to worry.'"
Although Hessel says she's grateful her daughter gets to stay at the high school, she wishes the school district would have been more open about the options, so other kids won't have to cross this bridge.
Livingston County Superintendent Victor Zimmerman says there are options if parents are uncomfortable with kids riding the bus on the bridge. Middle school students have the option to attend classes at the high school on their side of town and vice versa. Parents can opt to have their kids ride in a Suburban SUV to school instead of the bus.
They can also take their kids to school on their own. He says the Kentucky Transportation's Cabinet's engineers have confirmed that it's safe for buses to cross the bridge.
"We know that they have the safety of our students at hand and in mind, and they would not say it's OK to cross the bridge if it was not OK to put our buses across that bridge," Zimmerman says.
Hessel says she still questions the safety of the bridge, but understands the school is trying their best.
Zimmerman says the transportation cabinet hopes to have the bridge repairs completed by Nov. 16.