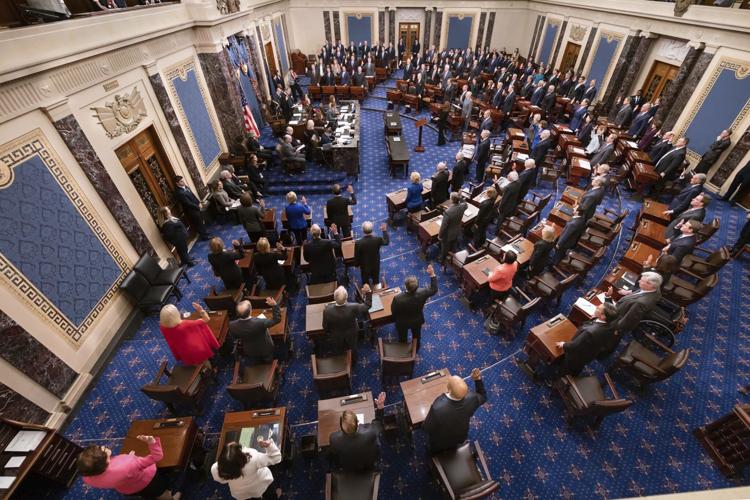 WASHINGTON (NBC) — The first votes in the impeachment trial of President Donald Trump have stretched into the night Tuesday.
Senators sit as jurors, House managers, and the president's lawyers clashed over the rules for the trial, including the Democrats' demand that witnesses be called.
In opening day of the impeachment trial against president Trump, there was a tussle over how the case should proceed.
"The misconduct of this president requires immediate attention," said Democratic Rep. Val Demings of Florida.
"The President has done absolutely nothing wrong," said White House Counsel Pat Cipollone.
And there was a show of force from the Republican majority, shutting down each amendment Democrats proposed with a vote down party lines.
Requests to start the trial with new documents in hand – from the White House, State Department, and Budget Office – were all rejected.
"If you're going to make a decision about the President's guilt or innocence," said Democratic Rep. Adam Schiff, a House impeachment manager. "You should want to see what these documents say."
Witnesses including Chief of Staff Mick Mulvaney were denied, at least for now.
Majority Leader Mitch McConnell referenced the Clinton impeachment trial.
"The Senate will decide those questions later in the trial just like we did back in 1999," McConnell said.
But amid fierce partisanship, there was an unexpected concession.
Moderate Republicans were working with McConnell behind the scenes.
The influence of those moderate Republicans, who are already swaying leader McConnell's plans, will be very significant to watch. It would take just four voting with democrats to force new witness testimony.
If the current timing holds, House impeachment managers are expected to begin their opening arguments Wednesday.