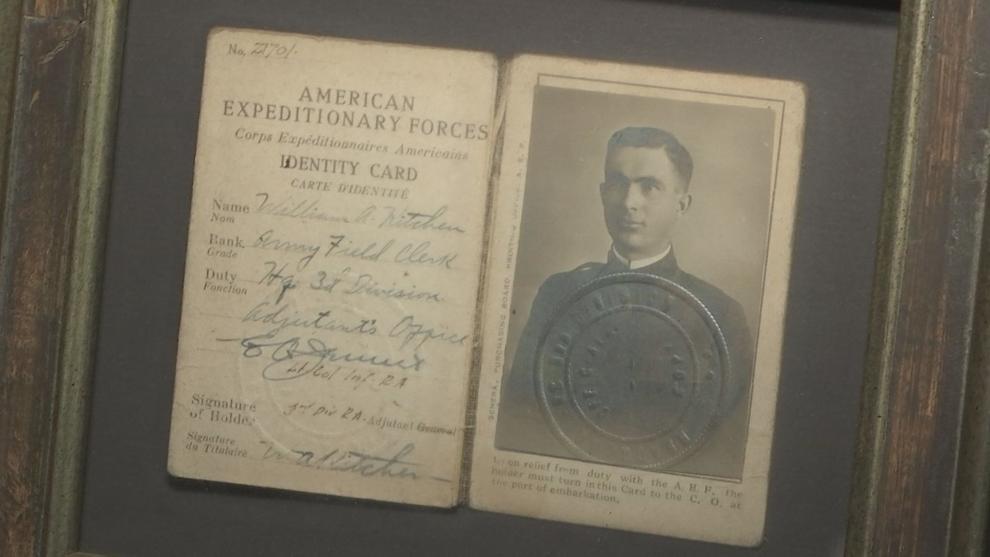 MCCRACKEN COUNTY, KY — The last living World War I veteran, Florence Green, a British citizen who served in the Allied Armed Forces, died in 2012 at 110 years old. When we lose a veteran of any war, we lose a wealth of knowledge. But the past can be preserved and even be brought to back life.
William and Tony Kitchen helped us do that. These two are not strangers to our airwaves. William, a WWII veteran, rode on the B-25 "Mitchell" Bomber when it came to Paducah in June as part of Honor Flight Bluegrass' Barnstorming Tour Across Kentucky. His son Tony was by his side for the occasion. I learned after talking with them that they come from a long line of Service & Sacrifice. William's father served in WWI and kept a diary for five months, logging his trip from New Jersey to the front line in France. His son and grandson helped bring his words and experiences to life.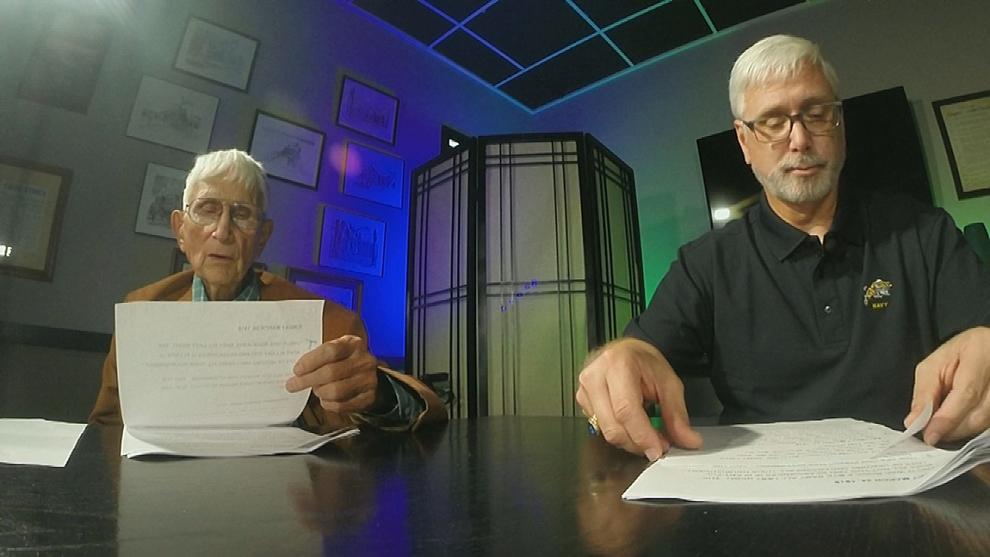 "Diary of William Anthony Kitchen, Army Field Clerk. In case of accident notify Mr. and Mrs. J.E. Kitchen, Edgar Springs, MO: my father and mother. I was born in Edgar Springs, MO, Sept. 19, 1894."
Saturday March 23, 1918
"We left New York this morning at about 3:30. I did not discover the fact until about 5 o'clock. I got up, dressed and went out on deck, but we were out of sight of land.
"All lights go out at 6 p.m., except in the saloon. just as soon as the door opens they go out in there too. So there is no chance for a light to be exposed to the enemy."
Sunday March 24, 1918
"And it was rock-a bye baby all last night. The boat all day too and seasickness is plentiful. Lots of heaving and losing all their nourishment."
Thursday March 28, 1918
"A ship stayed off the horizon for three or more hours this afternoon. It appeared to be following us for it neither gained nor lost ground. About dusk the cruiser went out after her and was gone about four hours before returning. No news yet as to what the strange craft was or what happened. The war zone will be reached in about two days now."
Sunday March 31, 1918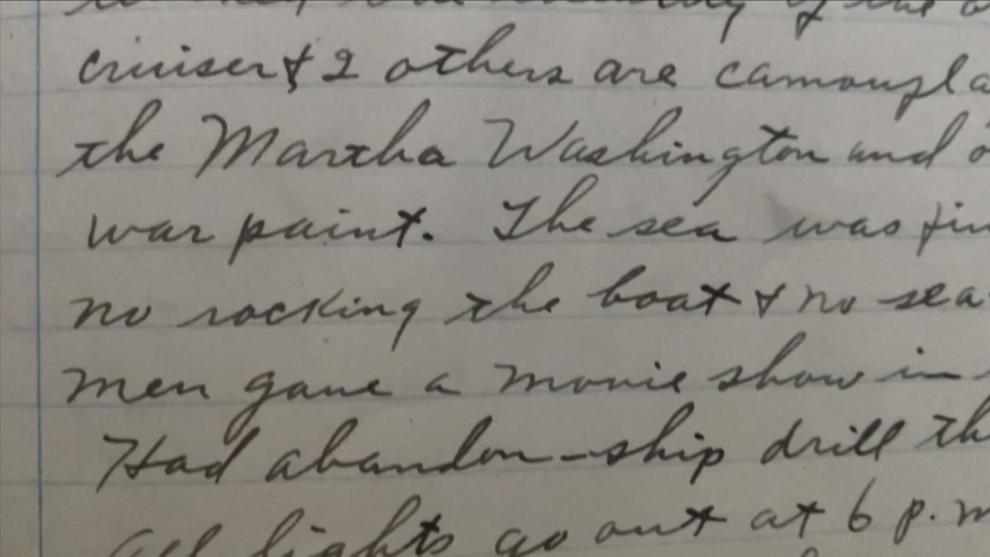 "This is Easter Sunday. I had no idea when Easter was until last night. In harmony with the occasion, eggs were served at breakfast.
"We crossed the 30 degree line about 8 am today. This is not the actual war zone as prescribed by Germany, but it is so recognized by the United States as no chances are taken. All guns are uncovered and loaded ready for action. Everyone is now wearing their life preservers wherever they go."
Tuesday April 2, 1918
"A year ago tonight I was in Washington and heard President Wilson deliver his message calling for a declaration of war against Germany. Little did I think then that a year hence I would be on the ocean bound for Europe."
Thursday April 4, 1918
"A soldier and a sailor died on ship last night. We had a big battle with submarines this afternoon... suddenly at 12:20 pm the ship received a terrible jar... I was sure that we had been torpedoed.... I then looked about 1500 yards aft and saw great explosions in the water and columns of spray were shooting high into the air... it was the concussion of these explosions that was jarring the ship...."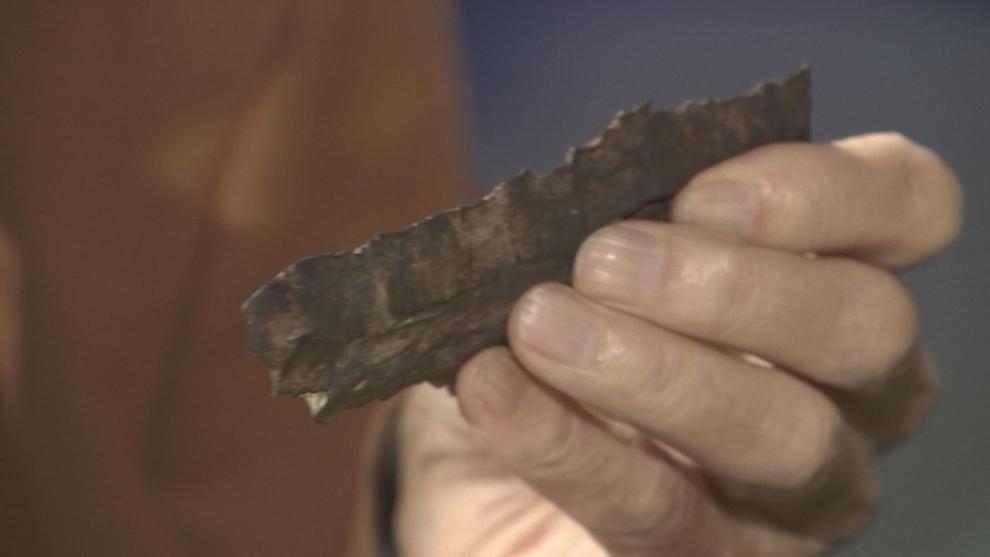 Friday April 5, 1918
"Tied up at dock just before sundown and one of the first sights that greeted my eyes was some Austrian and German prisoners piling lumber... Many American soldiers and sailors were on the docks to greet us and the boys on the ship divided their cigarettes and candy with them.
"Several French soldiers just back from the front were around. Some of them looked to be 50 years old. They were rather dirty, unshaven, and presented a very untidy appearance. They were a pitiful sight and the saying 'France is bled white' is very near the truth if these soldiers are typical to the French army."
Thursday May 23, 1918
"Met a Mr. Brown of St. Louis who is in the YMCA. He was in Paris last night when the Germans made an air raid on the city. He said all the sirens mad a noise that caused one's blood to curdle. The barrage fire was fierce, in fact the worst he ever heard and he has been in air raids on London."
Wednesday May 29, 1918
"We packed up today to leave. It is not known yet where we go. The orders have been changed so much it's difficult to form an opinion...
"Some sharp flashes to the east. It was the cannoning on the front. No sounds could be heard, but the continued flashes plainly indicated that the artillery duel was raging with terrible fury."
Saturday June 1, 1918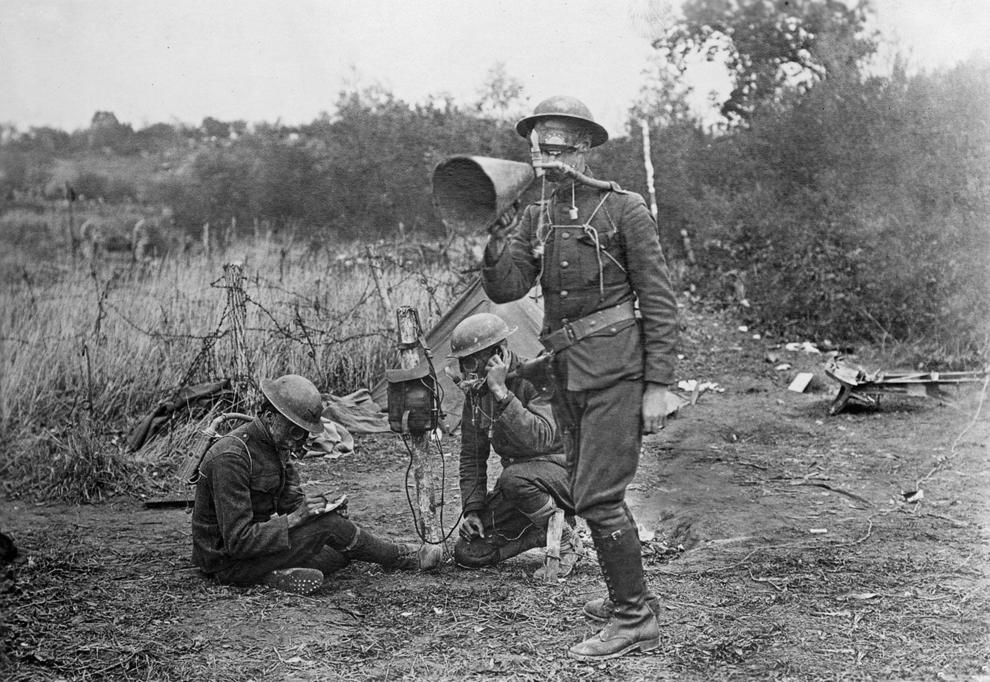 "We traveled all night last night. I did not sleep a bit... only 3 miles from the front. It was lively too. A nice artillery duel was raging, and occasionally the Germans dropped shells on a hillside which was just across the way from where I was... a German plane attempted to come over, but the anti-aircraft fire sent him back....
"I saw some very pitiful sights, the fruits of war. Old men, women, and children with a few cherished belongings, perhaps all their earthly possessions, were streaming along the road en route to a place of safety...
"I have decided to discontinue keeping my diary from day to day as I consider it too dangerous. When the proper time comes, I will write a brief of the most important things that occur in the meantime."
William was there for the Battle of Chateau-Thierry, the Battle of Saint-Mihiel and the Meuse-Argonne Offensive. He wasn't in the trenches fighting, but he was in the trenches performing important secretarial work, like the number and names of casualties.
This isn't the last you'll see of William's son, William, and grandson, Tony Kitchen. Both men will travel to Washington, D.C., on October 20 with Honor Flight Bluegrass to see the monuments built in their honor. I'll be there with them, as will Brianna Clark, James Priewe and Mason Watkins, to document the emotional journey from Paducah to our nation's capital.