PADUCAH — As COVID-19 vaccines are administered some continue to say they won't get it. The federal government has invested billions of dollars into drug manufacturers to develop these vaccines. They've combated misinformation about the speed of the vaccine, the efficacy of the vaccine and its safety. 
Despite these efforts— unverified videos, claims and pictures continue to float around and become amplified by social media shares.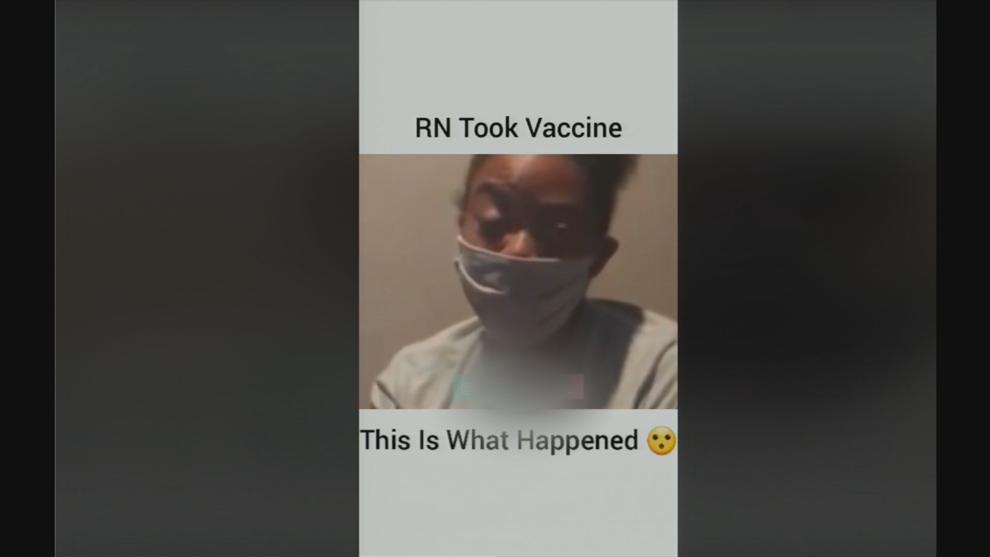 A video of woman claiming to be a nurse from Nashville, who took the COVID-19 vaccine, is currently floating around Facebook. The video go's on to claim she had an adverse reaction to the COVID-19 vaccine and warns people not to take it.
The video has multiple red flags. The woman is not an a identifiable place, there is no origin of the video, she provides no proof she took the vaccine or that's she a nurse. She only identifies herself as Khalilah Mitchell and claims to have facial paralysis from the COVID-19 vaccine. 
A search of the Tennessee Department of Health's license verification website show's no one by the name of Khalilah Mitchell.  Other variations of the name also showed up blank. Evidence supporting the woman's claims could eventually surface, but a current google search on this video only gave results from unverified and unreputable sources. 
The video was shared 61,000 times.
Multiple peer reviewed studies and scholarly articles show data that proves social media disinformation has a significant impact on the COVID-19 pandemic. 
Social media misinformation worries Dr. Jonathan Walters from Massac Memorial Hospital in Southern Illinois.
"You start seeing these stories," Walters said. "Microchips and 5G, and it's going to change my DNA."
Walters says these claims are never sourced on social media, because they're just not true.
The CDC and COVID-19 manufacturers are aware that problems may arrive with the COVID-19 vaccine. Every vaccine has it's risk, and those for the COVID-19 vaccine are clearly listed and stated prior to vaccination. 
The CDC is monitoring any adverse reactions to the vaccine as it's being administered as a condition of emergency authorization use. If one does happen experts will immediately study it.Afterwards, they'll decide whether changes are needed in U.S. vaccine recommendations. 
Prior to the Pfizer-BioNTech vaccine getting emergency approval Facebook shares amplified a false claim of vaccine trial recipient have Bell's Palsy. PolitiFact debunked that false claim proving the photo does not actually depict people involved in the coronavirus vaccine trial. It dated back to at least 2019. 
We also false claims about the ingredients of the COVID-19 vaccine being the same as Lysol. The original poster has no sources, and brushed everyone off who raised concerns, by telling them to do their own research.
The person making the false claims didn't do their own research. 
You can find the full list of ingredients in the vaccine on the manufacturers website and it's not the same as Lysol.
"It would be essentially no different then if you got the virus yourself other than the thing we injected can't replicate, can't make virus, and you can't give this too someone else because you don't have the virus," said Dr. Walters. 
Before you believe something on social media you should ask yourself the five W's about the post.
Who is positing it, what message are they trying to convey, where are the posting this from, when was it posted and why are the posting it. 
We have hyperlinked a verified and reputable source to fact check every debunked false claim include in this story.