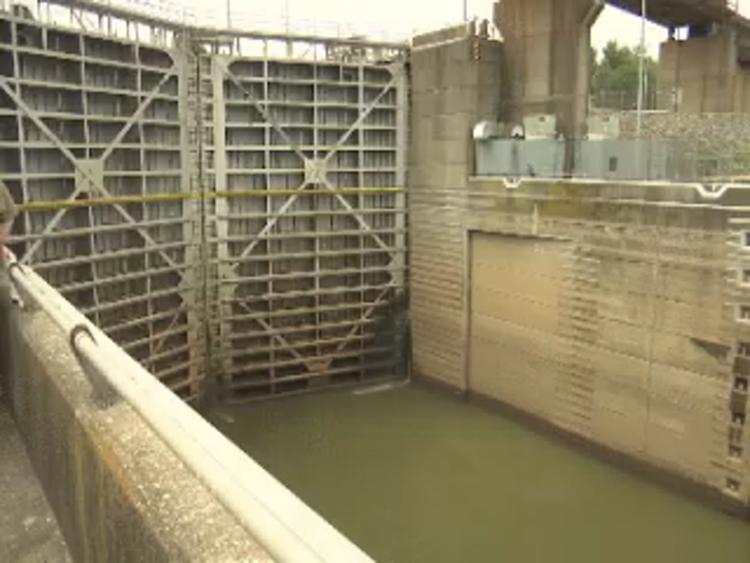 GRAND RIVERS, KY — A new device being installed at Barkley Dam could slow down the spread of Asian carp. It's a bio-acoustic fish fence, and it's going to be installed this fall. It would help block the fish from getting into Lake Barkley.
The warm weather means fishers are spending their free time on the lake. Pete Thomasson is one of many bass fishermen who see the effect Asian carp have.
"There's not as many fish in the lake as there used to be. That's due to the Asian carp," said Thomasson.
Construction for the fence is going on now at the dam. Allan Brown with the U.S. Fish and Wildlife Service said the lock on the dam is used constantly.
"This particular lock operates almost 6,000 times a year," said Brown. "So there's a lot of opportunity for the carp to move from the river, into Lake Barkley, and on upstream."
The lock at Barkley Dam is one of the only spots the carp can get through. It opens up for commercial and recreational boats. Brown said commercial fishers in the area work constantly to try to remove the invasive fish. The new fence will have speakers and lights under water to scare the carp away from the dam. Thomasson said he is excited to see the fence put in.
"Pleasure boaters can get out there, skiers can get out there and not have anything jumping all over hitting you and injuring people," said Thomasson.
Brown said after the fence is installed, they will monitor it for three years to see how it affects Asian carp. He said anyone going to the lake soon needs to look out for the large fish. They jump out of the water at the sound of boats and could cause injuries if they hit you.