POPLAR BLUFF, MO — When Katy Ormsby first went to St. Jude it was before Thanksgiving, she told her doctors she would be home in time for her junior prom in the Spring.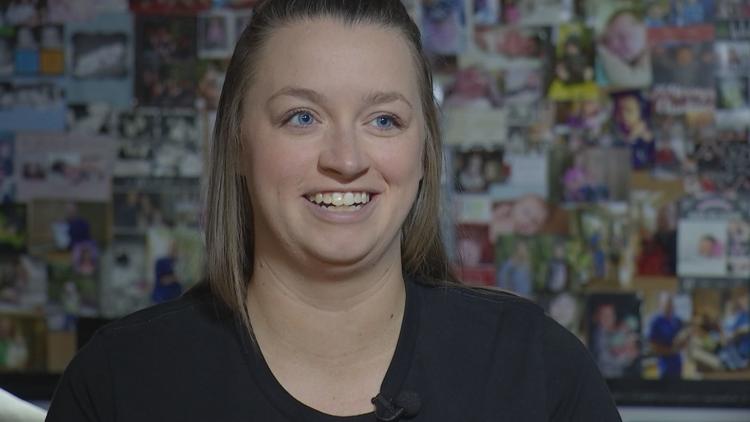 Katy actually went to two proms, one at St. Jude and one at her school in Poplar Bluff, Missouri.
Ormsby was a 16 year-old when she believed she suffered a shoulder injury cheer leading. The pain began to spread. She soon found the problem. 
"I was running and cheering, I was a flyer in high school, and you know I was just a normal 16-year old."
"I had an airway the size of a dime, because I had tumors inside my esophagus and one of my lungs was almost collapsed." said Ormsby. 
Katy was diagnosed with B-cell lymphoma. "I had tumors everywhere." "It was terrifying, absolutely terrifying."
Katy cried for about 5 minutes. But, by the time she and her mom had arrived at St. Jude, she was ready to attack the cancer head-on.
"Once my counts came up from the last round of chemo, I'd ask to start another one."
Katy checked in in November of 2012; she and her mom were told to plan on being there 8 months to a year. Within just 4 months, she was home. But her attitude and toughness couldn't mask a medical fact.
"Because of the damage from the chemo, my body's acting like it's in its 40's."
For that reason, St. Jude had recently started a fertility clinic. They remembered that attitude, and asked if Katy would participate. By November of 2019, 7 years almost to the day of her being admitted as a cancer patient, another miracle happened. 
"It was Black Friday." "I took an at-home pregnancy test, and I think I scared my husband half to death because I flew open the bathroom door so hard that it put a hole in our wall because those two lines popped up that I was pregnant."
Her daughter, Jessa Louise Ormsby is due in August; she'll be the first St. Jude In Vitro baby ever.
"The history of it...it's just, it's a miracle that I could be the first."
To support St. Jude and to purchase a St. Jude dream home ticket, click here.