MARSHALL COUNTY— It's been three years since two teens lost their lives and multiple people were injured after the Marshall County High School rampage shooting.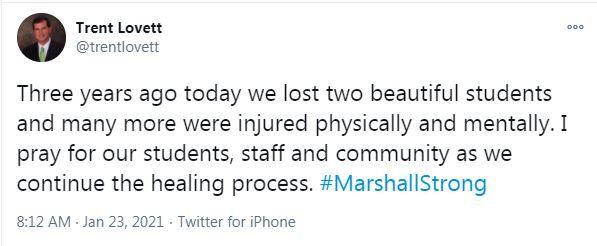 Tributes to Marshall County are coming in online to commemorate the lost and acknowledge the pain suffered by families of the victims and the community. On Jan. 23, 2018, a gunman opened fire at Marshall County High School in Benton, Kentucky. Two students, 15-year-old Preston Cope and 15-year-old Bailey Holt, were killed while 14 others were shot and four more were injured. 
Kentucky Governor Andy Beshear said on Twitter, "Today we hold this community close in prayer as they continue to heal and teach us the true meaning of strength."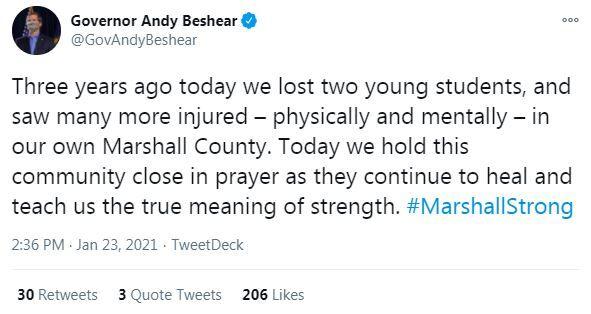 Kentucky Senator Mitch McConnell press office Twitter page shared this message saying, "Elaine and I join the Marshall County community in remembering Bailey and Preston, who were tragically taken three years ago. #Kentucky stands united in prayer for continued healing as we keep working to make our schools safe places to learn."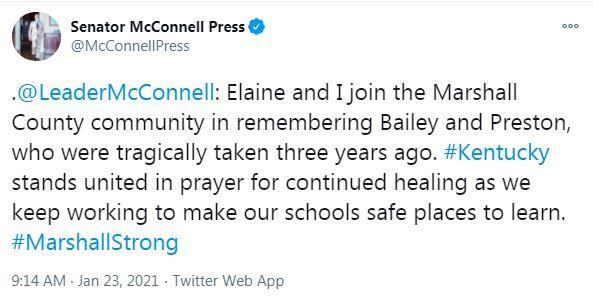 Kentucky's Attorney General Daniel Cameron shared a photo with the words Marshall Strong and the date of the shooting with the words, "Each time I visit Marshall County, I am reminded of the strength and hope in this community following the tragic events of January 23, 2018. They remind us all what it means to be #MarshallStrong."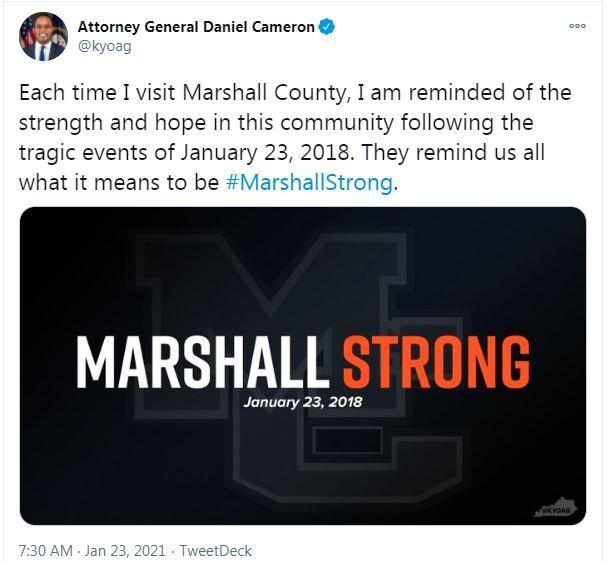 Tributes from other organizations are also being shared online. Some organizations include the Kentucky State Police, Kentucky School Boards Association and the Kentucky Historical Society. 
The gunman pleaded guilty to the shooting in 2020 and received two life sentences in prison. He also received an additional 70 years in prison for 14 counts of assault. He will be eligible for parole in 20 years.