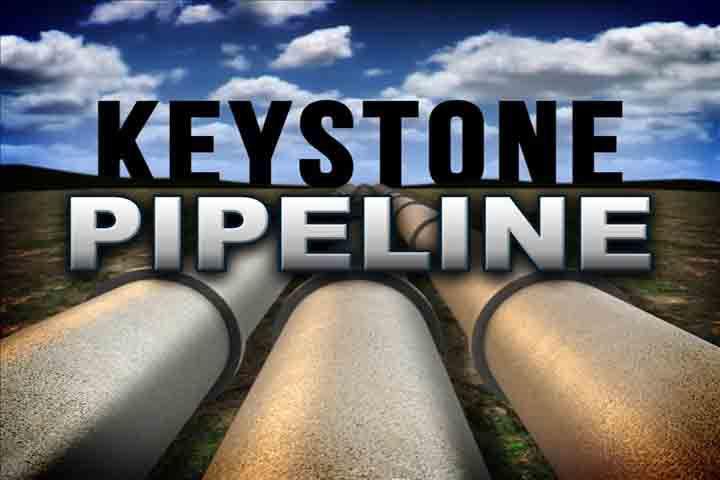 BILLINGS, Mont. (AP) — Attorneys general from 21 states, including Kentucky, on Wednesday sued to overturn President Joe Biden's cancellation of the contentious Keystone XL oil pipeline from Canada.
Led by Ken Paxton of Texas and Austin Knudsen of Montana, the states said Biden had overstepped his authority when he revoked the permit for the Keystone pipeline on his first day in office.
Because the line would run through multiple U.S. states, Congress should have the final say over whether it's built, according to the lawsuit filed in U.S. District Court in Texas.
Construction on the 1,200-mile pipeline began last year when former President Donald Trump revived the long-delayed project after it had stalled under the Obama administration.
It would move up to 830,000 barrels (35 million gallons) of crude daily from the oil sand fields of western Canada to Steele City, Nebraska, where it would connect to other pipelines that feed oil refineries on the U.S. Gulf Coast.
Despite several Obama-era studies conducted by the State Department, which concluded the Keystone XL Pipeline would boost the economy, create jobs, and safely transport oil throughout the country without increasing greenhouse gas emissions, the Biden Administration issued an executive order revoking the permit hours after taking office.
"The Biden Administration's order revoking the Keystone XL Pipeline violates the rule of law, harms the creation of jobs, threatens U.S. energy independence, and creates negative ripple effects for non-pipeline states, like Kentucky," said Kentucky Attorney General Daniel Cameron.  "Instead of following the law, the Biden Administration is intent on pursuing an extreme climate agenda that will harm Kentuckians and all Americans. The U.S. Constitution clearly gives the power to regulate foreign and interstate commerce to Congress, and we believe the Administration's actions are unconstitutional."
Biden cancelled its permit over longstanding concerns that burning oil sands crude would make climate change worse.
If the lawsuit fails and Biden's decision remains in effect, many minority and low-income populations who live in the proposed project area will not have the benefit of jobs created by the economic opportunity. 
Attorney General Cameron says cancelling the Keystone XL Pipeline permit will also have adverse impacts on the U.S. economy and environment in non-pipeline states.
Attorney General Cameron was joined by the attorneys general of Alabama, Arizona, Arkansas, Georgia, Indiana, Kansas, Louisiana, Mississippi, Missouri, Montana, Nebraska, North Dakota, Ohio, Oklahoma, South Carolina, South Dakota, Texas, Utah, West Virginia, and Wyoming in filing the lawsuit as plaintiffs.
You can see the full complaint in the PDF below: