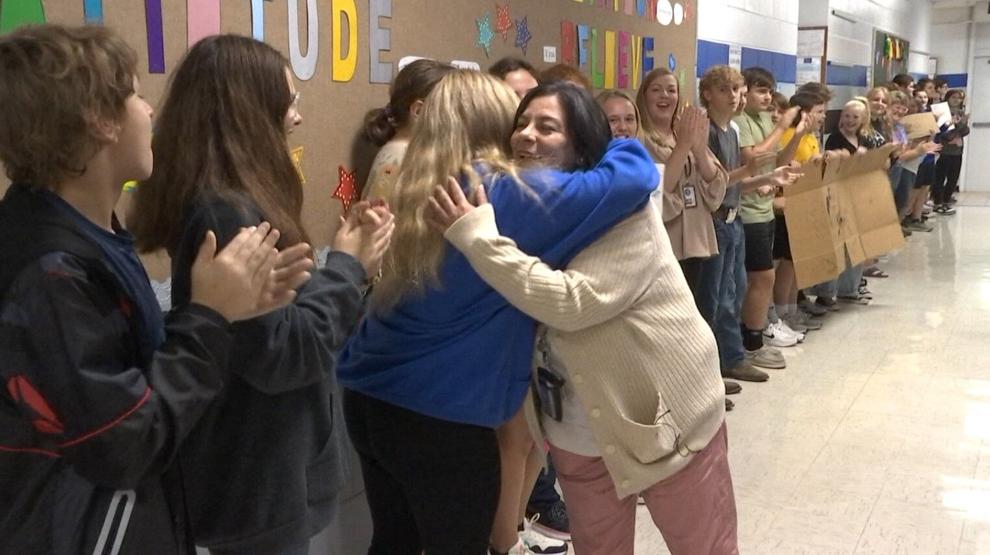 CRITTENDEN COUNTY, KY — Students and teachers lined the hallways at Crittenden County Middle School to honor teacher Mandy Perez.
Perez was named Kentucky's 2023 Teacher of the Year on Tuesday.
RELATED: Crittenden County Middle School teacher Mandy Perez named Kentucky Teacher of the Year
Students held signs and cheered on Perez, who teaches sixth-grade English and language arts. Perez has taught in Crittenden County Schools throughout her 18-year career.
Wednesday morning, she told Local 6 she was surprised to receive the Teacher of the Year honor. She said it's all about the kids.
"If you are a teacher at heart, you know that. It's not about the awards that you have won or how many you have won. It's who you have impacted. It's the message you have gotten 10 years down the road that say 'Ms. Perez, you have made difference.' That makes you really realize this is all it's about," Perez said. 
She was touched by the warm welcome and words of congratulations students gave her Wednesday. 
"I was just overjoyed. I had these kiddos in elementary school. I'm the former elementary school teacher, and so just seeing the excitement on their faces, the love, the amount of hugs, I know they're truly excited for me, because they had me in elementary school, they had me in middle school. So, I share this with them," she said. 
One sixth-grader told us how happy she and her classmates are for their teacher. 
"I was very excited for her. We all knew she was the one that could do it, and if she sets her mind to it, she's gonna' do it," sixth-grader Caroline Martin said. 
The ceremonial check Perez received Tuesday was made out for $3,000, but she will actually receive a $10,000 award for her Teacher of the Year win.