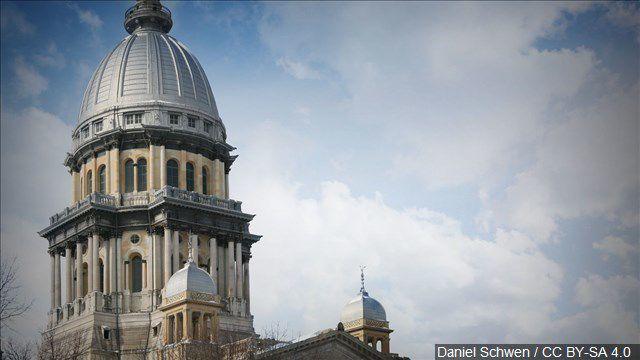 SPRINGFIELD, IL — Illinois legislators on Wednesday passed a criminal justice reform bill to require body cameras for all law enforcement officers in the state and end cash bail, among other changes. 
The bill passed in both the Illinois House and Senate Wednesday morning, and next heads to Gov. J.B. Pritzker's desk. 
Other changes for law enforcement agencies in the bill — House Bill 3653 — include new training policies including instruction hour requirements in areas such as use of force, de-escalation techniques for high-risk traffic stops and other scenarios, and more. It also bans the use of choke holds. 
The bill would require all law enforcement officers in Illinois to be equipped with body cameras by 2025. 
In addition to ending cash bail, NBC 5 Chicago reports that the bill would end the practice of suspending driver's licenses for failure to pay, and add rights for detainee phone calls and access to personal contacts before they are questioned by police. 
In a statement released Wednesday evening, Pritzker praised the legislation, but did not say whether he will sign it as written. 
"This criminal justice package carries with it the opportunity to shape our state into a lesson in true justice for the nation by abolishing cash bail, modernizing sentencing laws, instituting a certification and decertification system for police officers statewide, requiring body cameras, reforming crowd control response, and amplifying law enforcement training standards," Pritzker said. 
"I was proud to make ending cash bail and modernizing sentencing laws a legislative priority of my administration," the governor continued. "And I have long pledged my support to the Illinois Legislative Black Caucus in their efforts to pass not just criminal justice reform and police accountability measures, but also to truly root out the systemic racism that pulses through all our nation's institutions by pursuing greater equity in healthcare, higher goals in education, and deeper investments in economic opportunity for communities that have for too long been left out and left behind."
Republican State Sen. Dale Fowler of Harrisburg issued a statement opposing the measure Wednesday morning. 
"This bill is a dangerous proposal that makes it easier for offenders to commit violent crimes, eliminates cash bail and endangers the safety of our citizens," Fowler said. 
The state senator noted that the bill is 700 pages long, and claimed lawmakers did not have time to read it in full, seek input from the public or get feedback from law enforcement agencies. 
"I stand with the men and women of our law enforcement who bravely serve each-and-every day. I am beyond disappointed that this is how such a vitally important proposal was rammed through the Senate chamber, without full consideration of the consequences this bill will have on our law enforcement profession and the wellbeing and safety of our communities," Fowler said. "This is not how reform should be done and this is not a bill I support."