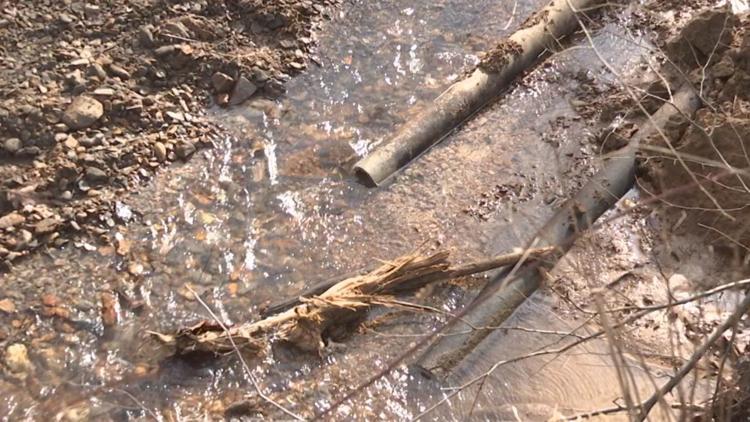 SYMSONIA, KY — Imagine not having running water in your home for days. For those living near Symsonia Highway in Graves County, that's a reality.
Twenty years ago, the city struggled with water issues under the West Marshall Water District. Now, under Benton Water, they face challenges again.
Ina Bowlen is relieved she has water in her home.
"If you don't have water, you can't do anything," Bowlen says.
For years, she's been living without consistent running water. Some days she can't cook or even wash her hair. Bowlen says she keeps gallons of milk jugs filled with water, because she never knows when she'll lose it.
"Get up for morning, can't even wash your hands. You know that's bad," Bowlen says. "We had enough in the milk jugs to wash our hands and to wash our face. Couldn't flush the commode. So, it's just very frustrating to be without water."
The 374 people under the Benton Water District are currently under a boil water notice.
But Benton Mayor Rita Dotson says there is a solution the city is working on to help the people affected by the water issues. 
Dotson says the 7.2 miles of water line are more than 60 years old and need to be repaired. She says the lines run through creeks and break with heavy rain. 
Dotson says the city council approved the plan to use a grant and loan from the USDA to fix the lines. The estimated repair cost is $3 million. She says the city is 75% done with the process. Once the grant process is complete, they will get new lines within a year.
"When they continuously wake up without water, that's an issue," Dotson says. "It's a problem. They can't take a shower, they can't drink water, they can't give their babies a bath, whatever. And I understand totally, and I would be so frustrated if I were them. But we're doing everything we can on this end."
Bowlen says she hopes the city is making repairs a priority. 
Dotson says this issue has been going on for 10 years. And because Symsonians don't pay city taxes, it's difficult to pursue those grants.