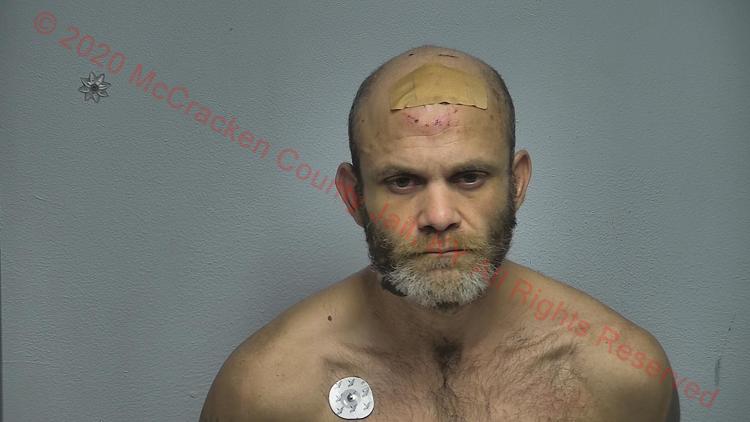 PADUCAH, KY — 43-year-old Robert Thomas Aitken was arrested on multiple charges earlier this morning. 
These charges include second-degree assault, first-degree possession of a controlled substance (methamphetamine), possession of drug paraphernalia, second-degree fleeing or evading police (on foot), third-degree terroristic threatening, and driving with a suspended or revoked operator's license and receiving stolen property ($10,000 or more).
This after Aitken hit 68-year-old James G. Cates near Jennifer Lynn Drive at about 6:30 A.M. with a stolen van then fleeing the scene on foot.
Cates told officers Aitken offered to call 911 but then attempted to drive away.
The two got into a struggle until Cates got a hold of the vans keys and threw them into a nearby yard.
Aitken threatened to shoot Cates before fleeing on foot. 
He was later located on Buckner Lane and was taken down using a Taser. 
The van was later found to be stolen from Tennessee, and despite Aitken's claim to owning a firearm, officers were unable to locate one.
Aitken was later booked into McCracken County Regional Jail with the above charges, and Cates was taken to Baptist Health Paducah for treatment.