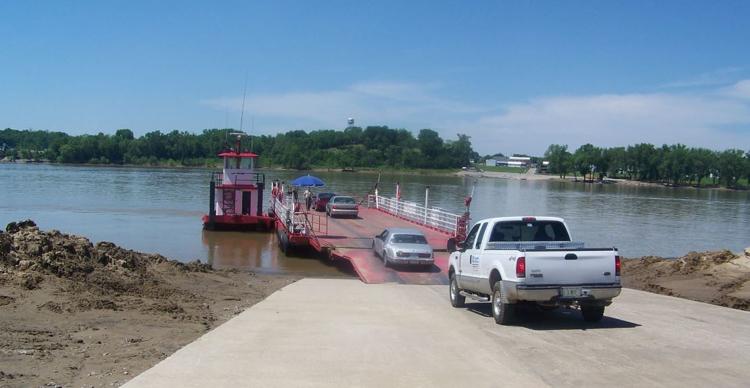 CAVE-IN-ROCK, IL — The Cave-In-Rock Ferry will remain in service, after a tentative funding agreement was reached Tuesday night. 
Earlier, the owner of the Cave-In-Rock Ferry announced the ferry would stop operations Tuesday night, because state leaders and the ferry company were unable to reach a new contract agreement. In a news release, Cave-In-Rock Ferry owner Lonnie Lewis said he agreed to sign a new contract to fund the ferry under the same terms in the previous contract, but that the state of Kentucky declined to accept those terms. Lewis said it was his understanding that the state of Illinois was agreeable to the contract terms. Lewis said the Ferry's last crossing before the closure would be made around 9:40 p.m. 
However, in an update on the contract negotiations sent Tuesday night, the Kentucky Transportation Cabinet says the ferry will resume service on Wednesday after all. KYTC District 1 says Lewis has indicated a tentative contract agreement has been reached, so the ferry will remain open, operating on its regular schedule on Wednesday.
KYTC District 1 says Crittenden County Judge Executive Perry Newcom will announce more details about the contract agreement Wednesday. 
Illinois Sen. Dale Fowler says officials with the Kentucky Transportation Cabinet, the Illinois Department of Transportation and Lewis have agreed upon a two-year contract. Fowler made the announcement in a post to his official Facebook page.
"The ferry is a critical connection for commerce and travel between Southern Illinois and Kentucky and it was imperative that all parties come together to resolve this issue," Fowler writes. "I want to thank my legislative colleagues in Kentucky and in Illinois for being involved and proactive to ensure the ferry remained open. I also commend Kentucky Transportation Cabinet Secretary Gray and Illinois Department of Transportation Secretary Osman for all their dedication and hard work to address and resolve this this issue swiftly. I'm thrilled that we can officially announce that Mr. Lewis will be able to continue operation and provide his services to both states. Great news for Southern Illinois."
The ferry connects Kentucky 91 in Crittenden County with Illinois Route 1 in Hardin County across the Ohio River. The Kentucky Transportation Cabinet and the Illinois Department of Transportation provide funding for the ferry through the Ohio River Authority. 
The ferry's normal schedule is from 6 a.m. to 10 p.m. Central Time, running seven days a week. The last ferry run from the Illinois side usually departs at 9:40 p.m., and the last run from the Kentucky side usually departs at 9:50 p.m.