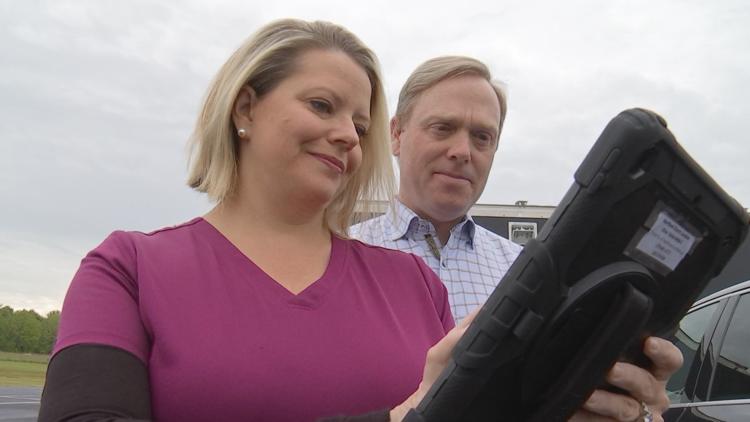 PADUCAH — You can now buy your chance to win this year's St. Jude Dream home. Tickets officially went on sale Tuesday, and we've already sold more than 600!
The ceremonial first ticket went to Paducah nurse Nicole Turnbo and her husband, Dr. Kyle Turnbo.
Every year, the folks at St. Jude ask me, "Who should buy the ceremonial first ticket?" This year, it was a no-brainer to me. We had to get someone who's representing all the folks on the front lines of the COVID-19 pandemic — all the health care workers out there.
Nicole Turnbo is a pediatric nurse, and she's running one of the COVID-19 test sites — the one at Heartland Church. 
"I'm proud to be be here representing those on the front line. They're working really hard, and I'm just glad to be here to represent those folks." Nicole said.
And if you've been watching Local 6 lately, you've seen her husband, Dr. Kyle Turnbo, as he's kept us updated on all the very latest news with the pandemic.
"Yeah, somehow we've kind of ended up representing the coronoavirus, and at least the information for the coronavirus, for our area. And I think we, as a community, have come together and have done a good job at combating the virus, and doing our part for social distancing and coming together as a community. So, I'm proud of what we've accomplished, and we continuing the good fight against this disease." the doctor said.
So, the Turnbos have their ticket, and you can order yours now! We'll give the home away on Aug. 23. The home is under construction in the Hill Creek Subdivision in Marshall County, Kentucky. Proceeds benefit St. Jude Children's Research Hospital.
Because of the COVID-19 pandemic, this year's St. Jude Dream Home event is being conducted under special rules from the Kentucky Charitable Gaming Commission, a division of the Kentucky Public Protection Cabinet. Under an emergency order issued on March 18, the commission suspended all gaming, including charitable raffles. On March 25, however, the commission issued an exception allowing the St. Jude Dream Home Giveaway fundraiser to proceed. For health and safety reasons, ticket sales are limited to online purchases for the time being. The commission also limited the fundraiser to residents of Kentucky. WPSD is hopeful conditions will allow those restrictions to be lifted when it is safe and practical to do so.
For more information about this year's St. Jude Dream Home Giveaway, including more details about the home and how to buy a ticket, click here.
For more on the Public Protection Cabinet's order, download the document below.