OBION COUNTY, TN — Union City High School Senior Julianne Becton died Sunday evening from injuries sustained in a car accident that occurred earlier in the day.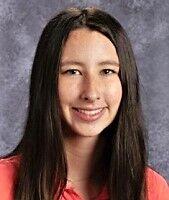 Becton died at the Regional One Medical Center in Memphis after being airlifted there. Three other students were also injured in the wreck. Senior Kaigan Davis and sophomore Kyler Southerland were briefly hospitalized and released Sunday evening. Lake County High School senior Levi Stover was injured as well. As of Monday evening, he remains hospitalized at One Medical Center. 
School counselors for the Union City School System, Young Life leaders and area youth leaders are available to Union City students all day Monday.
"Julianne was a wonderful student with the sweetest spirit," Union City High School Principal Jacob Cross said.  "Our students are in shock right now. Our thoughts and prayers are with Julianne's mom and dad (Elizabeth and Scott) and her sister, Jamie, who is one of our freshmen."
A prayer vigil for students and their families was held at War Memorial Stadium Sunday night.
Funeral arraignments for Julianne Becton have not yet been released.