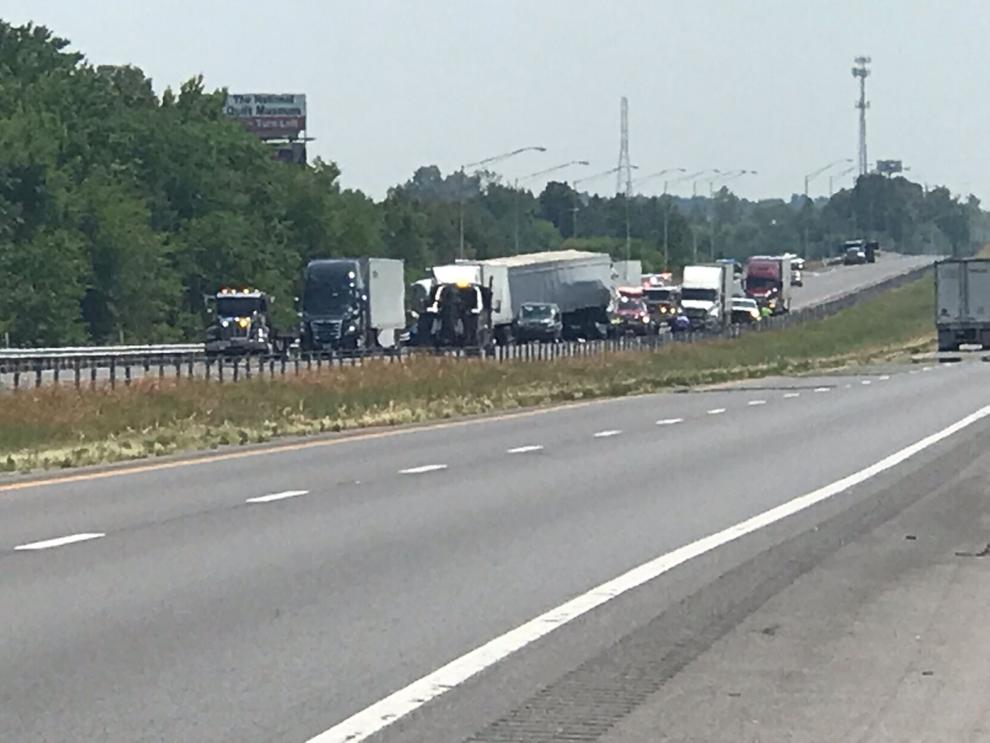 PADUCAH — A man was killed and five people were injured in the multi-vehicle crash that continued to block Interstate 24 near exit 3 well into the night Tuesday. As of 11:15 p.m., the Kentucky Transportation Cabinet says the crash site at the 2.4 mile point has been cleared. 
KYTC says all lanes are now open between exit 3 and the Ohio River bridge, but it may take an hour or more for traffic congestion to clear out of the area. 
The crash, which happened around 1 p.m. Tuesday, involved three semitrailer rigs and three non-commercial vehicles. The Paducah Police Department says one of the semis failed to stop for traffic and hit the rear of another semi in front of it. That caused a chain reaction crash, with each vehicle hitting the rear of the next. 
The driver in the first semitrailer was killed, and the police department says he had to be extricated from his truck. Five other people involved in the crash were taken to local hospitals, but the police department says their injuries were not life threatening. 
Four other people involved in the crash were not injured. 
The police department says only one of the drivers involved in the wreck is from Paducah. The nine other people involved are from other states. 
Police hoped to have the interstate back open to traffic by mid-evening, but work continued into the night. A large amount of oil and diesel spilled at the crash site, and the police department says there was a large amount of debris from the wreck. The Kentucky Transportation Cabinet estimates the cleanup effort will continue until about 11 p.m. 
Noncommercial vehicles are advised to detour using the U.S. 45 Ohio River "Brookport" bridge. Large commercial vehicles like semitrailers cannot use the Brookport bridge, and should instead detour by taking U.S. 60 west to the U.S. 51 Ohio River "Cairo" bridge to connect to I-57 to continue travel into Illinois.