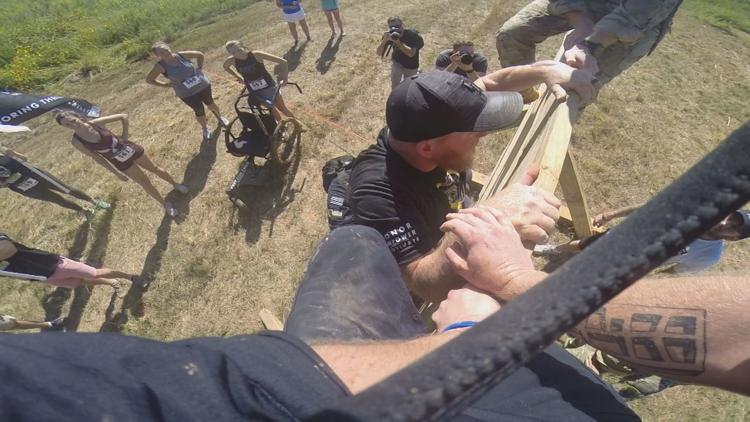 KUTTAWA, KY - You may remember Chase Matthews from this week's "Service and Sacrifice."
He was badly injured by an I.E.D. explosion in the Iraq war. His legs were amputated.
He has never given up and Saturday was another testament to his strength.
Immense sweating, tears of joy, and perseverance.
These were feelings shown for Chase Matthews as he and veterans worked through obstacles in the Operation Enduring Warrior Challenge.
"This morning I was like what have I got myself into," said Matthews. 
Matthews' wife Jennifer wanted him to take on this course because she has always believed in him. 
"I'm excited to see Chase realize that he can accomplish way more than he thought he could," said Jennifer.
"And I think it's going to be a very moving experience for everybody here."
Matthews took the challenges head-on with his wife, two kids, friends, and Operation Enduring Warrior Squad by his side.
As he made his way through wooded areas, climbing walls, giving all of himself into this challenge; Matthews was overcoming once again.
"I'm really nervous, but I'm excited at the same time to see what I can and can't do," said Matthews. 
The 5K course was a rough one, but luckily, he had a team supporting him along the way.
Team Leader Kyle Alexander was one of the veterans serving as a safety net for Matthews.
"We're going to go through the course, motivate Chase and Josh to overcome all these obstacles."
Alexander and his crew wore masks that reduced their breathing by 25 percent.
"That also is to kind of to show the honoree that we're sharing a burden with them out there," said Anderson. 
About two and a half hours later, Matthews crossed the finish line. 
"It was great going through it with the guys, but it was as tough as I thought it was going to be, but it was super fun."
It is safe to say that with an experience like this, the course has not seen the last of Chase Matthews.