PADUCAH — A nationwide social media trend has made its way to west Kentucky, and it's costing school districts money.
Students are trying to one-up each other by stealing various items from their school bathrooms or other areas. It's called the "devious licks" challenge.
A lick is slang for stealing. The devious part is what's causing kids to try and steal the biggest thing they can and post it on social media, encouraging their classmates to take the challenge.
It sometimes starts with stealing a soap dispenser. Then, the student posts about it on TikTok or Snapchat with the hashtag #deviouslickschallenge or #lickschallenge.
After it's posted, it's a free game for one of their classmates to one-up them by stealing more things, such as the towel dispenser or even a urinal.
At Paducah Tilghman High School, Principal Allison Steig had to give her students a stern warning.
"I think we had some damage in a couple of restrooms," Steig said. "I then went on the intercom and spoke to our students about this, and of course explained to them that it's against the law, but more importantly than that, I don't want them tearing up our own building."
The high school was able to replace the stolen or damaged items, and there were no additional reports as of Monday.
Parents at Graves County High School received an email last week warning kids about participating in the challenge.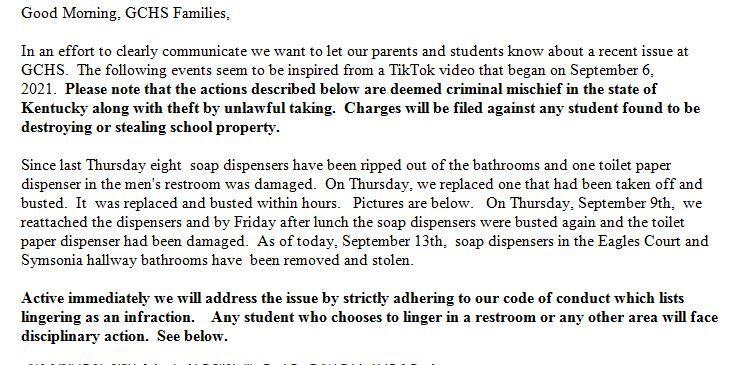 It reads "Since last Thursday eight soap dispensers have been ripped out of the bathrooms and one toilet paper dispenser in the men's restroom was damaged. On Thursday, we replaced one that had been taken off and busted. It was replaced and busted within hours."
They attached photos of damaged soap dispenser to the message, saying: "The actions described below are deemed criminal mischief in the state of Kentucky along with theft by unlawful taking. Charges will be filed against any student found to be destroying or stealing school property."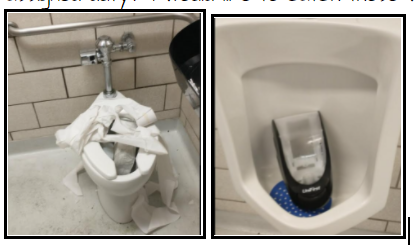 McCracken County Schools confirmed it experienced some "devious licks" as well. But, a spokesperson said they haven't had a lot of issues.
TikTok has banned hashtags related to the devious licks challenge, but kids are finding ways around that with alternate hashtags.
If parents hear their kids talking about the challenge, they are advised to remind them that they could be criminally charged for participating in this TikTok challenge.