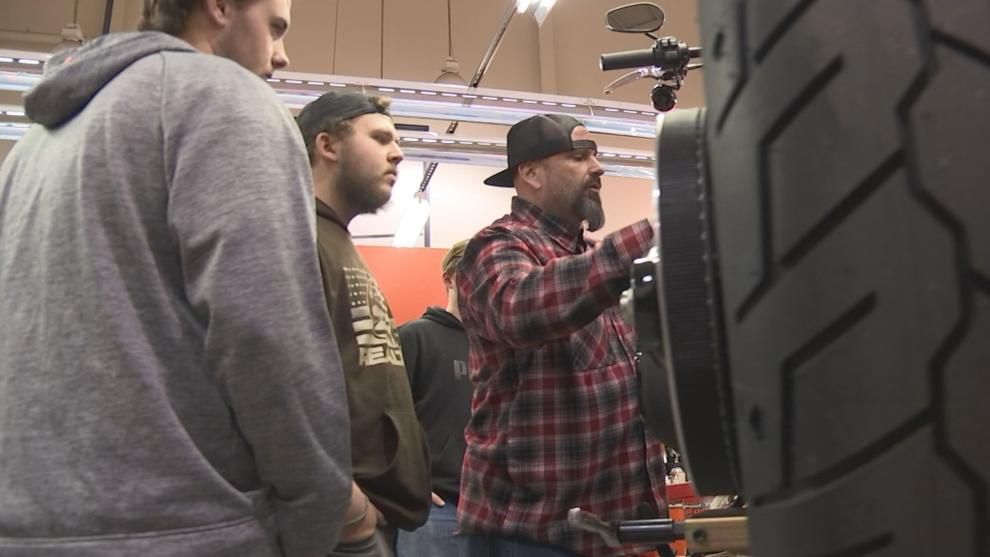 PADUCAH — Vocational high school students from McCracken, Graves and Livingston counties took apart a brand new 2020 Harley-Davidson motorcycle this week.
There was nothing wrong with the bike, though. Four Rivers Harley-Davidson's general manager Trent Willett says it's to give the students a hands-on experience.
"They can teach you a lot of stuff in the school, but until you get your hands on it, that's a whole different thing. A lot of people don't get the chance to get their hands on a brand-new Harley-Davidson either. It's pretty cool for these high school kids to get a chance to do that," Willett says.
Three groups of students helped tear down the bike. The first group took the sheet metal off the bike to paint. A second group tore the motor apart and rebuilt it. A third group pulled wheels and other accessories off the bike to paint as well.
Willett says he hopes this experience encourages the kids to pursue jobs in trade.
"It's getting to the point where there's less kids going into trades. Everybody thinks you need to go to college, and that isn't a bad thing, but trades are important. We need those people out there and you can make a good living out of it," Willett says.
Willett and the students will work together to rebuild the bike. It will be raffled off next year.
This year, Willett is raffling off a 2018 Sport Glide motorcycle custom built by Willett. Money raised from the raffle will go to the Paducah Innovation Hub. If all 750 tickets are sold, the school would get $40,000.
You can get tickets at Four Rivers Harley-Davidson at 3005 Old Husbands Road in Paducah, mail money to the store, or send it using PayPal: Trentwillett123@yahoo.com.
The drawing will be held at 6 p.m. on Feb. 29 at the American Legion.