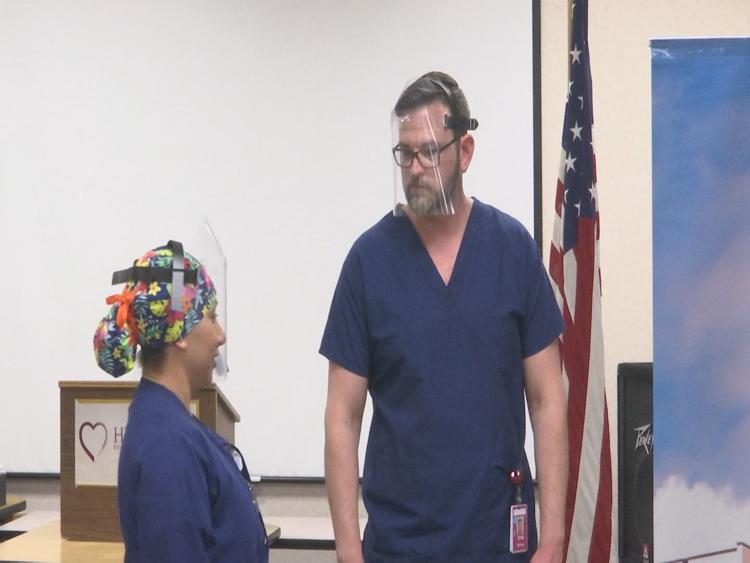 MARION, IL — A group of volunteers made plastic face shields for health care workers, donating them to Heartland Regional Medical Center in Marion, Illinois.  
Dav Glass and Andrew Wilson are members of a tech group called HACKSI. Members of the group have been using their extra time during the COVID-19 pandemic to make face shields for anyone on the front lines of the pandemic. 
"We've got to join together as a community to help each other and protect each other," said Wilson.
The materials to make the masks are pretty simple. All they need is a plastic report cover sheet and the back of the mask. Then they finish the product with a few cuts of their laser. 
They've made 300 face shields by using that special laser. They donated 100 of them to Heartland Regional Medical Center. The hospital staff said the donations are vital.
"We have about 4,000 to 6,000 of the N95 masks that's used to keep our people safe. If we get hit with a COVID experience, that could be gone in two weeks. The shield over the mask will make all the difference in the world to keep our staff safe," said Heartland Regional Medical Center CEO Ed Cunningham.    
Glass,  HACKSI's founder, said he's happy to be doing his part during this pandemic.
"They're the ones protecting us. If they get sick, there's no one to take care of my family or anyone else's family, so we need to keep them as safe as possible," said Glass. 
Because we are all in this together, Heartland Regional Medical Center is accepting donations of gloves and gowns. The shields are free, but HACKSI started a GoFundMe page to raise money for materials and maintenance on the lasers. 
Click here to visit the group's GoFundMe page.