WASHINGTON (NBC) — House Speaker Nancy Pelosi will host an engrossment ceremony with impeachment managers Wednesday. A procession will follow in which the articles are walked across the Capitol to the Senate.
In the engrossment ceremony, Pelosi and the impeachment managers she has named will sign a resolution to transmit the articles to the Senate. Those seven managers will present the case against President Donald Trump in the Ukraine scandal. They are expected have a chance to argue their case before the full Senate.
After the ceremony, the articles will be taken to the Senate in the procession.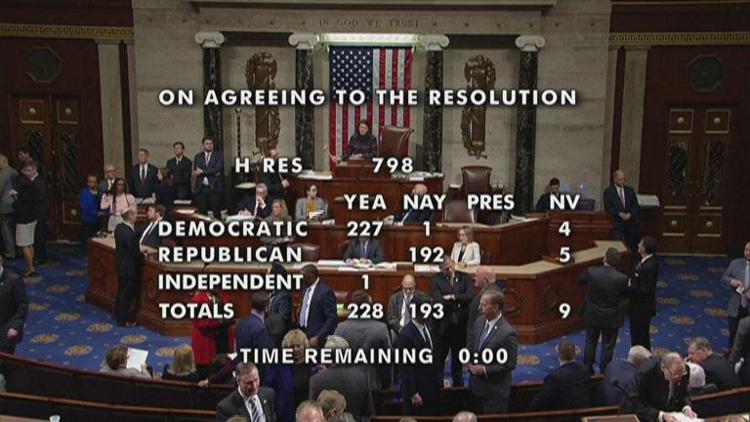 Live coverage is expected to begin at 4 p.m. Central Time.
Earlier Wednesday, the House of Representatives voted to send articles of impeachment over to the Senate.
The House voted 228 to 193 to transmit the two articles of impeachment against Trump to the Senate and approve the impeachment managers Pelosi named: Intelligence Chairman Adam Schiff of California, Judiciary Chairman Jerry Nadler of New York, Hakeem Jeffries of New York, Zoe Lofgren of California, Val Demings of Florida, Jason Crow of Colorado and Sylvia Garcia of Texas.
One Democrat voted against the resolution — Rep. Collin Peterson of Minnesota. He also voted against both articles of impeachment last month.
The engrossment ceremony followed by the act of physically walking the articles to the Senate is similar to the way Congress proceeded in 1998 when President Bill Clinton was impeached.