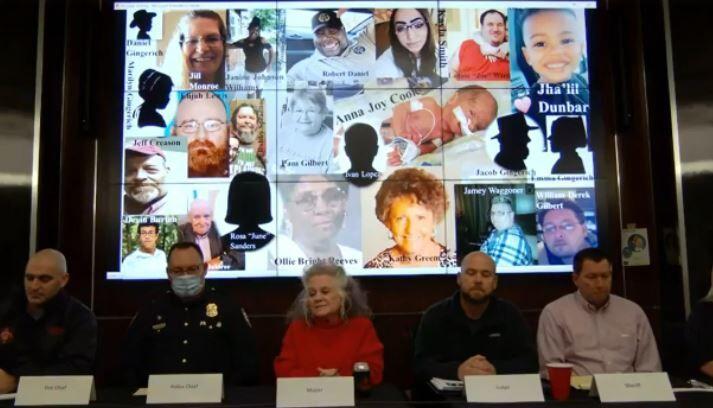 GRAVES COUNTY, KY — The Graves County Emergency Management Office and the Mayfield-Graves County Regional Emergency Operations Center hosted a briefing to update the community on the progress of tornado response efforts. 
The briefing was held at 5 p.m. on Tuesday, Jan. 11.
Officials provided updates on the ongoing response to the deadly EF-4 tornado that caused widespread destruction in Mayfield and Graves County the night of Dec. 10 and answered questions from the community about the aid available. 
Local 6 provided livestreaming coverage of the briefing here and on our Facebook page. The stream was also provided via the Graves County Office of Emergency Management's Facebook page. People with questions about recovery efforts and tornado assistance can post comments or messages on the emergency management office's Facebook page. If you missed the livestream, you can watch the full recording of the meeting in full in the video above. 
People living in Mayfield and Graves County can also request assistance by calling the Graves County Tornado Relief Hotline at 270-727-5114. The emergency management office says folks should use the hotline if they don't have food, water, tarps, generators, blankets or other essential items. The hotline is staffed from 8:30 a.m. to 4:30 p.m. After hours, people can leave voicemails, which are monitored. The hotline is not for emergencies. Anyone in an emergency situation should call 911. 
Representatives from the Federal Emergency Management Agency at the meeting again encouraged people to register both with FEMA and with the Small Business Administration. For updates from FEMA on open Disaster Recovery Centers, call the FEMA helpline at 800-621-3362. For more information from FEMA about Kentucky tornado recovery, visit fema.gov/disaster/4630.
The SBA is providing loans not only to businesses, but also to home owners and renters. A representative from the SBA said as of Jan. 10, $14,867,700 in disaster loans has been awarded to business owners, home owners, renters and nonprofits. There is no fee to apply for these low-interest loans, and people who are approved for a loan do not have to take it if they decide they don't want to. For more information and loan applications, call the SBA's Customer Service Center at 1-800-659-2955 (or 1-800-877-8339 for the deaf and hard-of-hearing) or email DisasterCustomerService@sba.gov. Loan applications can also be downloaded at sba.gov/disaster. Completed applications should be mailed to: U.S. Small Business Administration, Processing and Disbursement Center, 14925 Kingsport Road, Fort Worth, TX 76155.
Representatives with FEMA and the SBA encouraged folks to go to the Disaster Recovery Center at the Graves County Public Library for in-person assistance. That's at 601 N. 17th St. in Mayfield.
The filing deadline to return SBA applications for physical property damage is Feb. 10. The deadline to return SBA economic injury applications is Sept. 12. The deadline to apply for federal assistance through FEMA is Feb. 11. 
A representative from the American Red Cross says it has been distributing funds to storm survivors for a little more than two weeks now, and it is continuing to shelter people until housing becomes available. The representative said Red Cross volunteers will complete case work for people in the community to help them get what they need to remove barriers keeping them from returning to their homes. She also noted that the Red Cross is calling and texting people to give them updates. She said if you receive a call or text from the Red Cross, that is not a scam and people who receive those communications are asked to respond to them. 
During the briefing, Mayfield Mayor Kathy O'Nan shared a statement from Mayfield Graves County NAACP President Bruce Dobyns. Dobyns said the local NAACP is there to work with anyone who believes they have been discriminated against after the tornado. Those with concerns regarding discrimination can email mayfieldnaacp@gmail.com or call 309-678-8990.
Leaders held a similar briefing on Dec. 28. If you missed that briefing, click here to watch it in full.