FANCY FARM, KY — Did you catch a west Kentucky educator on "The Drew Barrymore Show" this week? 
Janet Throgmorton worked at Fancy Farm Elementary for 25 years — more than a decade of that time as the school's principal. And she found herself wearing yet another hat because of the pandemic: filling the role of bus driver. 
"You do whatever is necessary to get the job done so that kids are safe and loved and learning," Throgmorton said in an interview with Local 6's Chris Yu in January. "And that's what we're all here for."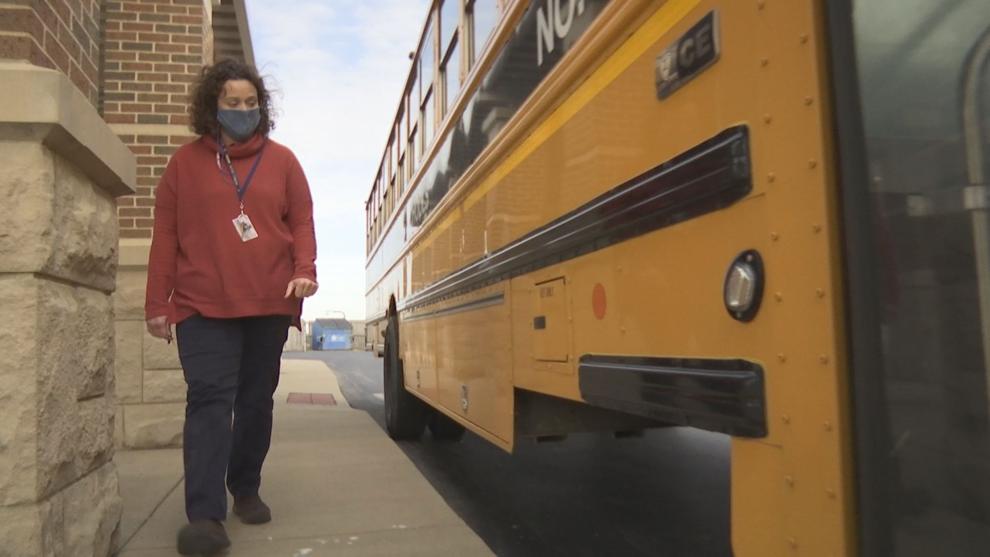 Throgmorton's service to her school and its students is being seen by people across the country after she appeared on "The Drew Barrymore Show" this week. 
Three years ago, Throgmorton earned her commercial driver's license to help drive the bus during field trips and to serve as a substitute bus driver if needed. Now, because of the pandemic, that's a need she's filling on a regular basis. Speaking with Local 6, Throgmorton said two of the school's bus drivers contracted COVID-19. While one bus driver had recovered, the other remained in the hospital on a ventilator. 
Appearing on "The Drew Barrymore Show" via video chat from her office at the school, Throgmorton said the bus driver who was hospitalized remains there on a ventilator. She has been driving the bus every afternoon. "Today I started driving in the morning as well," Throgmorton told Barrymore. "So it's definitely added to my job, but I enjoy it, because it ensures that our kids get to and from school safely and we have them here so they can learn."
Barrymore asked the principal what she says to students and parents to calm and encourage them amid the uncertainty of the pandemic.
"We've been offering opportunities by appointment for parents to come into our building and to see how we have set kids 6 feet apart, and we're wearing masks, and we're doing those things, and then when school is in session we are doing everything that we can to sanitize," she said. 
"We know that its scary, but we also know that our lives have to find a way to move on, and so I try to assure them that we love their kids as much as they love their kids, and want to do what's best for them," Throgmorton said.
Throgmorton also tells Local 6 that "The Drew Barrymore Show" and Erin Condren also donated $15,000 in supplies to the school. 
WATCH: Fancy Farm principal drives school bus to fill shortage during pandemic