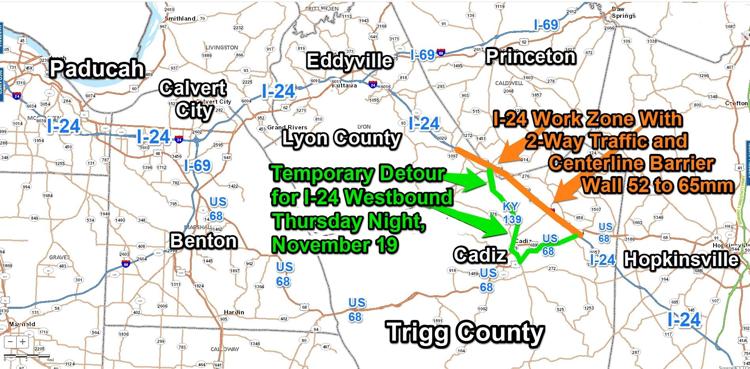 WEST KENTUCKY — A temporary detour is in place Thursday night directing westbound Interstate 24 traffic around the extended work zone between the 65 and 51 mile markers in west Kentucky. 
The detour went into effect at 5 p.m. Thursday, and is expected to remain in place until about 9 p.m. 
The Kentucky Transportation Cabinet says the detour will allow crews to perform pothole patching and shoulder repairs along the westbound side of the work zone ahead of the Thanksgiving holiday, which may bring increased traffic flow along the interstate. 
The marked detour at the U.S. 68 Cadiz exit 65 interchange takes drivers along U.S. 68 east to KY 139 north to return to I-24 at the Cadiz-Princeton exit 56 interchange. Drivers traveling U.S. 68 near the exit 65 interchange can expect delays, because flaggers will be controlling traffic to allow vehicles exiting I-24 to access U.S. 68 east. Oversize loads will be directed to pull over and wait for the work to be completed, because they will not be allowed along the detour route. 
KYTC has also recommended an alternate route for westbound local traffic to avoid the marked detour and the traffic backups it may have. Drivers can take the alternate route by continuing eastbound on U.S. 68 to the I-69 exit 47 Draffenville interchange to follow I-69 north to return to I-24 at the exit 25 interchange near Calvert City.