A very popular question we have been asked in the weather department lately has been "where is the snow at?" So far doing this winter season, we have certainly had an unorthodox stretch of weather dating back from the end of 2019. In this blog we will go through some of the reasons behind the unusual weather we have experienced of late, and also why this winter is a perfect time to illustrate the local effect of changing climate and global weather patterns.
Let me first start by reminding you the important difference between climate and weather. An analogy for climate is like your personality. It is pretty much constant, but can change over longer duration of time. Weather is like your mood - one day you can be in a bad mood and angry, but that doesn't make you a mean person. That is just (1) day of said weather. The important thing here is that 'climate' refers to the much longer time scale of weather over years, decades, and beyond.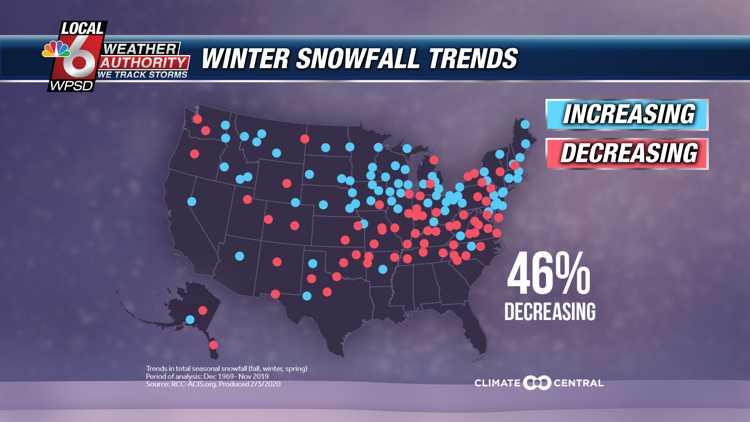 The first chart is showing how the changing climate and global weather patterns are having a local impact. Plotted above is the change in winter seasonal snowfall (December through February) since 1970. Each city is shaded in a blue or red color to denote whether or not the average winter snow totals have decreased, or increased. The intriguing thing about this graphic is most of the cities in the mid-south (our area) like Paducah... Nashville... Louisville... St. Louis... are all noticeably down -- yet most cities in the Great Lakes and New England are up -- Boston... Hartford... New York City. This is showing how the warmer patterns during the winter months are shifting the axis of heavier snowfall further north in the United States.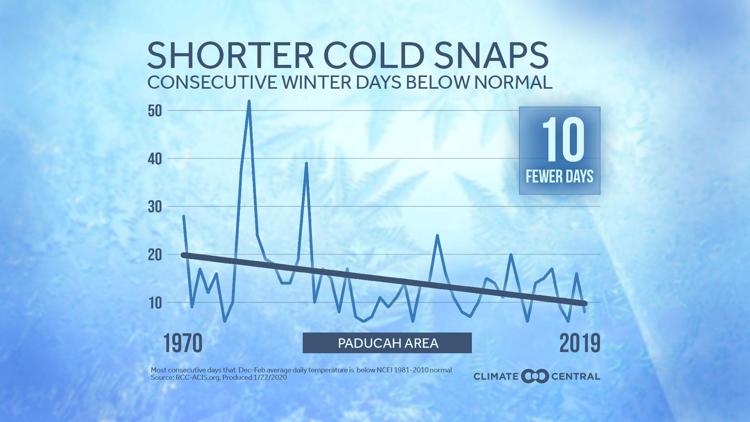 Since 1970 as well, there has been a marked decline in the amount of consecutive winter days below average in Paducah. This tally has essentially been cut in half as recently as 2019. Those of you who are in your 50s/60s+ probably can attest to and remember some very harsh winters in the '70s time-frame around here.
Another more interesting trend has also become apparent. There is more snow during the fall, with less during actual winter and spring.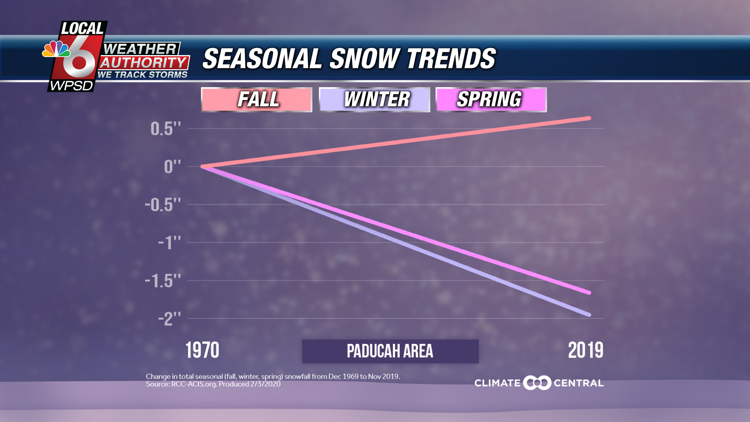 Now there is no one individual reason for this -- but it is interesting to mention. Remember this last November... we had historic cold and snow around Veteran's Day, and that has been about it.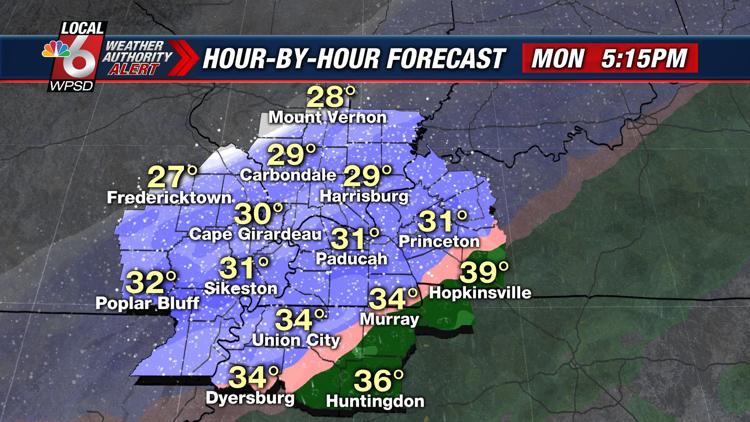 Above was the radar image on November 11th, 2019. Seemingly the real only snow we have gotten this cold season. November 12th was the earliest occurrence in the 82-year history of weather records in Paducah of where the high temperature failed to reach 32°. I remember talking with many of you after this bout of winter weather, and many were concerned what this meant for the upcoming winter. Well, so far clearly it didn't mean much.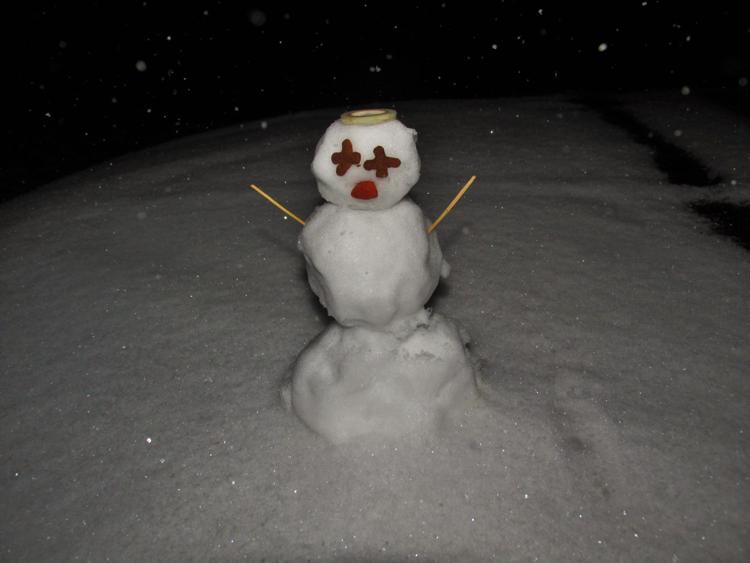 Only accumulating snow this season so far, as seen from Brent Elkins in Benton, KY on November 11th.
Fast forward from November to today, and it has been an interesting winter so far. Let me also remind you that the meteorological community has a slightly different definition of "winter" than is commonly referred to in society (on calender's, your phone, etc.) -- those are based on the sun cycle and equinoxes. Meteorologists define the seasons slightly differently in terms of record keeping. Meteorological winter is from December 1st to the end of February. So far during that time-frame of 2019 and 2020, there has been 0.0" of measurable snow in virtually all of our 4 state region.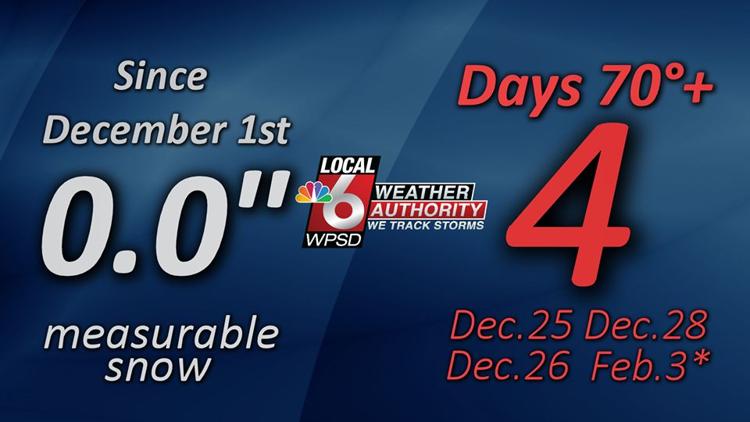 In fact, more surprisingly, there has been more days at or above 70° than inches of snow so far this winter (since December 1st). If this holds through the end of the month, this will make major weather history. It will be the first time ever there was more more days above 70°F in winter than snowfall. Also don't forget, we set plenty of new records for high temperatures in those 4 days... the 70° on Christmas was one of the highest in recorded history! I should also point out that we have had snow as late as the end of April before locally -- so there is plenty of time for things to change. March is notorious for having the ability of slamming us with a winter storm, and yielding tornadoes, sometimes within the same week.
Let's transition now into why this winter has been a tame one thus far, and what our historically favored tracks are for winter storms.
As stated multiple times, we've had more thunderstorms, tornado warnings, and unseasonably mild days than snow and ice so far. The reason for that is the main storm track this season has been right up or just to the west of the Ohio River. What that has done is place most of the Local 6 area in the warm sector of low pressure -- which is the area just along and east of the low center. In this region, typically heavy rain, mild weather, and storms occur, such has been then the case in the past 2-3 months.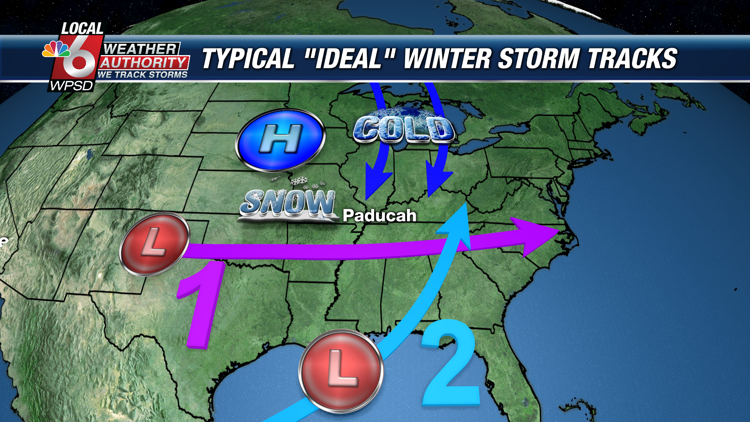 This is just not a favorable storm track for real winter weather. In the above graphic I plotted 2 of the most ideal tracks for low pressure to take, for us to get a snow or ice storm. Some of our biggest winter events (Ice Storm 2009, major snowstorm of February 2015, January 2016) have been one of these 2 tracks. Unlike severe weather and thunderstorms, where there are many ways to get them in our area 12 months of the year, winter storms in our part of the country have a much longer list of things that have to come together for it to happen.
The main thing here is that we have to be on the west side of low pressure, which is where winds are blowing from the north (remember flow around low pressure is counter-clockwise). For that to happen, something has to form in the Panhandle of Texas and track beneath us to Nashville, TN, or form in the Gulf of Mexico, and track up towards the Knoxville, TN area. This has to happen in conjunction with a high pressure area located to our north, which supplies the cold air needed for precipitation to be snow. Both the low pressure and high pressure must be present nearby to supply the cold and moisture necessary for a winter storm. With only one, you need the umbrella and not a shovel.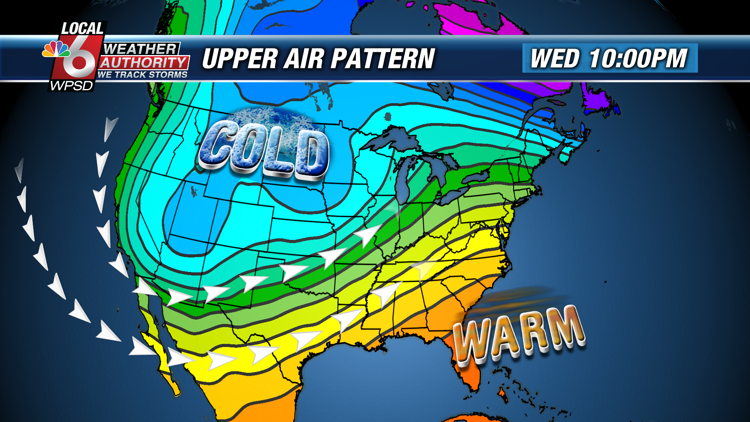 Going forward in the next few weeks, there appears to be no real threat for a winter storm of any sort. In fact, there is a chance temperatures spike well into the 60s again for next week. Shown above is the jet stream pattern valid at NEXT Wednesday. Remember, the "jet stream" is the corridor of very fast winds up where planes fly, that circulate the globe and dictate the weather pattern. The colors on the graphic indicate temperature, and the lines where the winds are blowing from. Note the large ridge over the eastern United States -- that means the jet stream level winds will be coming from the southwest... this is a very warm wind direction any time of the year for us. That means that even if a storm does form next week, it will be likely very mild with even a threat for thunderstorms.
There are some signs towards the end of February or early March that the pattern may become more conducive for a storm to produce winter weather locally. That being said, I wouldn't get your hopes up, it's marginal at best. I hope you found this article interesting. Hopefully now you are a little more in tune with what to look for (in terms of us getting a winter storm) when watching the weather report. It is a fact that climate change is having a local impact in our area, and will in the years and decades to come. What remains to be seen is if this season will be an outlier, or a sign of things to come in the future.