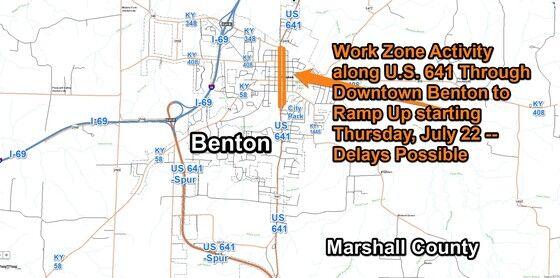 MARSHALL COUNTY, KY– A contractor with the KYTC will begin a 4-month project Thursday to update curb and concrete pavement along U.S 641 in Benton.
This work zone along U.S. 641 runs from mile point 7.98 near the Town Creek Bridge extending northward through downtown Benton to mile point 8.824 at the KY 348/5th Street intersection. It includes all of the one-way sections along Main Street and Poplar Street in Benton.
Drivers are being asked to use an alternate route, if possible. Delays are possible along U.S 641 near the work zone, and a 25 mph speed limit will be established.
"To assure Benton and Marshall County residents get a project with a road surface that will last, we had to halt work and rethink how we could overcome the roadway base issues," KYTC District 1 Chief Engineer, Kyle Poat, said.  "We added about $3 million in additional concrete work along the problem areas.  That extra work forced us to extend construction activities into this fall.  While that's creating some inconvenience now, it will result in a much better driving surface when we get it completed."
Nov. 15 is the targeted date of completion.