Nearly 100 fires are actively burning on the west coast of the United States. The yearly "peak" of wildfire season is just getting underway, and that coupled with very hot and dry atmospheric conditions in the west mean these fires will continue to spread in the near future.
Red, orange, and pink skies blanketed the Bay Area, San Francisco, Oakland, and Berkeley, CA today. Millions of residents awoke this Wednesday morning to a scene many described as something "from a movie" or as a "martian-like" landscape.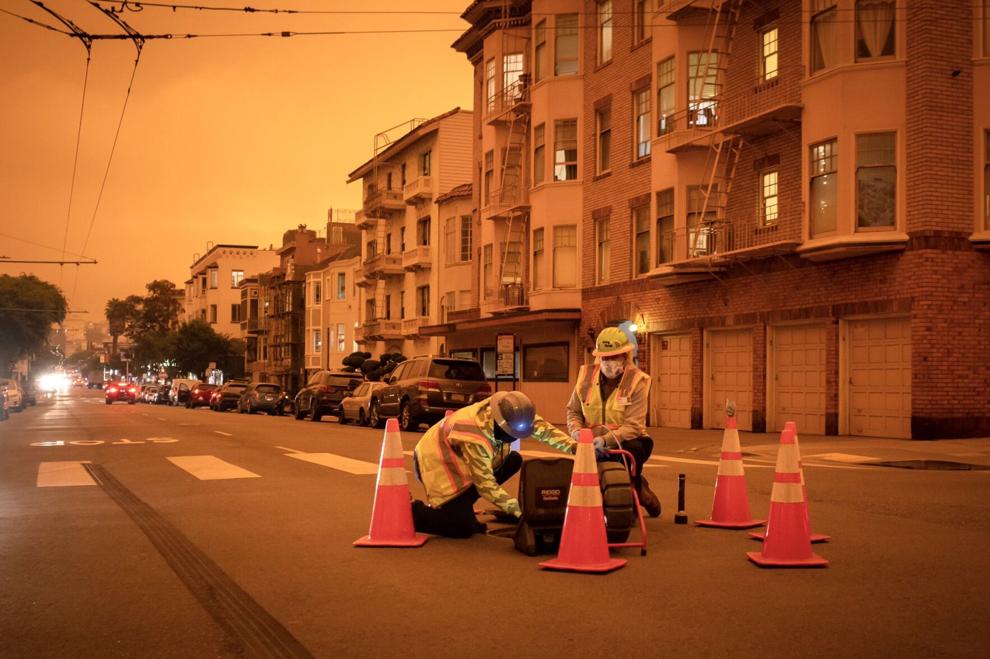 The sky turned so eerily red that construction workers seen above in San Francisco had to work with the aid of headlamps and flash lights in the middle of the afternoon. Dust and small particulates coated city streets, cars, and buildings from the fires burning just a few hundred miles away.
The reason for the remarkable and scary skies was smoke generated from the "Bear Fire" on Tuesday, that rose from "pryrocumulus" clouds and was transported down to the coastline from east to west moving winds aloft in the atmosphere. Smoke particles "scatter" sunlight and do so in such a way that they only allow yellow/red/orange hues to pass through; hence the look to the sky.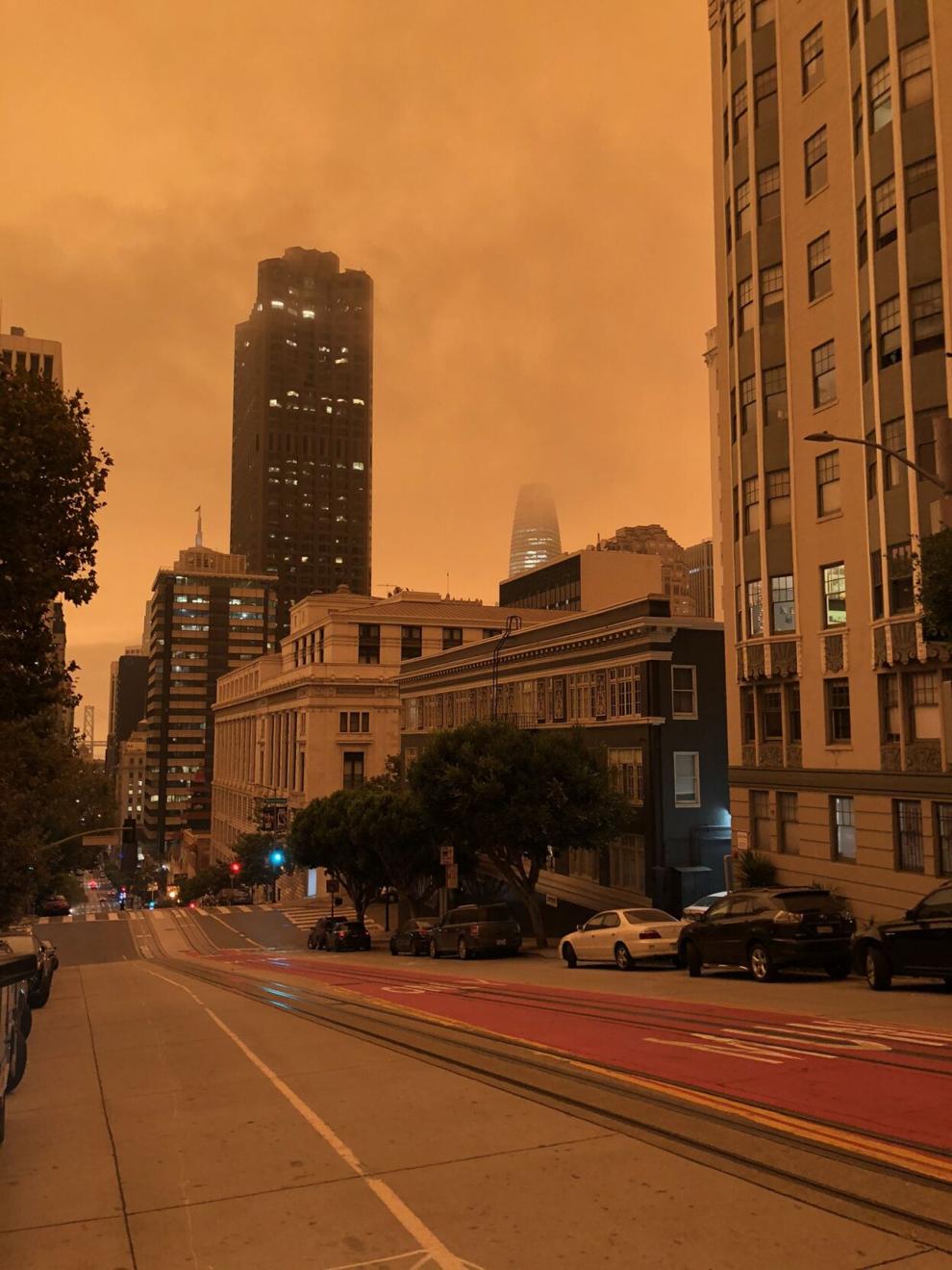 Video below shows what crossing the Golden Gate Bridge looked like Wednesday morning! 
In Oregon, almost 10,000 homes and businesses are without power as crews battle fires south of Portland, OR.
Helicopters have rescued hundreds of people from their homes in the Sierra National Forecast, the location of the "Creek Fire"
13 states in the west have active wildfires burning now
High heat and extremely low humidity will help to fuel these fires in the next few weeks
Washington state had more than 500 square miles burnt Monday alone, more in any single 24 HR period in the past 12 ENTIRE fire seasons
Officials call the situation in WA as "unprecedented and heartbreaking"

One positive note: Washington Commissioner of Public Lands Hilary Franz said there appeared to be no deaths or serious injuries in the state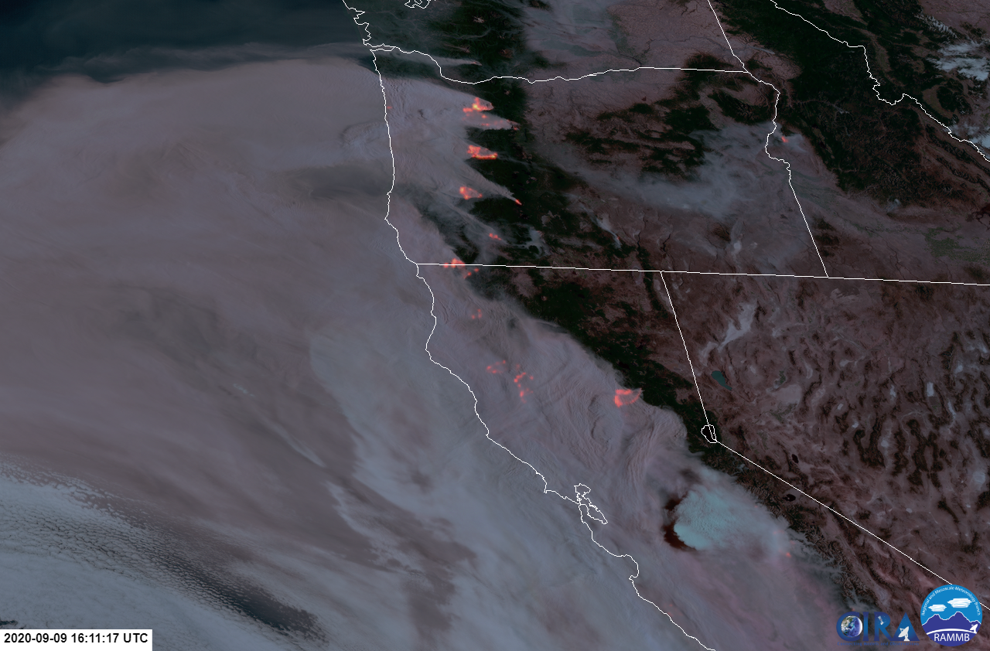 Shown above is the view from NOAA's satellites in space where you can see the east winds blowing smoke and dust westward from raging wildfires scattered across the western states. Image taken Wednesday afternoon. Climate change is clearly and unambiguously influencing the wildfires: higher heat and temperatures, more drought, more dead trees, greater extreme weather -- including winds.
We hope for better winds or rain chances soon to lesson the smoke extent and start diminishing some of the fires.