Noah's ark may be needed for the upcoming weekend. Before then though, quiet weather is anticipated for Wednesday across the area. High pressure will be in control meaning light winds and lots of sunshine is forecast, with highs near 50° by afternoon. The first bit of active weather for the next few days starts on Thursday. Well out ahead of our main storm for the weekend, things will turn pretty windy starting Thursday morning, lasting all the way through Saturday evening.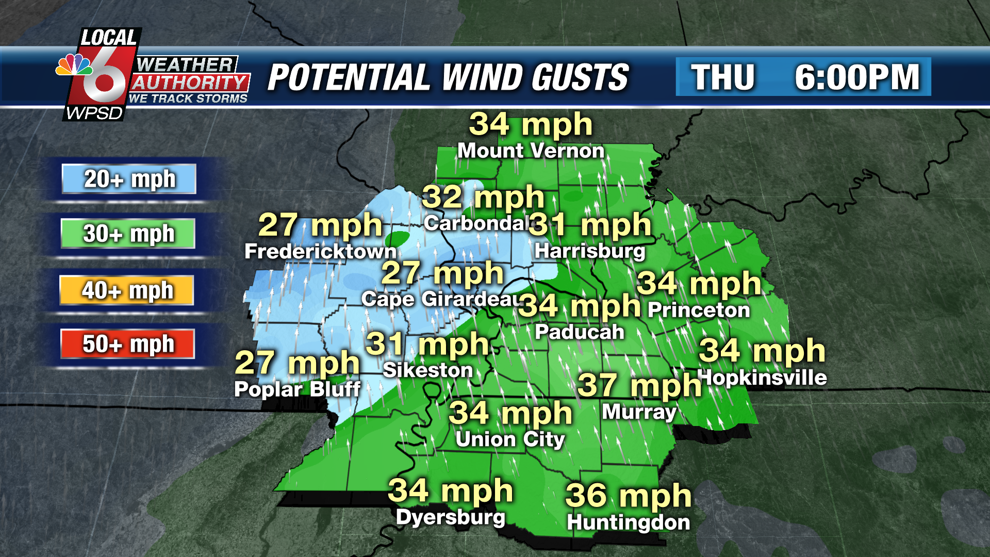 Southerly winds will gust between 30-40 mph all day Thursday and Friday. Seen above is the estimated winds Thursday evening. We are dry and quiet for most of Thursday... a few rain showers develop late in the day moving in from the west. A few rumbles of thunder are possible during this time too. This trend of hit and miss rain showers continues through the day on Friday. From Thursday night through Friday at sunset, most places should still be near or below 0.5" of rain accumulation. The main show and event then starts to arrive later Friday evening through Saturday.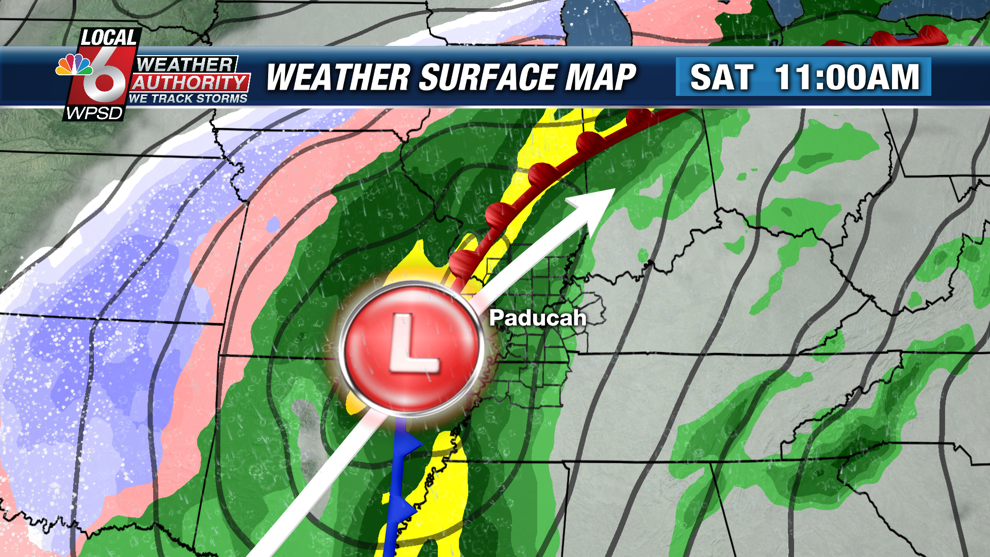 A low pressure area will develop in central Texas, and track northeast through Arkansas overnight Friday. This will spread rounds of very heavy rain in our whole area. The key to the forecast is the exact track of the low pressure. As shown in the above image, one scenario takes the low center up through southeast Missouri. This would lead to a more prominent risk for severe weather, including damaging winds and maybe a tornado threat too in west Kentucky and northwest Tennessee. Conversely, if the low center tracks up through west Kentucky, that would displace the threat for severe storms further south and largely out of our area - closer to Nashville, TN and points south down I-65 from there.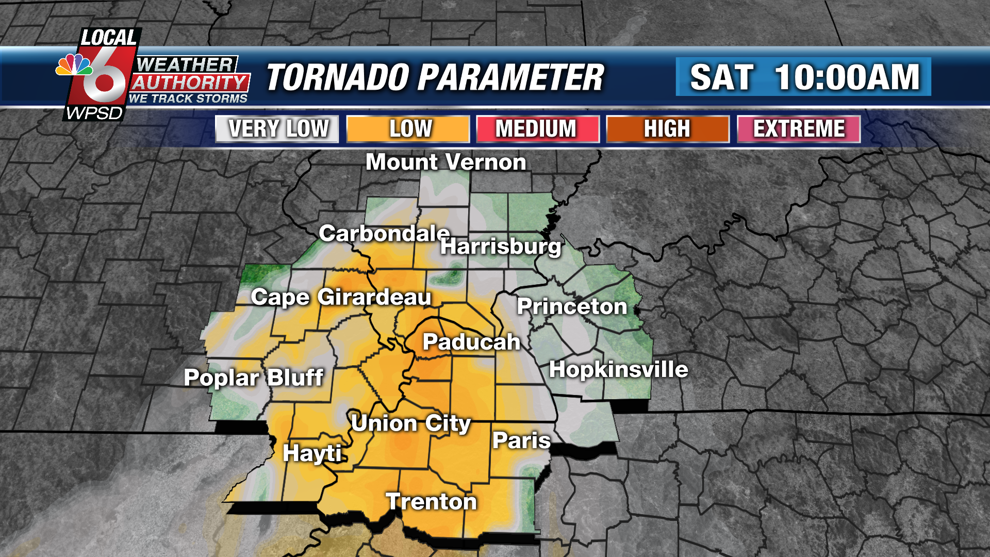 As stated above, the "wild card" in the forecast is the exact track of the storm, which we won't know for certain until a few more days from now. That being said, shown above is what could be the case if the storm takes that further west track mentioned above. Dew points will rise to near 60° (yes, it will feel humid for a time Friday and Saturday), combined with a ton of wind energy in the atmosphere, will lead to a risk for severe storms on the east side of the low. Again, if the low moved up lets say over west Kentucky, you can shift the whole threat seen in the above graphic out of our area. As is the case a lot of the time in the winter months, these types of storms typically carry surprises with them.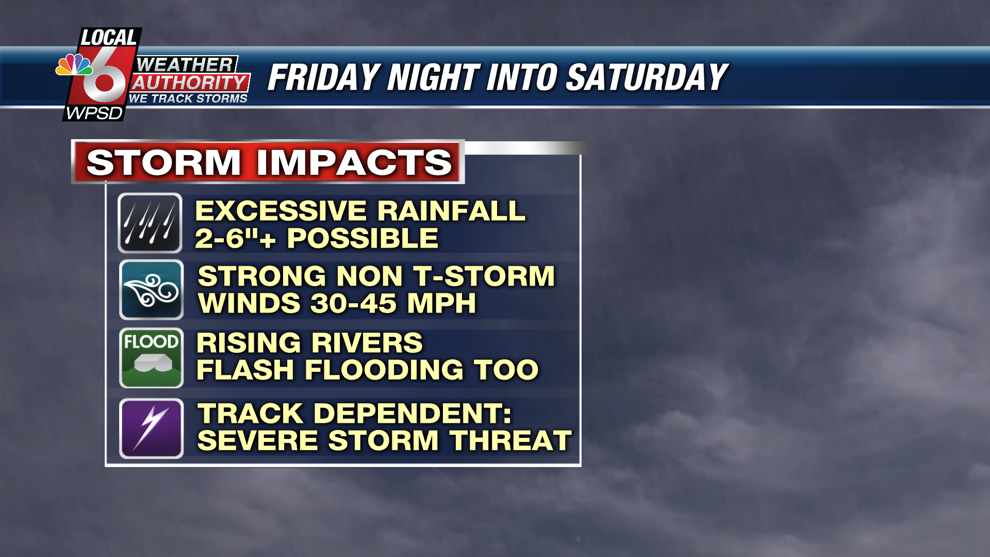 Regardless of the final track, both scenarios will produce excessive rainfall rates at times Saturday morning through the early-mid afternoon. A storm summary reads as follows:
2-6" of rain are possible by storms end 
The "peak" of the storm intensity (winds, rain, storm threat) appears to be from midnight to 2PM on Saturday
Winds (separate from any thunderstorm) Saturday may reach or briefly exceed 40 - 50 mph. 
Flash flooding and rising river flooding is a concern, especially in the days following the event
If you live in a flood prone area, or along a river or tributary, make sure you are closely following the forecast and are prepared for the potential that exists from rapid rises in water starting on Saturday and lasting a few days beyond.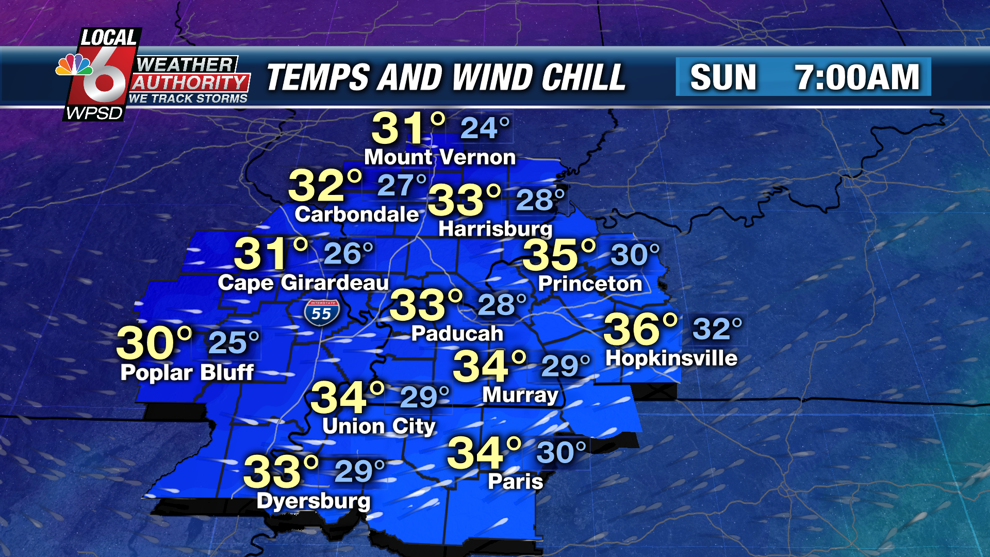 Once the storm pulls away Saturday evening, all of the precipitation will be over by 12AM Sunday. From that point forward the temperatures will tumble back to more normal levels for mid January. Thermometer readings in the low 30s seem likely for daybreak Sunday, with still a light breeze, wind chills may be in the upper 20s. This is nothing unheard of for this time of year, however when you consider it will be in the upper 60s for a time Friday and Saturday, this will be a pretty big contrast in how it feels out there over the weekend.
Stay with us over the coming days and we'll keep you updated on the impacts as we get a more confident understanding of the storm setup.